NexTeck has the weakest of them weak hands
NexTeck excited their shareholders a few weeks back when they said they were gonna put $2 million from their Treasury into bitcoin.
The intent of the move was to diversify their treasury with a long term investment in digital gold.
I am sure the move was encourage by the praise MicroStrategy had received for a similar move, though the sizes of the moves were night and day.
However, after a few weeks of holding, them weak hands got in the way.
When news of that double spend event broke, they dumped that $2 million worth of bitcoin like a champ (chump).
Sees: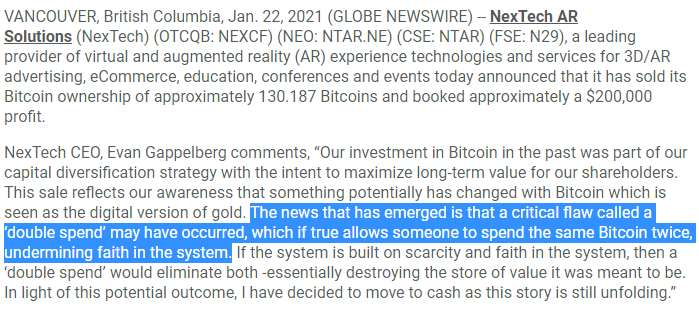 (Source:
1352668104392896519/photo/1) twitter metadata:RnVsbGJlZXJib3R0bGV8fGh0dHBzOi8vdHdpdHRlci5jb20vRnVsbGJlZXJib3R0bGUvc3RhdHVzLzEzNTI2NjgxMDQzOTI4OTY1MTkvcGhvdG8vMSl8 ~~~
They netted roughly $200k in profits from the holding, but risking $2 million in something like bitcoin to make $200k hardly seems worth it.
They coulda made 10% holding something with a lot less volatility than bitcoin, which would also imply less risk.
Anyways, have you have seen anyone flip that quickly from being a long term holding to bailing on their position?
That sounds like an old friend of mine I used to trade stocks with, he'd tell me all about the fundamentals of a company like he was going to be investing in it for years.
He'd buy the dip on it and then get a 10% move in his favor and he'd be out.
I'd ask him why he didn't invest for the longer term and he'd respond with something like, "hey I made money, time to move on".
Hard to fault that statement but why do the research on the company as a long term investment if you are just playing a 10% bounce?
Anyways, NexTech will probably make another announcement like this later in the year...
"NexTech announces they have invested $2 million into Bitcoin at an average price of $112k per coin due to our belief in its long term potential as a form of digital gold."
Them weak hands love to fomo in and out, usually at the wrong time.
Posted Using LeoFinance Beta