We all know how Leofinance has been successful these last year after the so much hard work they put into their platform.
In fact, I am even writing this post on Leofinance and not Hive frontend, which shows you that Leofinance is a success hehe.
For the old folks here, you all know that Leofinnace rebranded from SteemLeo after the Hardfork and the success of Leofinnace is all evident!!
Leofinance has expanded even into the defi world with Cubdefi and has Cub token listed on both Coingecko and Coinmarketcap!
Enough of the praise for Leofinance, now let us get into why I wrote this post.......@Actifit.

I have been offline(my phone was stolen a few days ago) and just logged on Twitter and saw @narthanmars tweet about Actifit!!
The legendary Nathan Mars tweeted congratulating all Actifit community members with a pic of Actifit on Coinmarketcap!! And I was like wait a fucking minute.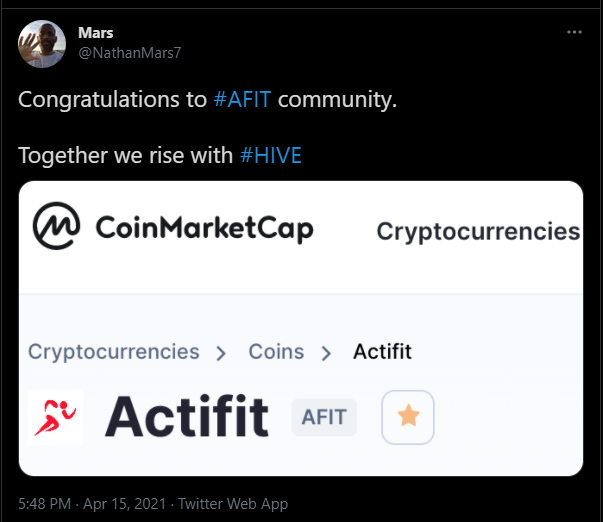 I am writing this very excited because I have been one of the old members of Actifit as began from 2018....3fucking years ago.
I will not go into the basics or specifics of what @actifit is, but let me just state a summary of what it is.
Actifit rewards you AFIT tokens for your physical activities, period.
All you have to do is run, watch, jog, write a post about it and earn tokens as long you made a minimum of 5000 steps.
You can read this introduction post by @actifit describing what they are and all the needed info.
Take time and read that post that ushered Actifit to the Hive blockchain.
After I read that post back then, I was so excited because I am someone who loves physical activities especially walking hahaha.
I saw an easy way to make tokens doing what I already did ie walking and jogging!!
Could Actifit Be Following in the Footsteps of Leofinance Success?
My answer is yes to the above question.
Actifit has been working extremely hard these last years and it seems the results might soon be phenomenal.
In these last weeks, Actift burned 2.5M AFIT tokens hence reducing the supply and also they are working on integrating AFIT into the Binance Smart Chain.
Now this news of them been listed on coinmarketcap is the greatest news of all to me who has been a longer community member.
There is no info yet on the Actifit coinmarketcap page like market data and the rest, but fuck it.......Actift just being shown on Coinmarketcap is bullish news hehe.
Btw I just checked and I have just 100k tokens which can turn into good money in the next few months hehehe.
Anyway, what do you think of this latest development by @actifit, drop your comments below?
Love
Jarau Moses
Posted Using LeoFinance Beta