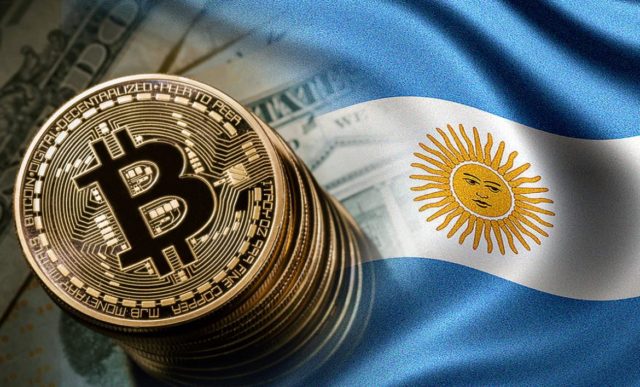 In my country, most people have low esteem for financial entities, also for the government, but this is not the case for us at the moment. Many years of economic and financial outrages made the Argentine with the ability to save more and more distrustful, for something it is mentioned in all areas that saving dollars "under the mattress", that is to say outside the system, would be about 250 billion dollars, more than a third of GDP in 2020, although it is important to note that this latest figure includes a colossal 12% drop caused by the pandemic and helped by poor political and health decisions.
Also, the economy "in black" or outside the tax and banking systems is an alarming 40% and all this is due to various factors among which we can mention the lack of adherence to the norms established even by the government itself, the enormous pressure fiscal, the voracity of financial and credit institutions and the economic policies of the state that are not enough to curb endemic inflation despite the stagnation of the country. The Argentine economy is virtually dollarized, all the prices of products and services have the American currency as their main parameter and many transactions, among which real estate companies stand out, are agreed in that currency.
All this panorama that has been repeating for more than 30 years have found a fertile field in cryptocurrencies, despite the bad press that has been generated for years in their environment and the volatility that they have had throughout their short History, the Argentine is more interested than ever in this new economy and in just the last year the number of people interested in learning, investing and saving in cryptocurrencies has doubled. Among women, the increase is enormous, almost 100%.
Despite all the ups and downs, Argentina continues to have the third-largest economy in South America and per capita income is well above the regional average, therefore, the conditions for the significant growth of companies that adopt the system and of course a greater offer of startups that explore business models based on cryptocurrencies are something that is beginning to be strongly noticed. Opportunities are just around the corner.
The fear of losing what you have is deeply ingrained in the average inhabitant of my country and cryptocurrencies may be able to make a radical change in our battered economy. We will see what happens in the future.

En mi país la mayoría de las personas le tienen escasa estima a las entidades financieras, también al gobierno pero no es el caso que nos compete en estos momentos. Muchos años de atropellos económicos y financieros hicieron que el argentino con capacidad de ahorro se hiciera cada vez más desconfiado, por algo se menciona en todos los ámbitos que el ahorro de dólares "bajo el colchón", es decir fuera del sistema, sería de unos 250 mil millones de dólares, más de un tercio del PBI del año 2020 aunque es importante hacer notar que este último dato incluye una colosal caída del 12% provocada por la pandemia y ayudada por las malas decisiones políticas y sanitarias.
También la economía "en negro" o fuera de los sistemas impositivos y bancarios es de un alarmante 40% y todo esto es debido a diversos factores entre los cuales podemos mencionar el poco apego a las normas establecidas inclusive desde el propio gobierno, la enorme presión fiscal, la voracidad de las entidades financieras y crediticias y las políticas económicas del estado que no alcanza a frenar la inflación endémica pese al estancamiento del país. La economía argentina está virtualmente dolarizada, todos los precios de productos y servicios tienen como parámetro principal la moneda americana y muchas transacciones entre las cuales se destacan las inmobiliarias se pactan en esa moneda.
Todo este panorama que se viene repitiendo desde hace más de 30 años han encontrado un campo fértil en las criptomonedas, pese a la mala prensa que se ha generado por años en su entorno y a la volatilidad que las mismas han tenido a lo largo de su corta historia, el argentino está más interesado que nunca en esta nueva economía y en solo el último año se ha duplicado la cantidad de personas interesadas en aprender, invertir y ahorrar en criptodivisas. Entre las mujeres el aumento es enorme rozando el 100%.
Pese a todos los vaivenes, la Argentina sigue teniendo la tercera economía más grande de Sudamérica y la renta per cápita está bastante por encima de la media regional, por lo tanto, las condiciones para un crecimiento importante de empresas que adopten el sistema y por supuesto una mayor oferta de startups que exploren modelos de negocios basados en criptomonedas son algo que comienza a notarse fuertemente. Las oportunidades están a la vuelta de la esquina.
El miedo a perder lo que se tiene está muy arraigado en el habitante promedio de mi país y las criptomonedas quizás logren hacer un cambio radical en nuestra castigada economía. Veremos que ocurre en el futuro.
Las fotografías son de mi propiedad excepto las que menciono la fuente.
The photographs are my property except those mentioned by the source.
Héctor Gugliermo
@hosgug
Posted Using LeoFinance Beta