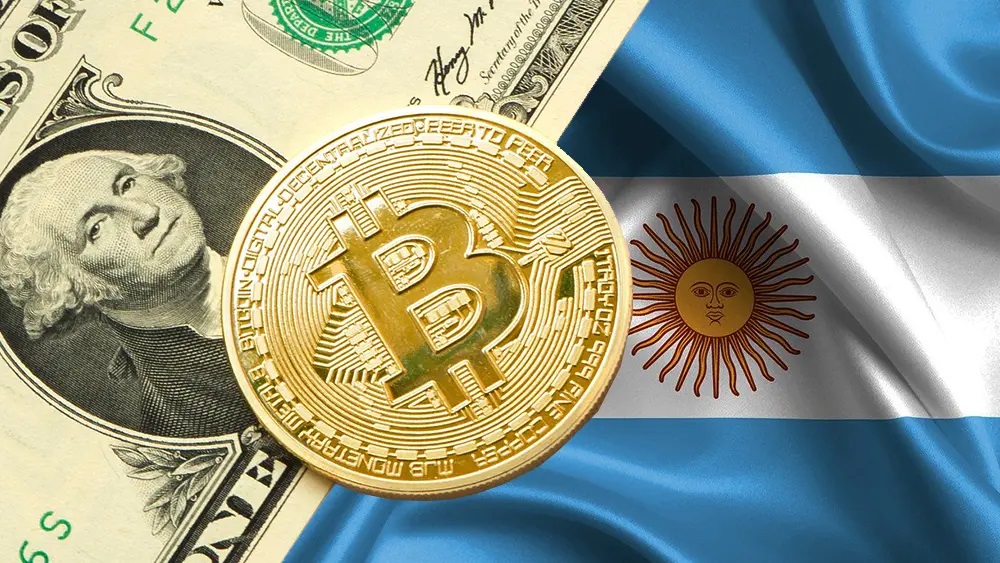 Fuente
Yesterday I published a post about the dollarization of our economy but without dollars, you can read it by clicking Here. Only a few hours later I read in a very important newspaper in this city that many Argentines are avoiding the official price of the dollar, which is well below the real one, charging their fees in cryptocurrencies. Something similar happens with hoarding or saving by those who can allocate part of their income for that purpose, the latter avoid the limit of US $ 200 per month and also the additional tax that causes those dollars to cost more than the blue, also called parallel or informal.
A whole series of freelancers from my country who work remotely in different sectors of the economy for foreign companies (some also for companies from the interior of the country) have found in cryptocurrencies a way to prevent their fees from being "pesified" when the dollars agreed for their services are sent to their bank accounts located in the country.
So that they understand a little more the restrictions and the effects that their application entails, suppose that an engineer who works remotely from Argentina for a foreign company receives a fee of US $ 1,000 for a specific task, when the transfer is made Your checking account in a bank in our country, after the corresponding charges and withholdings, receives an approximate value of $ 90,000 Argentines. If this person agreed to receive those $ 1,000 in USDT, for example, he would receive the equivalent of $ 150,000 in his local wallet, the difference is remarkable.
This is possible thanks to the fact that cryptocurrencies do not have a specific regulation, at least for now, although seeing the voracity of our political and economic authorities I do not think this will last long in that gray area. The local companies that today offer wallet services, purchase and sale of cryptocurrencies and investments have all the necessary tools to make these steps possible, of course, they also charge high commissions but in any case, the difference for those who bring foreign currency is so great that pays them almost with pleasure.

En el día de ayer publiqué un post sobre la dolarización de nuestra economía pero sin dólares, pueden leerlo haciendo clic Aquí. Solo unas horas después leí en un diario muy importe de esta ciudad que muchos argentinos están evadiendo la cotización oficial del dólar que está muy por debajo de la real, cobrando sus honorarios en criptomonedas. Algo similar ocurre con el atesoramiento o ahorro por parte de aquellos que pueden destinar parte de sus ingresos con ese fin, estos últimos evitan el límite de U$S 200 mensuales y también el impuesto adicional que provoca que esos dólares cuesten más que el blue, también llamado paralelo o informal.
Toda una serie de freelancers de mi país que trabajan en forma remota en distintos sectores de la economía para empresas del exterior (algunos también para empresas del interior del país), han encontrado en las criptomonedas una forma de evitar que sus honorarios sean "pesificados" cuando los dólares pactados por sus servicios son remitidos a sus cuentas bancarias radicadas en el país.
Para que entiendan un poco más las restricciones y los efectos que su aplicación conlleva supongamos que un ingeniero que trabaja en forma remota desde la Argentina para una empresa extranjera, recibe un honorario de U$S 1.000 por una tarea determinada, al realizarse la transferencia a su cuenta corriente radicada en un banco de nuestro país, luego de los cargos y retenciones correspondientes recibe un valor aproximado a $ 90.000 argentinos. Si esta persona pactara recibir esos 1.000 dólares en USDT por ejemplo, recibiría en su billetera local el equivalente a $150.000, la diferencia es notable.
Esto es posible gracias a que las criptodivisas no tienen una regulación específica, al menos por ahora, aunque viendo la voracidad de nuestras autoridades políticas y económicas no creo que esto dure mucho tiempo en esa zona gris. Las empresas locales que hoy ofrecen servicios de billeteras, compra y venta de criptodivisas e inversiones tienen todas las herramientas necesarias para hacer estos pasos posible, por supuesto que ellos también cobran unas comisiones altas pero de todas maneras la diferencia para el que trae divisas es tan grande que las paga casi con placer.
Las fotografías son de mi propiedad excepto las que menciono la fuente.
The photographs are my property except those mentioned by the source.
Héctor Gugliermo
@hosgug
Posted Using LeoFinance Beta