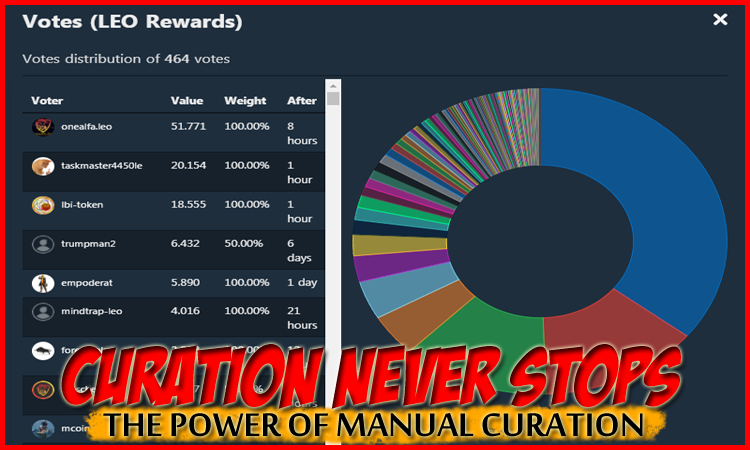 ---
Content have ever since the early days of Steemit considered to be old once it has been alive for roughly 24 hours and if you as a content creator didn't recieve upvotes during the first very few hours, you where pretty much destined to walk away with some crumbs while you wished for a large piece of the pie.
Many content creators have the same mindset to this day, for various reasons. It might be because it has "always been like that", because of the reward curve or the behaviour of token holders.
With this post, even though I have mentioned this in the past as well, I want to show and tell you how manual curation is literally the perfect piece of the puzzle for content creators.
My last post is about to be paid out which means that the post is roughly 6.5 days old right now. In the old days, I could never imagine getting upvotes on a week old article but LeoFinance and manual curation increase my chances of being rewarded until the very last second before the article pays out.
---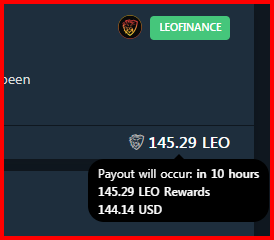 ---
While most users are still upvoting content early, there are more than a handful of users who doesn't seem to rush things. We don't have to compete over curation rewards on LeoFinance due to the 50/50 split and that makes things a lot better. People can curate in peace, without feeling rushed and they can enjoy content in whatever pace they want.
Feel free to take a look at it, I'll just show you a snippet of it:
---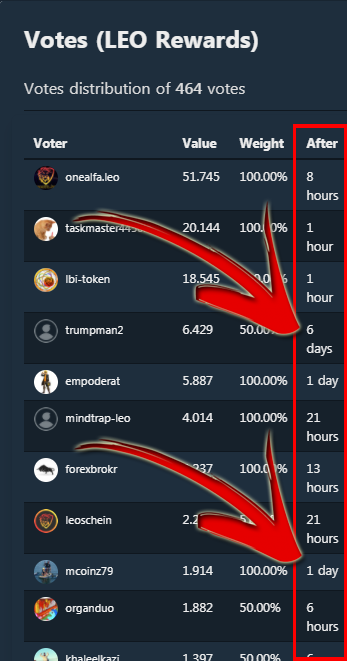 ---
I don't know if @trumpman2 would have upvoted this specific article if it weren't a curator's pick or if it didn't have a bunch of rewards, but my best guess is that he would have. Regardless of the pending rewards, because he doesn't have to compete over rewards. Both him and @themightyvolcano upvoted this article during the last few hours. Others upvoted the article after 21 hours, 1, 2, 3 and 4 days..
That proves that manual curation is awesome.
Manual curation isn't only a very great thing for curators, it's also a superb thing for content creators. While curators doesn't have to compete over curation rewards, they can sit back and consume content for days before upvoting it and so on.. Manual curation benefits content creators a great deal as well.
Content creators doesn't only have a higher chance of being rewarded for their contributions, they also have a higher chance of getting a boost of encouragment, motivation and confidence. A vital boost which are often needed for content creators to remain active and to produce high quality content.
Sure, there are reward-seekers out there who does things only for the $-rewards, but rewards to me are more than money. Comments, reblogs or even articles from other users who got inspired by something I made is something I see as a reward as well. Those things are truly rewarding.
Never underestimate the power of an upvote, regardless of the value or weight behind it.
Posted Using LeoFinance Beta