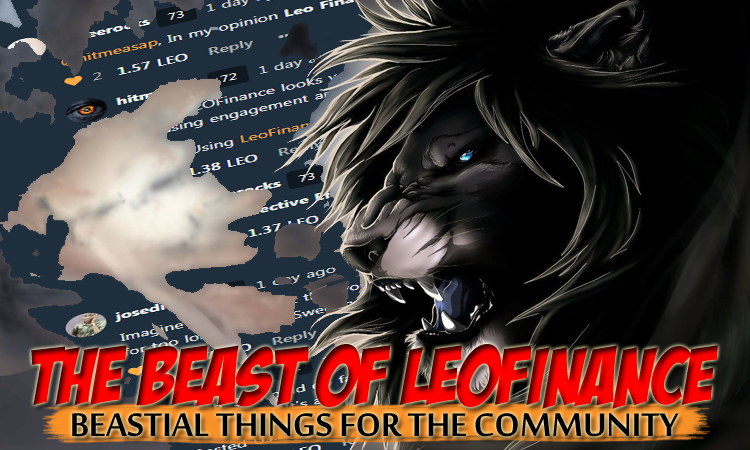 ---
We have already heard it by now and it is very likely that you've been affected by it directly. In case you haven't, the beast of LEOFinance has jumped on board the "Initiative 10" train. In what he calls: The New Normal Is Here, onealfa.leo talks about what he has done so far, and what his goals are.
Unfortunately, I had already started to work on something for this specific reason, to showcase what he has done, what the initiative 10 is and what I personally think about it. I have been vocal about the importance of engagement multiple times and Initiative 10, taskmaster and onealfa.leo proves everything I have said, in a very like-minded approach and effort. Due to time zone differences, a rather hectic work schedule and other things, this article had to be out on hold but even though onealfa himself have published an article and talked about some of these things, I still wanted to share this with you. After all, it is content and I am perfectly okay with giving credits where it's due.
---
The BEAST Of LEOFinance.
He might be referred to as a beast when you talk about him, but there's nothing mythological with his presence, his actions or his power. With a stake of 666.666 LEO, onealfa is powerful and can single handedly boost content to heights of approximately 90 LEO. Regardless of your beliefs or religion, his actions and the impact of those are undeniable. His dedication and mission to strengthen the entire community is outstanding, and it helps.
Not only did he start rapidly to utilize his power to the fullest in a different way than before the reward curve change, he is also on what seems to be a never-ending journey to encourage and reward others for their efforts. With votes worth between 800 and 900 LEO per day in total, he is using his power in an attempt to strengthen others. With more than 400 comments upvoted yesterday (according to his post), he strengthens the community while also encouraging peolpe to put in time and effort into their contributions, regardless if that is root level content, a.k.a articles or comments.
Due to his mindset, passion and work, we can see several hundred comments per day be rewarded, and he is not alone. Taskmaster4450 and a handful of other Lions are doing the same thing. People have started to follow in the same footsteps and many users have started to reward comments. People have noticed that rewrads are being rewarded and that it is worth making comments on the content you consume.
This is vital for the general growth of LEOFinance, but it also attracts outsiders. People aren't really interested in consuming content without 'buzz'. The best article in the world wouldn't be attractive to anyone if no one had talked about it or if nobody had replied to the content.
That's just how things are, and that is why comments are important for growth. So while you can (and most likely have or at least will) be rewarded for the efforts you put in making comments and generating 'buzz' on LEO, you're also making LEO comfortable, fun and engaging. Those are important ingredients for getting newcomers to stay. Newcomers will expect this place to be filled of discussions, ideas and knowledge. They will expect that people reply to their comments and that people will engage with their content. They want answers and they will seek and share knowledge..
As long as we are here providing that, they are more likely to stay.
---
I Have Been Lucky..
onealfa gives out three votes of different voting power. 1.66%, 6.66% and the ultimate 66.6% vote. Lucky as I am, I have received votes on all sizes and I can tell you that the powerful 66.6% vote was worth twice the amount of rewards I've earned from the majority of my posts. That vote is worth more than 50 LEO. That is an insane amount of rewards for a comment, and it most certainly feels refreshing and rewarding to contribute towards this place growth.
That is not all the things he does, even though he could easily have settled for that. onealfa also rewards older content after the recent reward curve change, meaning that he looks into content that still has pending rewards, even if they are 6 days old. This is the true power of manual curation. Overlooked content has a chance of being revived and authors can yield more rewards even on content that is considered to be old.
---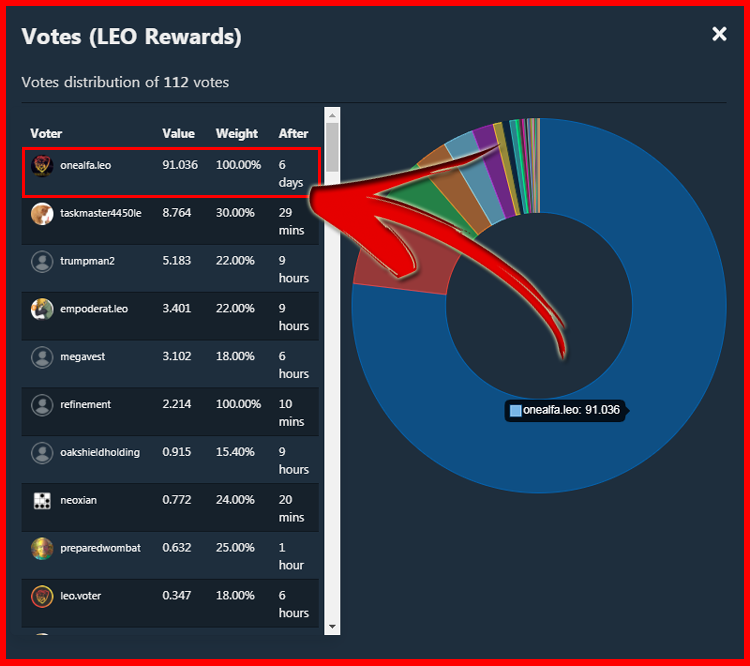 Talk About Making The Most Of His Time On LEO.
---
People have often highlighted wealthy accounts in attempts to be rewarded. A lot of people have mass-mentioned wealthy users because they have been desperate for attention and recognition, all in their skewed efforts to be pushed into glory, fame and rewards. With Initiative 10, there's no need to chase the whales or other wealthy accounts that has previously, unfortunately, been a rather common thing. Those days are over with LEOFinance and manual curation. You don't have to look for rewards and upvotes, curators will come to you.
Engagement is the new normal.
While LEOFinance already seems to have been what generated the most 'buzz' on Hive, Initiative 10 could definitely be seen as more fuel to an already established and cozy bon fire. In the very near future, I am sure that things will spread like a wildfire and the best part is that you are already here. You're here from the start of the fire, and with your contributions, you can be part of this wonderful adventure.
Posted Using LeoFinance Beta