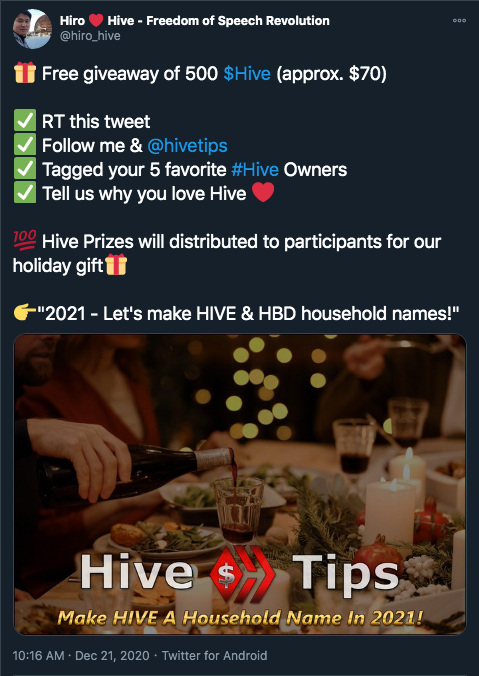 Twitter Link
The @fullalt / @hivetips team with @jackmiller, @lightproject, @inthenow, @guiltyparties, and @enginewitty started a great initiative of making HIVE & HBD household names!
The holiday HIVE tip giveaway will start today (Dec. 21, 2020, until Jan. 21, 2021). We have an allocated amount of 2021 HIVE to be distributed to all our #HiveTwitter community.
Be sure to follow us on Twitter so you will not be missing our next Hive tips giveaway. Today, I started the holiday tipathon/giveaway of 500 HIVE, please follow @scottcbusiness as he will be the next host for the HIVE giveaway, check out his Twitter here.
We want to recognize our great people on Twitter we always see every day. I am grateful to God to have you guys in our Hive Family. We love all of you, I am praying to God that He take good care for all of you and your family. <3
(Note: The list is the only name I know based on my limited capacity that I figured out on their usernames on Hive connected to Twitter accounts. If you think must be included on our list, we will appreciate commenting down and we will be happy to add you. Cheers!)