Hey All;
One of my colleagues approached me over discord and asked me this question tied to StartBits earning. Just in case if you don't know StarBits is the In-game currency for the Game RisingStar.
How Much StarBits Are You Earning In A DAY?
The clear and simple answer is that I earn/get close to 15K StarBits by completing different missions in the game.

Have a look at the above image to get an idea of my current level I'm at and the amazing JOHN collecting all these StarBits by his stunning performance.
Yes, I do have StarBits Millionaire Card & as of writing, only 44 StarBits Millionaire cards have been issued thus far. The immediate question that comes to the mind is that;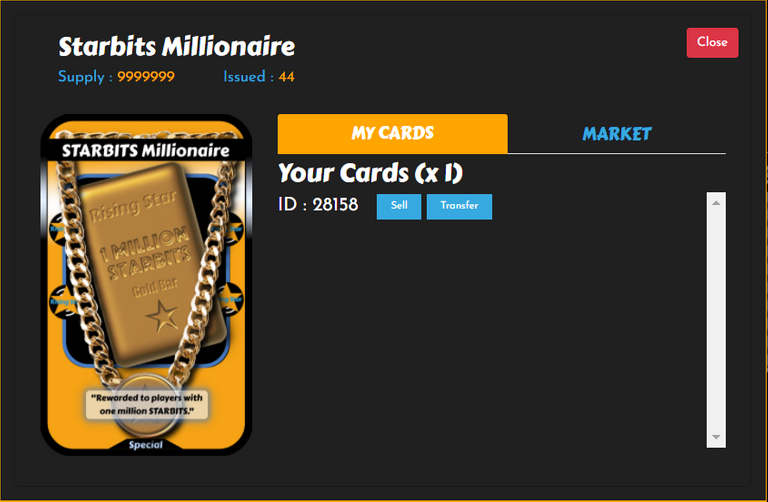 How Do I get the StarBits Millionaire Card?
Again, I'm not going to confuse you all and answer this question in very simple words. If you have/HODL 1Million StarBits tokens on Hive-engine you can get these cards; it's that SIMPLE.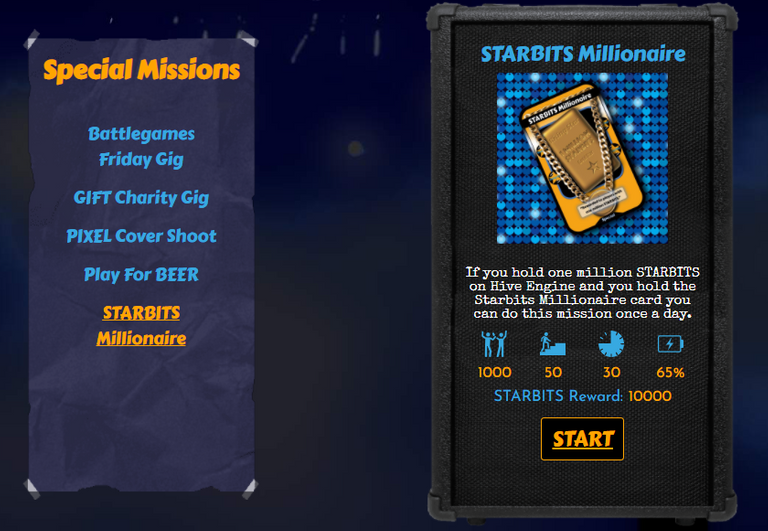 The advantage of having this card is that it lets you earn 10K StarBits daily. Yes, 10K StartBits daily by just completing a Special Missions which is the StarBits Millionaire MISSION.
StarBits Bought & Recevied 90% BACK
I'll be very frank here that I bought the 1Million StarBits tokens from the market to get this precious StarBits Millionaire card.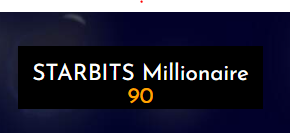 And to date, I've completed 90 StarBits Millionaire Mission which got me close to 90% of the StarBits that I had bought. Here is another strategy that I've been using in the game. Every time that I've close to 100K+ StarBits, I go on to buy the booster packs. The one highlighted in Yellow; that says Buy 12 Packs for 100K STARBITS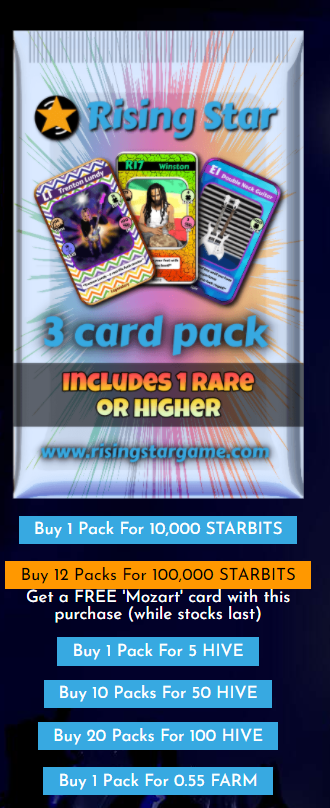 Yes, I've been buying the booster packs with all the StarBits that I've earned to date. This means I'm investing back in the game and making my NFT CARDS collection stronger each day. Which means I've not SOLD any of the RisingStar NFT CARDS && Am HODLing all of these cards supporting this emerging game on the HIVE blockchain.
Back to the question of earning of the StarBits. Here is the quick Match::
Completing StarBits Millionaire MISSION Daily gives me 10K STARBITS
Randomly completing different Missions gets me 5K+ STARBITS
If in a day I'm lucky I get close to 20K+ STARBITS. I withdraw them to my hive-engine wallet and once get to 100K+ Starbits tokens I buy the booster pack of 12; which in itself is a saving of 10 HIVE; if I was buying packs individually.
Now income aside, if you LOVE MUSIC & like playing simple GAMES with no complication then I will recommend you try this emerging GAME on the HIVE Blockchain Named RisingStar
Come BE MY JOHN FAN... I'm Sure You Gonna LOVE His Music...
Best Regards
PS:- None of the above is a FINANCIAL Advice. Please DYOR; Do your own research. I have an interest in Games and also did invest in buying some Starbits early to get the StarBit Millionaire Card.. that's iT...
Posted Using LeoFinance Beta