LBRY Credits (LBC) price is 100%+ UP & Rising...
Hey All;
Did you notice the recent 110+% LBC pump and its rising? I guess it's a New Year Gift for All the LBC HODLers. Just see the spike of the price from $0.07 cents to $0.15+ cents and it's rising even further.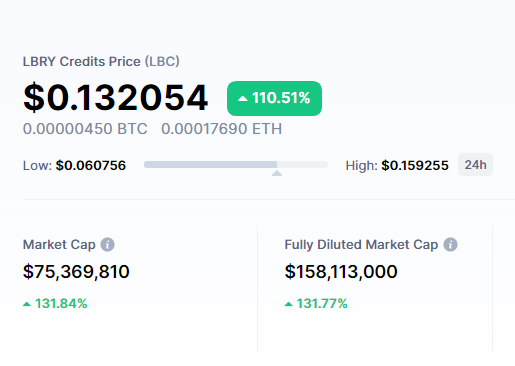 This is for the second time that I have seen this huge SPIKE in less than a month's time. It's like close to 18 days that I did a post about LBRY Credits [LBC] and at that point, in time the price of LBC had pumped almost 200+%. Here is the post that you can refer to:: LBRY Credits (LBC) price is now at $0.07 - Pumped almost 200+% Recently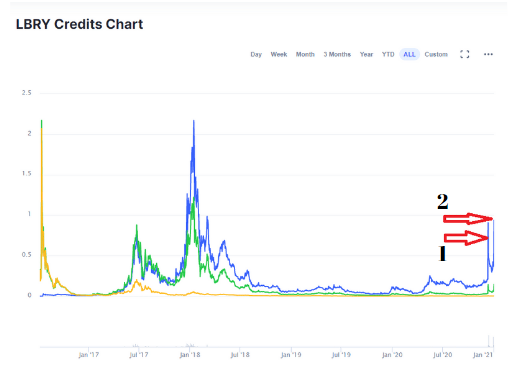 As highlighted in the image above in a very short span of time we have seen close to a 300%+ price surge. All that I can say is that when projects like LBRY, LEO, HIVE, and others that are having a good use case with products already being leveraged by its vibrant community then no one can stop the price to pump. I know for HIVE the pump is Yet to come but it's there round the corner soon..so get ready for that as well.
LBRY in A Nut Shell
In case if you are not familiar with LBRY, then let me tell you that LBRY is a Blockchain-based digital content protocol that contains a digital library of varied content like Videos, Blogpost, Images, Music, Games etc.. You name the content and its type and you should be able to see and upload it on LBRY.tv platform. And whereas LBC is its native cryptocurrency that you earn on the platform for posting content.
Here is the Excerpt that is taken from the LBRY website that clearly states- What LBRY is all About:::
LBRY is a secure, open, and community-run digital marketplace. Enjoy the latest content from your favorite creators - as a user, not a product.
Earn 15 LBCs for FREE
You can find me on LBRY with the name of my Youtube channel HealthDear. I've joined their Youtube Partner program and that gives me close to 700 LBC every month.
Join me on LBRY & Earn LBCs for FREE... YES for FREE...
Have Your Say...
Are you on LBRY? If Yes then how are Your LBCs earnings looking like? Are you spreading the word HIVE/LEO on LBRY? How has your experience been with LBRY so far??

Best Regards
PS:- None of the above is a FINANCIAL Advice. Please DYOR; Do your own research. I have an interest in the LBRY platform, bought some LBC tokens, staked them, and have been creating content on the LBRY platform..that's iT..
Image Credits:: lbry,cmc
Posted Using LeoFinance Beta
---
---