English
Yesterday another important milestone was achieved in the cryptomarket, which is to list a company that was born to provide a service to crypto users, and that has been with us since shortly after Bitcoin was created, so it is a company with extensive experience and journey in the area, but it has also proven to be the platform by which whales have been buying Bitcoin, at least in the United States.
And this is something that gives a great representation of cryptos on the exchange, even if within the community Coinbase is seen as a platform that has done bad things, but this is something subjective and every decision we make can do good or bad to a part of the community, but we must also remember the great advantages of the decisions they make, at least for the other part of the community.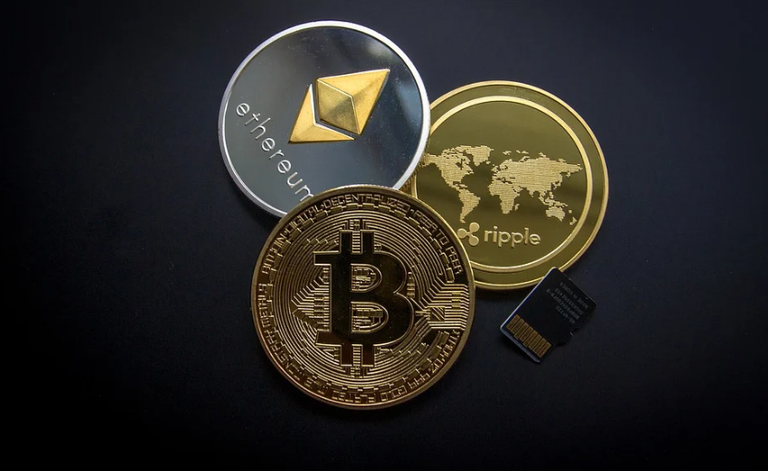 Source
Investing in Coinbase is something different from investing in crypto, in the same way that investing in Gold is different from investing in Gold miners, as the analyses are different, and this happens because while we see the supply and demand of the commodity (in this case Bitcoin or Gold) to know if the price will go up or down, and that this demand or supply is influenced by many variables, when we think of a company that benefits directly from the purchase and sale of the commodity, we must think of the profits they get from the movements they make.
This makes Coinbase's share price go up and down along with Bitcoin, but it may happen that it goes up and down in different percentages and not parallel to Bitcoin's price, as it may happen that Bitcoin's price stabilizes for several months and many users start using the platform to trade, which makes Coinbase generate more profits from transaction fees, and this can increase the value of the shares, as it can also happen that the price of Bitcoin rises a lot and there are not many transfers at a high price, generating little profit for Coinbase.
The good thing about this listing is that it opens the doors of entry to U.S. capitals that have not been able to enter directly to cryptos for some reason, but that can do so to an ETF or stock, and among these are the large capitals that have to report their movements, although I doubt that these will enter soon after being listed.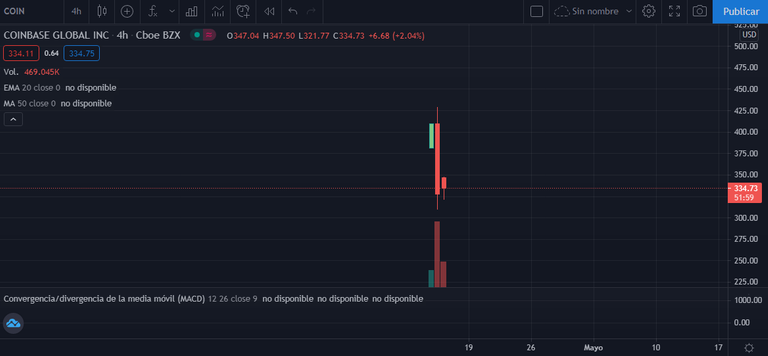 Personally I see this as another reason why cryptos are not going to be eliminated from the U.S. system, but I do see several laws regulating companies that make use of cryptos in the short to medium term.
This is only the first company of several that are about to enter the stock market, we just have to wait for other companies that are dedicated to providing services to users of cryptocurrencies.
Happy Investing
Español
Ayer se logro otro hito importante en el criptomercado, que es listar a una empresa que nació para prestar un servicio a los usuarios de cripto, y que ha estado con nosotros desde poco tiempo de haberse creado Bitcoin, por lo que es una empresa con amplia experiencia y con recorrido en el área, pero también ha demostrado ser la plataforma por la cual las ballenas han estado comprando Bitcoin, al menos en Estados Unidos.
Y esto es algo que da una gran representación de las criptos en la bolsa, aun cuando dentro de la comunidad se vea a Coinbase como una plataforma que haya hecho cosas malas, pero esto es algo subjetivo y cada decisión que tomemos puede hacer bien o mal a una parte de la comunidad, pero también debemos recordar las grandes ventajas de las decisiones que toman, al menos para la otra parte de la comunidad.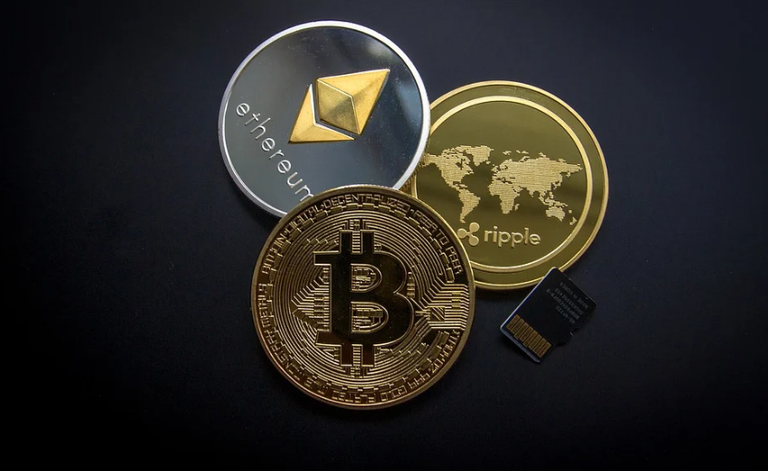 Fuente
La inversión en Coinbase es algo distinto a la inversión del cripto, de la misma manera que la inversión en Oro es distinto a la inversión en mineras de Oro, ya que los análisis son distintos, y esto ocurre porque mientras vemos la oferta y demanda de la materia prima (en este caso Bitcoin u Oro) para saber si el precio va a subir o a bajar, y que esta demanda u oferta se ve influenciada por muchas variables, cuando pensamos en una empresa que se beneficia directamente por la compra y venta de la materia prima, debemos pensar en los beneficios que obtienen por los movimientos que hacen.
Esto hace que el precio de la acción de Coinbase suba y baje junto al Bitcoin, pero puede ocurrir que suba y baje en porcentajes distintos y no de forma paralela al precio de Bitcoin, ya que puede ocurrir que el precio de Bitcoin se estabilice por varios meses y que muchos usuarios comiencen a usar la plataforma para comerciar, lo que hace que Coinbase genere más beneficios por las comisiones de transacción, y esto puede aumentar el valor de las acciones, como también puede ocurrir que el precio de Bitcoin suba mucho y no existan muchas transferencias a un precio alto, generando pocos beneficios para Coinbase.
Lo bueno de este listado es que abre las puertas de entrada a los capitales Estados Unidos que no han podido ingresar de forma directa a las criptos por alguna razón, pero que si pueden hacerlo a un ETF o acción, y entre estos se encuentran los grandes capitales que tienen que informar sus movimientos, aunque dudo que estos ingresen al poco tiempo de haberse listado.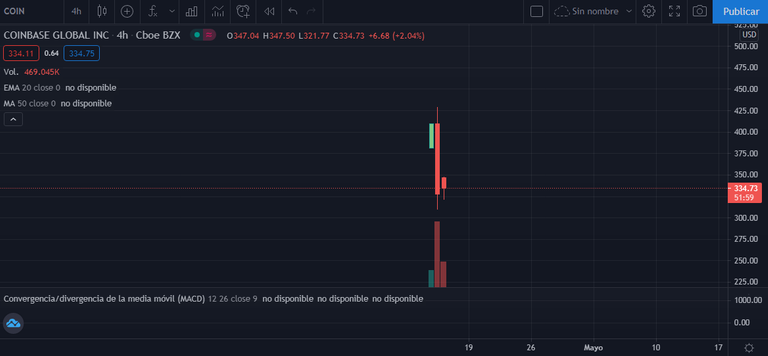 Personalmente veo esto como otra razón por la que las criptos no van a ser eliminadas del sistema de Estados Unidos, pero si veo posible varias leyes que regulen a las empresas que hacen uso de las criptos en un corto o medio plazo.
Esta es solo la primera empresa de varias que están por ingresar a la bolsa, solo debemos esperar a que comiencen a llegar otras empresas que se dediquen a dar servicios a los usuarios de las criptomonedas.
Feliz Inversión
Posted Using LeoFinance Beta