Chamath Palihapitiya and Mark Cuban Revealed Their Criteria For Social Network in Crypto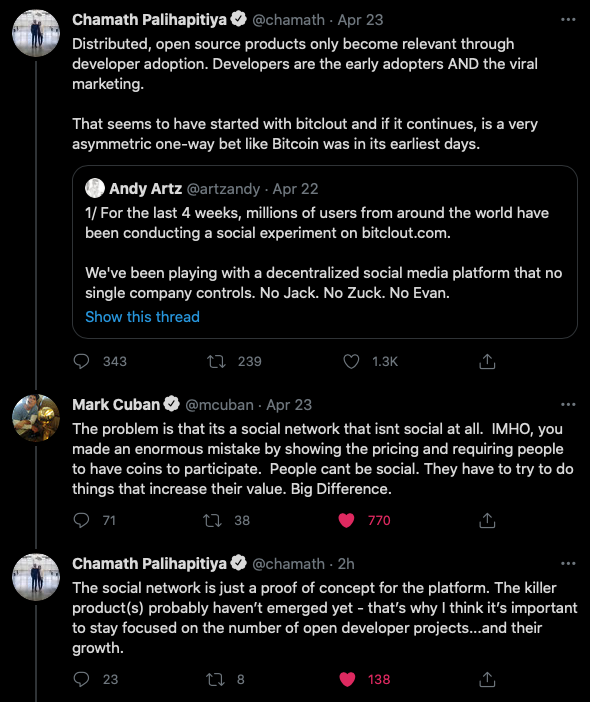 Chamath Palihapitiya and Mark Cuban are both billionaire investors who have also shown interest in crypto. Chamath is known for his early investment and strong believes on bitcoin. While Mark has been more skeptical about bitcoin in the past and called it a bubble back when it was worth $5000 in 2017. However, his more recents positions have changed about bitcoin and crypto. He is especially interested in NFTs. Also, his NBA team - the Dallas Mavericks started accepting doge coin for purchases.
A couple of days ago Chamath tweeted something interesting that has to do with social networks in crypto:
Distributed, open source products only become relevant through developer adoption. Developers are the early adopters AND the viral marketing.

That seems to have started with bitclout and if it continues, is a very asymmetric one-way bet like Bitcoin was in its earliest days.
source
I first heard about BitClout reading a post by @trumpman. He has a good summary about it. Feel free tor read his post here.
At first I didn't pay attention, took a look at BitClout a little bit and moved on. Today I saw how Twitter conversation Chamath started continued and Mark Cuban's response caught my attention. Here is what Mark says:
The problem is that its a social network that isnt social at all. IMHO, you made an enormous mistake by showing the pricing and requiring people to have coins to participate. People cant be social. They have to try to do things that increase their value. Big Difference.
source
And then Chamath responds with:
The social network is just a proof of concept for the platform. The killer product(s) probably haven't emerged yet - that's why I think it's important to stay focused on the number of open developer projects...and their growth.
source
The reason this interaction caught my attention is that the conversation between these two successful investors on Twitter reveals that they have considered about the potential future social networks in crypto and if they see one that fits their criteria they may end up investing. I am saying "social media in crypto" on purpose. Because neither of them said anything about "decentralized social network". But I believe that is what they are talking about.
Of course they don't reveal their full thoughts on the topic but do provide some insights into their thinking about such social networks.
For Chamat, it seems three main criteria are: developer adoption, viral marketing, and growth of the projects. Now Mark doesn't present his criteria, but he shares what social network is not for him. In my understanding he is saying social media should not require people to have coins to participate, and make them do things to increase their value. His statement is within the context of what BitClout is doing.
I believe Hive has decent developer adoption. Blocktrades team and others working on the core blockchain development, Peakd and Ecency teams working on alternative front-ends Apps and more, Leofinance building Apps, Community, and bridges, Splinterlands, Dcity, and other games building their games and communities, Tribes building their own front-ends and communities, etc. There is so much more about development on Hive. I am sure there are many I don't know about. My point is all of these teams and individuals could have been working somewhere else on some other blockchain or working for someone else. They chose to be here and have been doing amazing things.
Besides Hive's features to power apps, games, and communities, Hive also has a decent size Decentralized Hive Fund which should also make it attractive for developers now and in the future.
Perhaps what we are missing is a viral marketing and exponential growth. But seeing more and more interest in alternative social networking solutions, this will also come in due time. Maybe slower growth is healthier for the ecosystem.
I am not completely sure what Marks statement means. Considering it was given within the context of BitClout, and knowing how he strongly dislikes making people buy something on some promises, I can see someone like him to find Hive as interesting project as a potential investment.
Hive doesn't require people to buy coins to participate. Buying coins to participate in governance or rewards distribution is just an option for those who would like to invest in the network. Anybody can use the network without spending a dime.
Also, Hive doesn't make people do things to increase the value of the coins. Hive provides an alternative to traditional social networks in a form of ownership of the accounts, content, and assets. It also provides participants to be part of an economy wether by investing or just doing regular things they enjoy doing on the internet elsewhere. Be it blogging, blogging, writing stories, creating art, sharing photography, playing games, etc.
In conclusion, it is interesting to see how many people are aware that shifts are happening in social networking space and how #decentralized solutions has a potential to compete with the current main networking solutions. It is interesting to see how some investors are thinking about it and potentially planning to back projects with their money early on if they see the opportunities.
If these two billionaire investors are thinking about the innovation in crypto and social networking space, there probably are many more who are doing the same thing. Hive seems to be a in great position.
I left both of them some comments sharing how they may find Hive blockchain interesting. Feel free to do the same if you use Twitter.
P.S. Ari Paul shared some thoughts showing how BitClout might not be what Chamat was originally thinking about and may have changed his mind. Here is what Ari said, but read the full thread for the context:
Except unlike bitcoin, bitclout is a predatory scam. It's fully centralized and profits off explicit fraud. It's also horribly poorly engineered.
source
Posted Using LeoFinance Beta
---
---