Yes I did made a profit, but it could have been so much better. Yes I can blame it on Lady Fortuna, but I have to admit that I myself also did made some mistakes. To be honest I am surprised that I did end the week in green. On the other hand it could have been so much better.
Week stats!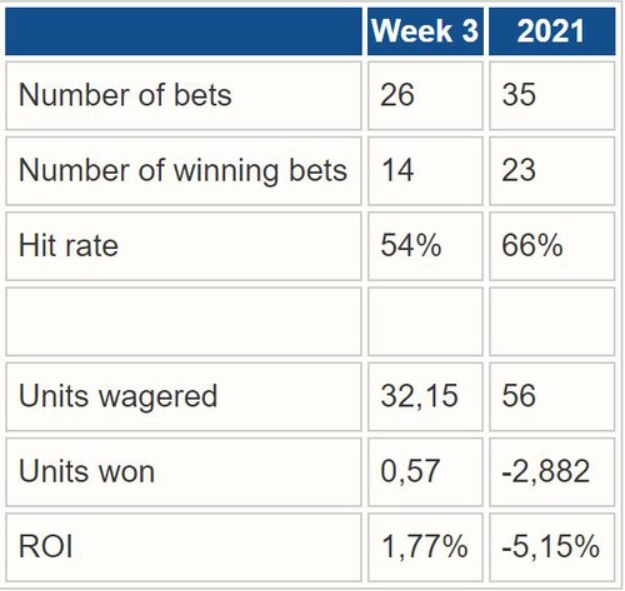 I just played way too many bets. Luckily I did manage to keep my hit rate above 60%, which was needed with the odds I was playing. So I really should try to decrease the number of bets. Better a few bets less with more confidence in them, then playing some dark horses!
All bets in the past week were football bets, so no need to analyze the different sports. Makes life a lot easier.
Competitions
Bets were placed spread out over 5 different league. More than 50% of the bets were placed on the Jupiler Pro League, to bad for me that also this league is coloring dark red this week.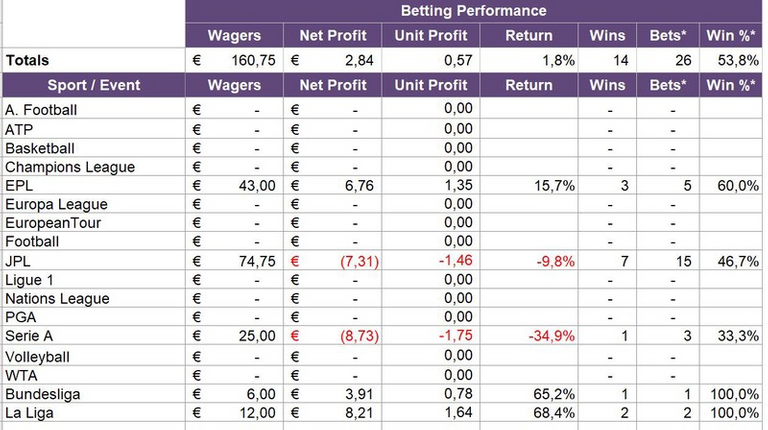 The best leagues were the Premier League and La Liga.
What also is remarkable is that the average wager per bet for the Serie A and Premier League were abo average. With a limited bankroll this is of course a risk. I should watch out with this.
Betting types!
The good news is that I didn't play a combo bet for the third week in a row. So at least I am avoiding tht pitfall. Also good news is that the 1X2 was still in the green. Still struggling with the AH. More research is needed for that. I did try on Sunday with the AH -1. Placing them on teams I did expect to win. A one goal margin win would mean a refund while a 2 goal difference win, would be a winning bet with odds above 2. Unfortunate one bet was lost due to a draw, while the other was a push. But this is something I do need try out a little bit more.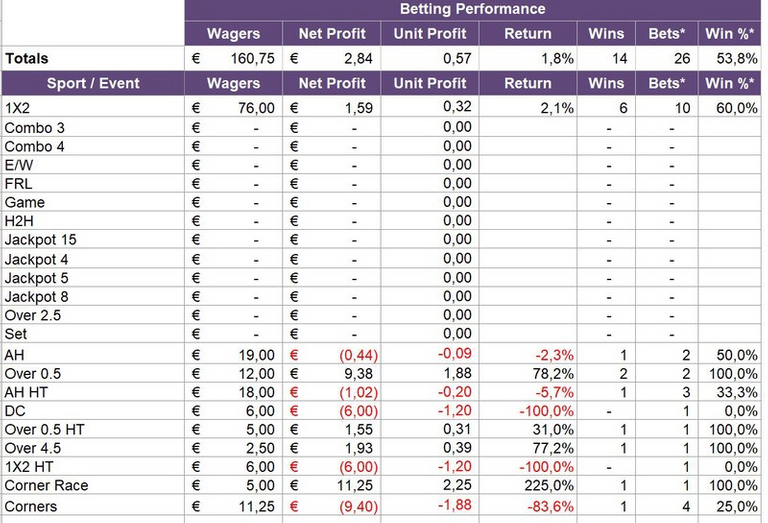 Copy Tip!
I was close on Copy tip to have both strategies in green and during a short time in the past week, both were green on the same time. But I did gave back some profit.

Overall I am still in the green and I do believe that both will end in the green next week.
You can follow my bets at Copytip here:
https://www.copytip.com/en/user/fullcoverbetting
Next week there are again enough game to investigate. I will try to decrease the number of bets, but to increase the quality of them!
Cheers,
Peter
Posted Using LeoFinance Beta