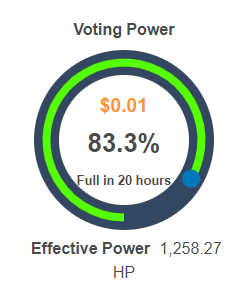 One of the things I experienced when I started using the Leofinance interface for blogging and curating was that the votes I was doing on Leofinance also had an effect on my voting power on Hive.
Since I use Leofinance for crypto related posts and PeakD for curating my other interests like photography this was quite annoying.
Every vote in Leofinance resulted in the same upvote on the post in Hive and this left me less voting power on PeakD for other posts.
Many users create seperate accounts for each interface for this reason, but I don't like using multiple accounts.
But then I read this post of @achim03 yesterday about the vote multiplier:
https://leofinance.io/@achim03/how-to-curate-several-hive-engine-tokens-with-one-single-account
I did read an article about it before, but couldn't figure it out then.
The vote weight multiplier
The Vote Weight Multiplier can be found under Leodex/Rewards (https://leodex.io/rewards).
With the multiplier you can multiply your vote for different coins.
The only thing is that I didn't want to multiply my vote, I wanted it to be less!
I had a discussion in the comments with @achim03 and he gave me the perfect solution.
I just had to set the Leo Vote Weight Multiplier to 10 and give away 10% Leo votes.
The 10% Leo vote will be multiplied by 10 resulting in a 100% vote, but the Hive vote will remain just 10%.
This way my 10 100% Leo votes only take 1 100% Hive vote and leave me 9 100% Hive votes for PeakD!
Let's test it out!
I've set the Leo Vote Weight Multiplier to 10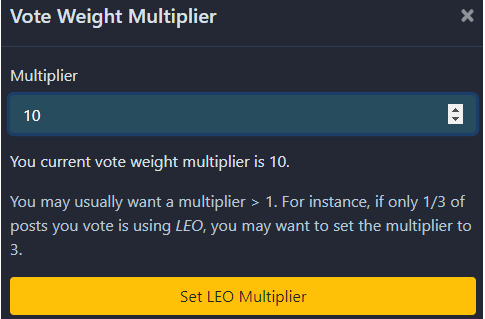 Then I checked my 100% Vote on Leofinance:

Then I changed the slider to 10% and the amount of Leo stayed the same!

I voted in Leofinance and checked the activities in PeakD. And indeed it only gave a 10% there!

Then I went back to Leofinance and configured a default vote weight of 10 for my posts of

This solution gives me more control over my voting power on both interfaces. Thanks again for sharing @achim03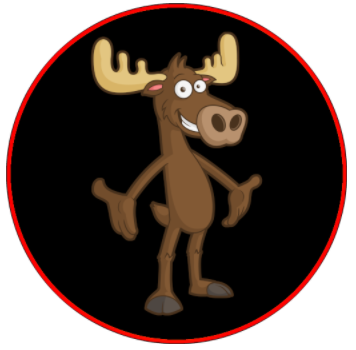 FriendlyMoose
I'm crypto and security enthousiast with a passion for photography that likes to play games.

Follow me on noise.cash: https://noise.cash/u/FriendlyMoose
Play Cryptobrewmaster: https://www.cryptobrewmaster.io/game/invite?ref=98e54ae0852648fa94e5926e7205b725&code=AlphaBonus
Play Sorare Fantasy Football Manager: sorare.com/r/friendlymoose
Get free Stellar coins: https://coinbase.com/earn/xlm/invite/0kjzn84d
Get free Compound coins: https://coinbase.com/earn/comp/invite/q06gsytm
Get free Band coins: https://www.coinbase.com/earn/band-protocol/invite/vskgmrw9
Posted Using LeoFinance Beta