Some months ago I wondered what would happen to the hospitality industry, and socializing, in the wake of SARS-COV2. While the jury is still out on the final impact on the hospitality industry, in many areas and particularly locations which require a reservation, there have been first signs that humans still love to eat out.
If the sector can continue to minimize its loss due to continued pre-Covid cut-throat rates, there is a big chance hospitality will survive and millions of jobs around the world will be preserved. Which is a big IF because so far footfall is still minimal in most places and thus turnover will stay reduced for months to come, until people start to live the Covid-era with less fear.
Recent months have highlighted another casual victim of the pandemic though and the arts sector around the world has suffered. Many artists have had to resort to a more common 9-5 professional working life, if they were lucky enough to find a job. Stacking shelves at the local supermarket or packing online grocery orders often being one of the most available jobs.
Slowly but surely, it seems the whole entertainment industry — an industry often built on zero-hour gigs — is starting to collapse and the first big, international brand has shut it doors yesterday in the UK.
CineWorld Closes 127 Cinemas in the UK and US
The closure, which was confirmed only on Tuesday puts 5,500 jobs at risk. A majority of which are zero-hour contract giggers without recourse to any of the current British Covid-support schemes for employees.
The chain, who in 2018 purchased US chain Regal, and was largely in debt since cut the cord after the release of the 25th Bond movie, No Time to Die, was postponed.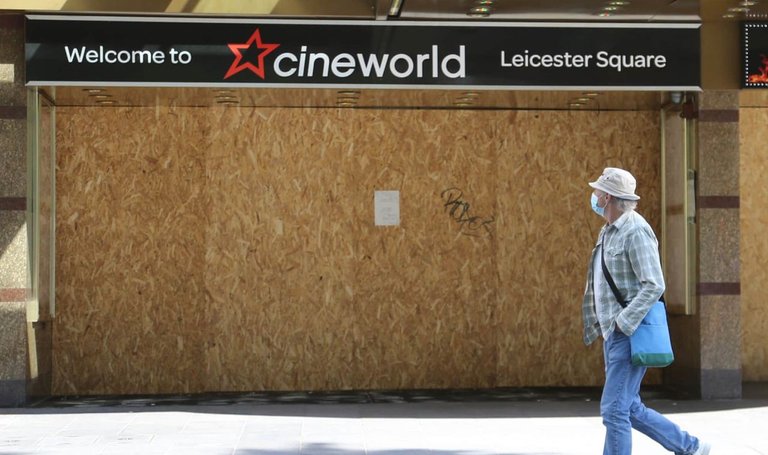 Image by Anatolu Agency/Getty Images, via The Guardian
It would be simple to say that CineWorld wasn't already struggling, and everything was rose in the world of cinema before the pandemic, but the movie theater scene has been under constant attack in recent decades and what was in many cities a local theater is now a "blockbuster megaplex" or was shuttered many years ago already.
In last decade, ever more than before, Hollywood has focused mostly on churning out low-risk blockbuster after blockbuster, often with mega marketing campaigns and lots of "paraphernalia" in order to maximize the box office revenue in an ever faster and less memorable industry.
Now, now suddenly, it seems that the current potential revenue just isn't good enough anymore for Hollywood after the box office revenue for Nolan's Tenet disappointed.
As a result almost every movie's release has been delayed with at least year. People following the movie news have hardly had any week recently without multiple upcoming big screen titles being delayed, including the much awaited and already previously released 25th James Bond movie No Time to Die. Leaving an industry which has built its recent offerings around blockbusters hapless.
As the arts, and entertainment sector in general, will have to continue with limited capacity audiences, the writing could be on the wall for the mega Hollywood — and also Bollywood — titles and the best paid actors.
Will the viewer continue to look forward to going to the movies or will the shift to streaming, with always cheaper high quality home projectors, become the fatal blow to an industry which has too often focused only on maximization?
If you're still looking forward to going to the movies, let me know in the comments. I haven't for years anymore as I think the home experience — with friends — is the better experience nowadays.
---
Posted Using LeoFinance