This is what I have been waiting for.
A credit card with a Bitcoin rebate.
Visa and BlockFi are joining forces to launch a new credit card to promote further mainstream adoption of digital currencies.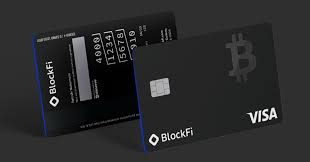 I have decent credit card bills every month and use them for a lot of online purchases for my business.
Until now I am getting some kind of Airmiles that are not really Airmiles and I cannot wait to get a card that gives me back something I can use and that makes sense.
1.5% of roughly 1000 every month: 15 x 12: 180 USD in Bitcoin just for spending on things that you would have bought anyway.
Those 180 will go into your Blockfi account and earn another 6% ROI as well + the appreciation.

Available sometime in early 2021, the product will have a $200 annual fee and will be issued by Evolve Bank & Trust.
So after one year:
The card pays for itself
You are making a small profit
Add appreciation
I do not have any credit card debt and do not plan on getting some either. I feel I use the credit cards the right way. Not as a short term loan but as an easy way to pay for things. Paying your credit card bills is the most important thing to do when using these cards.
If you do that you can take advantage of the rebate.
I have joined the Blockfi waiting list.
If you do not have an account yet, sign up and get in the queue
https://blockfi.com/?ref=141e7c31
(a 100usd deposit earns us both 10 USD)
BlockFi is "excited to add credit cards to our suite of products and expand Bitcoin's accessibility to a broader set of consumers," said Zac Prince, founder and CEO of the startup.
Posted Using LeoFinance Beta