They say history has the habit of repeating itself and this saying appears to be true, life provides enough evidence for us. I remember those inflation times when you bought a pretzel in the morning for $0.1 and the same pretzel for $0.2 in the evening. This is just a scenario and a joke, but the inflation was true. People were converting local currency to USD and DM (Deutsche Mark), later to EUR, so they don't lose value.
Companies had great difficulties coping with inflation and invented all kinds of tricks to cover costs. Some offered packages to keep clients, others offered something more, a little extra to be able to increase prices and the most common in the food industry was shrinking quantities.
People have visual memory and know what a certain package looks like and can also remember the price of certain packages. In order to be able to keep prices at the same level, food producers decided to reduce package sizes and offer less for the same price. This is how now we have 900 ml bottle instead of 1L or even 850 ml, depending on the product.
Bread size was also reduced at that time. The usual quantity is 500g, 1kg or above, but back then 450g bread surfaced and stayed till this day. Other products has suffered the same transformation.
This is ok I guess as they had no choice or let's say this was one choice that worked for them. The problem was (and still is) with people ignorant in math as the could be easily fooled into buying 850g product at the same price at the 900g.
As I said, history has the habit of repeating itself as Ferrero is reducing Nutella jar sizes in Belgium and UK, in order to be able to keep the price. Ferrero, the Italian manufacturer is the second biggest chocolate producer and confectionery company in the world, with a revenue of € 11.37 billion in 2019. There are only two countries affected by this decision but I think it's going to be extended to other countries as well.
So the 400g jar will become 350g, the 750g will be 700g and 950g will be reduced to 900g. This move is called shrinkflation nowadays.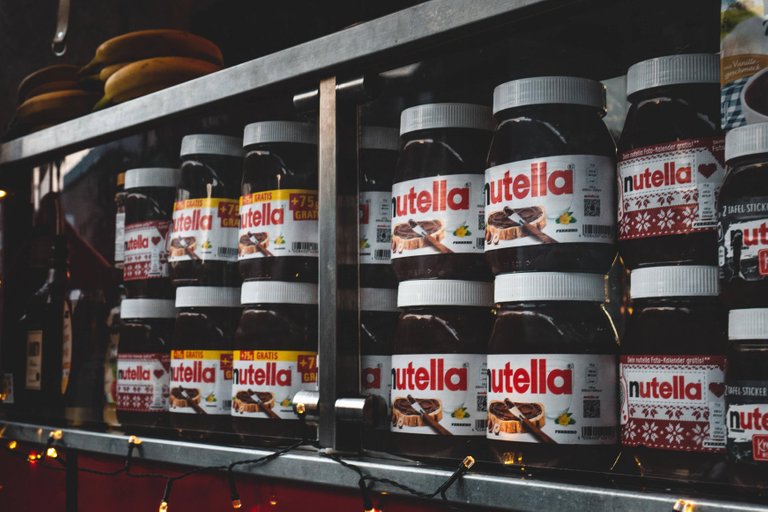 Photo by Jonathan Kemper on Unsplash
Ferrero is not the only company practicing shrikflation. According to the Office of National Statistics, there were 206 products having the same faith between September 2015 and June 2017
Cadbury has also announced its participation in shrinkflation but for different reasons and also in a different way. The British multinational confectionery company is planning to reduce the calories of each package, to 200 calories when sold in a four-pack, till the end of 2021. What is interesting in this case is that the individual package will have the same calories, only the four-pack will be affected.
"We must play our part in tackling obesity and are committed to doing so without compromising on consumer choice," said Louise Stigant, UK managing director at Mondelez International. source
Consumers however don't believe the justification, they say it's for profit margins. While I can understand the reason behind the measure, consumers have a say in this and there's a precedent in history, when a company had to reverse its decision to shrink the size of the product.
In 2016, it reduced the weight of its Toblerone bar from 200g to 150g by spacing out its distinctive triangular chunks, but it reversed the change two years later.
The Swiss manufacturer owned by Mondelēz International reduced the weight of its famous Toblerone bar from 200g to 150g in 2016, but was forced to revers the decision two years later.
We have to keep our eyes open in the future, check price and package size and also compare products as money is scarce everywhere, budgets have been affected worldwide.
Posted Using LeoFinance Beta