While checking what's happening in the world this morning, I bumped into an article about what Black Friday. The article was detailing the numbers, comparing this year's result to previous years.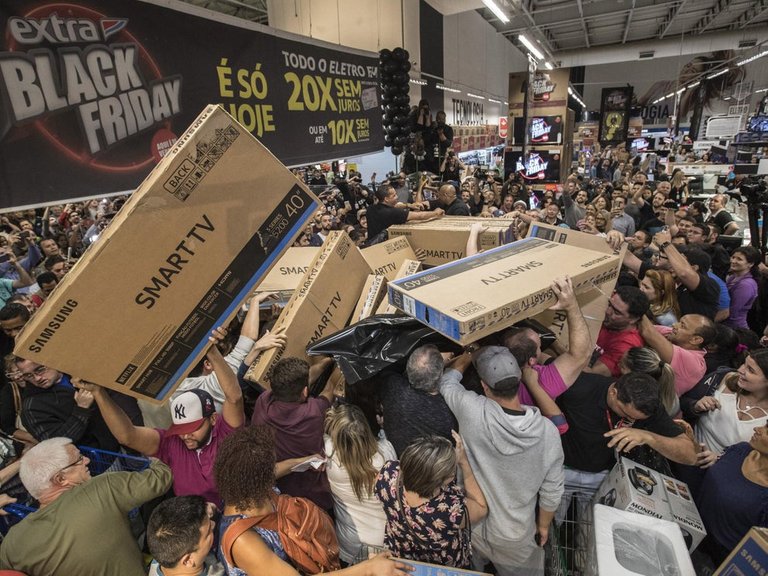 source
This year's Black Friday was nothing like the years before. Maybe the scene that you see on the photo happened in some countries, but my guess is the whole circus has moved online due to the pandemic. I believe I wasn't the only one who thought roaming around the shops is not a good idea this year.
According to the article, that was talking about the biggest and the most famous online shopping platform, seven minutes after opening, there were already approximately 300,000 sales. Online transactions increased by 95%, which proves me right. The article goes on and on about numbers that are higher this year, compared to last year and even compared to ten years ago, when the first Black Friday took place.
This is all nice, someone who has no clue about economics would think we live in paradise, people are filthy rich, sales are booming and this huge success will be repeated shortly, at Christmas.
These numbers are important obviously as one must monitor activity and growth, but these are nothing if not compared with expenses.
There has been an increase of prices this year, right after the pandemic started, due to extra costs, sales have decreased and some companies had to close down for a couple of months.
If you go to the shopping mall, you can't see the usual crowd roaming around, looking for something or just spending time at the restaurants. Most of the shops are empty, you barely see people carrying shopping bags. Another lockdown can happen before the year ends, that will be again a huge setback.
Online sales are good as you can still sell your products not only locally but everywhere in the country. However, the competition is fierce, in order to stay on top, you have to come up with the best offer. This year delivery was free pretty often and returning as well. Those costs have been covered by the seller obviously as delivery companies are not working for free.
Christmas sales will be less than last year, that is almost guaranteed. Gatherings and parties are strictly forbidden, restaurants are closed, there will be no Christmas parties this year.
Without knowing the exact numbers, I know this little boost called Black Friday can't save the year. Big companies can regroup, reorganize, register losses and still survive but small ones may not. A good part of these sales were made on credit, that may not be paid back.
The government is pretending to help but the system is so sluggish, that little help may come too late or never.
Next year will be interesting again as i don't see any sign of life improving. The pandemic is not over yet and the effects are yet to come. Nit as I said, it depends on how you look at it.
Posted Using LeoFinance Beta