Consumers trust is the biggest asset a company can have and losing it could mean the end of the business. The saying that no one wants to know how the sausages are made is not valid anymore.
The food industry is changing, we see new technology introduced every day to make production more efficient, traceability and transparency is also something food producers and farmers are working towards. This is a new era, the era of digitalization and technology.
New products are designed every day, based on surveys and market research, trying to fulfill the expectations of consumers, with more or less success. Product life cycles are getting shorter as new nutrition trends are dominating our life and the market needs to adapt. Consumers are getting smarter, what was good and healthy decades ago is not good anymore. As science evolves, so does the food industry.
It's a war out there, adapt and survive or you'll die, these are the two options and the companies that are able to adapt, will win.
The key to success is listen to consumers, adapt your products to their needs. Marketing research has also gone through an adapting process, instead of phoning customers or paying a few cents for online surveys, food companies decided to work directly with customers, letting them design the product.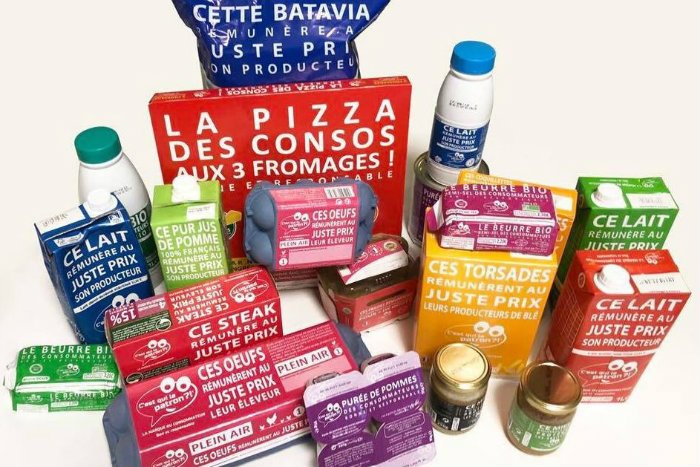 source
Consumers Dictate
French food brand C'est qui le Patron (Who's the boss, in English) is working closely with consumers, inviting them to select ingredients, production methods and quantity of products they'd like, to be able to fulfill their requirements. Then consumers can vote on what they'd like. There's a symbolic entry fee of 1 euro, which doesn't scare consumers as the number of members is already over 10,000. These members are seen like shareholders and can vote not only on what they want to see on the shelves, but also on how much farmers are paid on their products.
By the time products hit the market, consumers already know what ingredients those contain, how much is the price and how much is the dairy farmer paid for the milk for example.
Ingredients are also very important. When you I go to the grocery store to buy milk, my first concern is the quality of the milk, but in fact there's no way to know what type of food those cows have been given and if the product is made of real milk or not. Genetically modified crops are always reason for concern, so C'est qui le Patron (CQLP) guarantees that genetically modified crops in the cow's feed is less than 0.9%.
Over the years the offer of products has been expanded to more than 30 products, from chicken, honey, flour, to yogurt and pizza, among others.
The project is successful as has managed to team up with big supermarket chains like Carrefour, Lidl and Intermache and expanding internationally is the next step. Countries like Germany, The Netherlands, UK, Spain and Italy are considered among others.
Working directly with consumers can mean more work but it is definitely something to think about as it sells the products. Once consumers are involved in the process, selling any kind of product is made much more easier.
Those days when anything could be sold in a nice package and a nice commercial could bring you huge benefits are long gone. Consumers have access to information, there are apps that facilitate ingredient checking on the spot, so fooling customers is not an option anymore.
Posted Using LeoFinance Beta