Build your own dreams, or someone else will hire you to build theirs — Farrah Gray
Right now, that's what is happening on other social media sites. They are hiring to build their dreams and plenty of people are working tirelessly on a daily bases, posting, engaging, hoping they can earn a penny or two, others for free as they don't know they can monetize their content, knowledge and time. If you need proof of that, I suggest you read two very explicit posts by two users who have experience in building other people's dreams trying to monetize their content:

How I Started To Build My Dream
About three years ago I saw someone posting a photo on a social media site, about a camera they bought with Hive (Steem back then). It was an $8000 camera, which is remarkable, if you think of how they made those $8000. They said it costed 2000 Hive, as the price of Hive was $4 back then. It was an eye opener for me, so I created my account on Hive, hoping I can get a few cents while practicing my English, as earning big money wasn't my dream due to language difficulties.
Yesterday I published my story about how crypto and blockchain technology has impacted my financial life. This post comes after 2 years and 10 months, roughly 1030 days. This means showing up and working a couple of hours on the chain (posting, engaging, curating), every single day, even when I had very little or no time at all.
This morning I got a comment, that is very precious to me.

@tibaire wrote me in Spanish as most likely that's her mother tongue and the language she's most familiar with. Kind of recognize myself in her, back when I started and can understand how she feels and I'm very glad I could motivate her to continue. Maybe one day her story can motivate others to join us.
Yesterday I was mentioned by a friend of mine @bluemoon, who due to witnessing his friends posting in Leofinance, decided to join the community.
Leo is getting a lot of attention lately, I can easily say it's booming, because more and more users see the possibility in it, see a way of earning, the engagement is skyrocketing, compared to what's going on on Hive.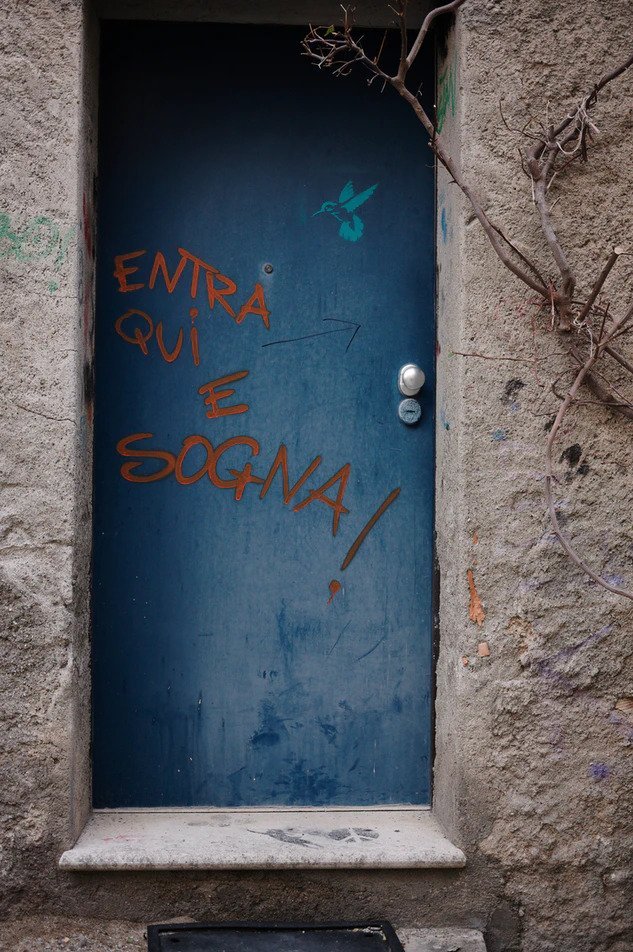 Entra Qui E Sogna (IT) - Enter Here And Dream (EN)
The door on the photo and the place in general look deserted and scary, but there's still an invite there, to enter and dream.
Hive and Leo is the place where you can enter, dream and make your dream come true.
The last two days we saw a lot of posts about how crypto and blockchain technology has impacted people financial life, and there's more to come, trust me. This is not some internet scam some platform has invented to get more people to subscribe, these are real stories. This is the proof that you can build your own dream when you quit working for free. If you still need proof, you can read this post to see you can put food on the table by doing what you like, here.

Proof
People like success stories but unfortunately what's going on on usual social media platforms can't be believed anymore. Manipulation is reaching unseen levels, you can't be sure what they are showing you is true. People also like to be sure, not many are willing to take risks.
Blockchain technology has a huge advantage in this regard. It gives you the proof you need. Transparency is not an issue here, every post, comment, transaction is visible and traceable. Even if you delete something, that can be retrieved easily.

If you're not registered yet on Hive, you may rethink how much time you're spending on social media sites and what advantages you have there. Then come look around on Hive. You'll see what I'm talking about.

While I was writing this post, something amazing and funny happened. I got a comment from @filotasriza3.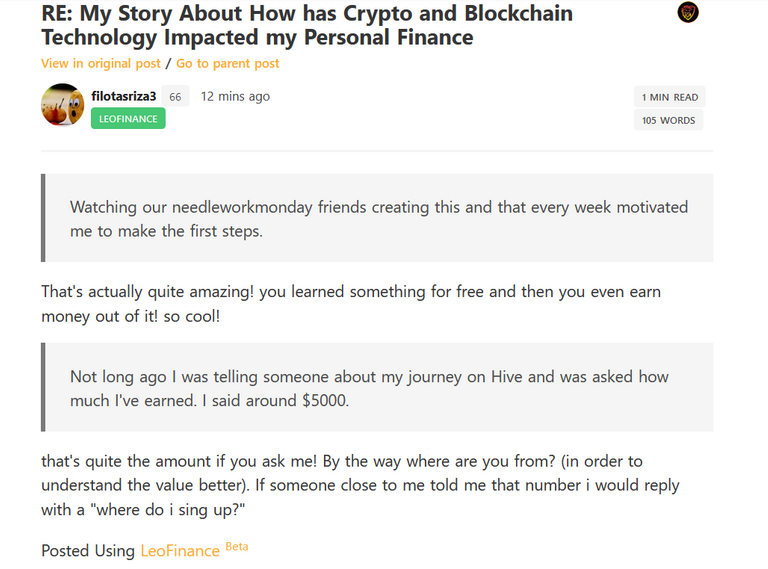 See? That's what I'm talking about.
Posted Using LeoFinance Beta