It is a known fact reformation in the financial sector is an essential ingredient in the economic advancement and developmental process of every nation. Cashless societies had long being in motion dated back to the time when human society came into existence, based on barter and other methods of exchange, and cashless transactions have also become possible in modern times using digital currencies such as bitcoin, ethereun, hive, steem and even our precious LEO.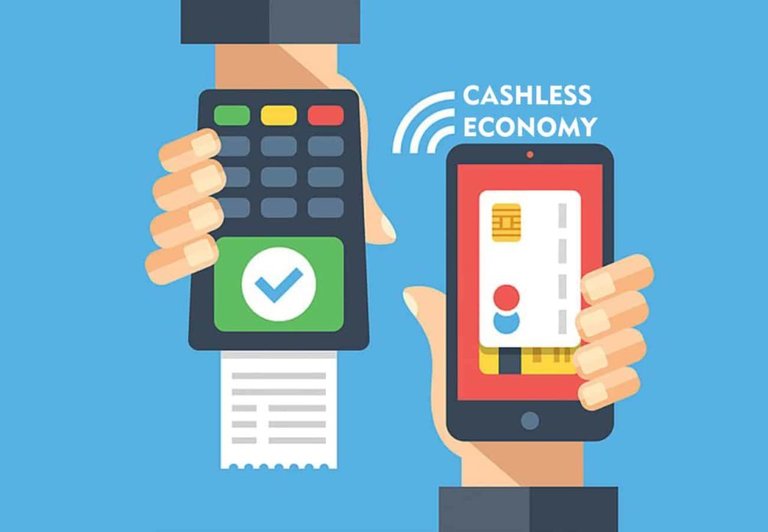 Source
Over the years, the rapid and increasing use of digital modules of ledgering, managing, and exchanging money in commerce, investment and daily life in many parts of the world has given rise to the need of a cashless economy, and transactions which would historically have been undertaken through cash are often now undertaken.
Cashless transactions should be an important feature of a smart city. Though the interest which the cashless economy policy has generated is hardly surprising considering the enormous implications its adoption and implementation will have on the lives of the ordinary people and the business environment.
Cashless transactions though it has become the preferred way of payments in some developed nations of the world, Nigeria particularly is still struggling with its adoption and implementation even with innovations like Point of Sales(POS) which has seeped into our day-to-day life still it hasn't fully been appreciated by all.
Nigeria has takens various steps to ensuring a totally cashless society but unfortunately the policy still hasn't been accepted hook line and sinker because the greater percentage of Nigerians are not literate enough to know how they can fit into this policy for instance, the transport sector, the traders, infact the entire Nigerian society still has a bit of challenge embracing this policy because Nigeria is generally regarded as a problematic society.
The later part of last year got us introduced to a very smart contract here in Nigeria by Opera group of companies with an app that enhanced easy transaction between people but they major challenge with opay was that they came with an unimaginable reality. They wanted to high jack every part of trade in Nigeria starting from food to transports and to just everything which in a way wasn't possible.

Into the Cashless Economy with LEO
Some months ago, the Securities and Exchange Commission of Nigeria officially bridges Cryptocurrencies into the stocks market. Now that cryptocurrency has been duly approved in Nigeria, i think this would be the best time to push the cashless society policy and in my thinking leo would be very instrumental in our push towards a cashless society as a nation and it will also be the best way to mass adopt new users.
When the term cashless is used, the first thing that comes into people's heart is "Oh! I will have to be going about without any legal tender on me and this is one of the mentality that has really crippled Nigeria's effort talking about a cashless society. Well I would want to say that a cashless society is not one where people go about without money but one where people go about with a digital money for instance I have LEO and I have a smart phone, it is easy to pay for a product i want to buy with my LEO and this is what a cashless economy looks at.
LeoPay
In my mind I am already envisioning a LEO mobile application that will leverage a LEO holder to make transactions at will in any part of the world that has adopted crypto transactions. Book hotels, book flight, buy food items and groceries, pay apartment rent and fund your wards tuition fee using this app. All that one needs to do is to onboard hive blockchain, create contents claim their rewards using the mobile app and use the rewards to perform any transaction they wish to perform. This will in a way increase the value of LEO and also bring more traffic to LEO.
LEO could become a widely accepted token in the world if people are given an easy to use opportunity where they can use LEO to met their day to day needs without having to move about with cash. There quite some risk that is attached to moving about with cash most especially in a city with high insecurity rate.

LeoFinance is a blockchain-based social media community for Crypto & Finance content creators. Our tokenized app allows users and creators to engage and share content on the blockchain while earning cryptocurrency rewards.
Follow @leofinance for official updates
---
Posted Using LeoFinance Beta