After many weeks of not discovering any technologies I finally managed to get Mining Operation - ETH card, which has a discovery ratio of 6%. This technology gives its user a SIM income bonus of 4%.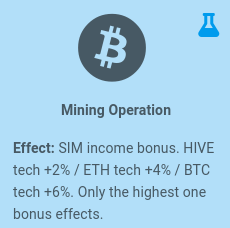 I saw that people were selling this for more than 250 HIVE.
I managed to sell this technology card for 160 HIVE.
I am not sure if I sold it for cheap or not, but it actually gave me a lot of HIVE that
I already used to increase the discovery chance in my city to the maximum.
40 education adds 1% to the discovery chance. With the current prices of cards the schools are really cheap for what they offer. For around 8.5 HIVE it's possible to increase the discovery chance by 1% so it actually costs less than 215 HIVE to have 25% discovery chance in the city!

Because I already had some research center and university cards I didn't even have to spend that much. In the long run selling this technology and buying education cards instead will give me many more technologies in the future, which is a good thing!
See you soon!
Posted Using LeoFinance Beta