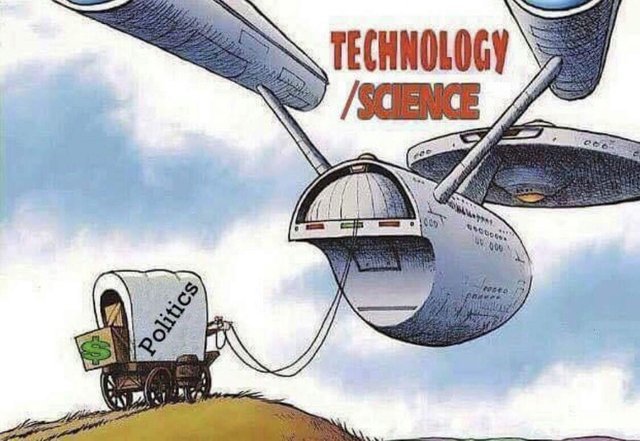 Everyone is making quite the fuss over this regulation rumor. The Trump administration may want to KYC all wallets that Coinbase and Bittrex send funds to. What does Coinbase's Brian Armstrong have to say?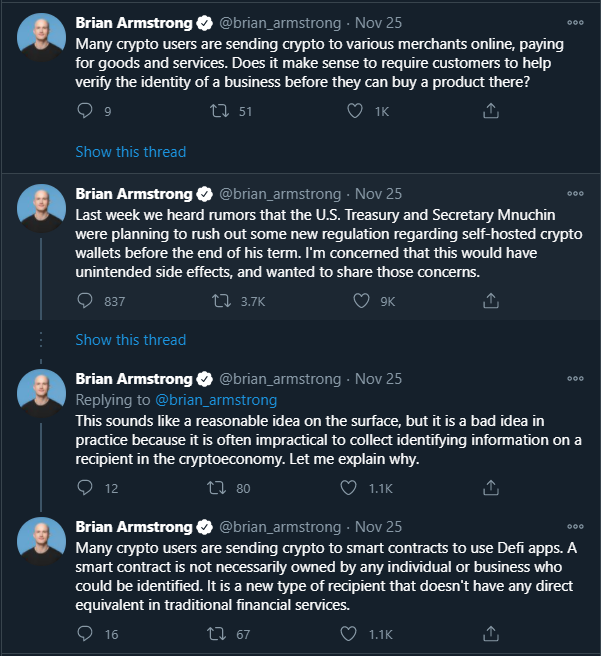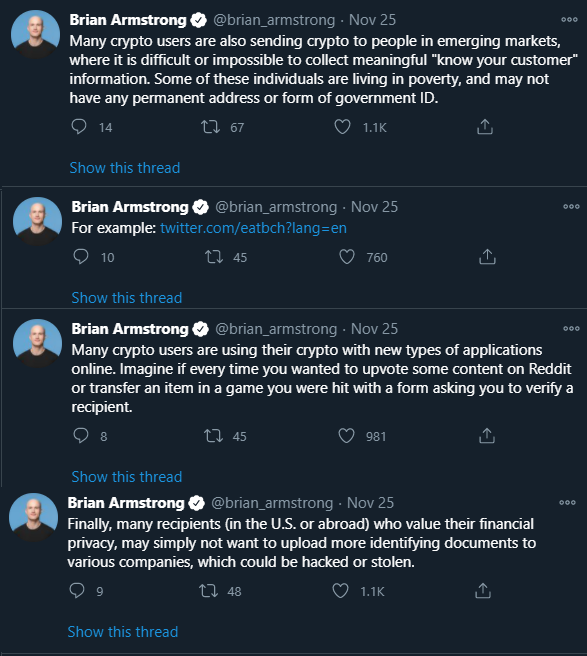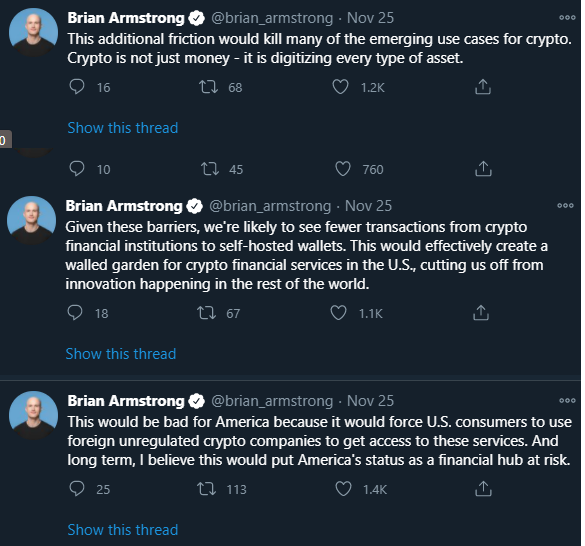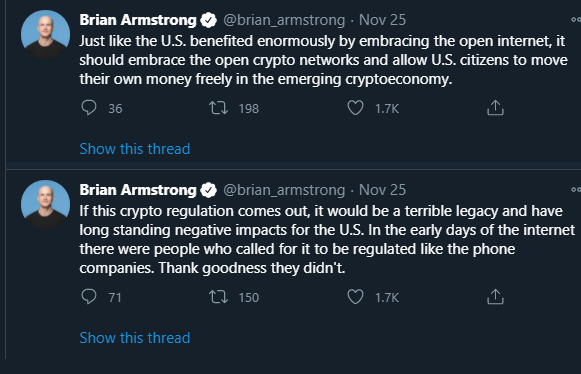 So many good points made.
I don't even like this guy, but he is really laying it all out on the table.
You can't KYC a smart-contract.
You can't KYC the unbanked.
Businesses don't require KYC, they are public.
DeFi tech does not merge with KYC.
KYC on non-fungible tokens is ridiculous.

Includes gaming and social media.

Privacy is important, centralized hacks are a threat.
Added friction crushes innovation.

This cuts off America from abundance tech.

Parallels to early Internet are obvious.
---
If we had allowed the phone companies and the entertainment industry to regulate the Internet, it simply wouldn't exist. Or rather, America would have banned it and would have subsequently been left in the Dark Ages like North Korea.
This time around, central banking and governance itself is being challenged. The stakes are much much higher, and so the resistance will also be predictably exponentially higher.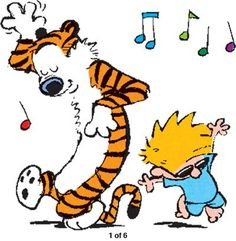 What's the point?
The one thing that Bry Bry fails to mention is the benefit of these KYC regulation rumors: There isn't one.
Let me explain...
Okay, so all American exchanges are now doing KYC on the wallets they transfer crypto to. What's the point? Coinbase already has KYC information on my account. If my account sends Bitcoin to a wallet and that wallet is also KYCed to my identity... so what? All I have to do is send the Bitcoin from that wallet to a non-KYC wallet. This "regulation" would just add one extra step... one extra transaction fee to avoid the silly and pointless KYC. There's absolutely no point to it; it is nonsense.
Which makes me think perhaps the only point of floating this rumor was to make the dip happen in order to manipulate the market and potentially even engage in insider trading during a time when everyone was saying the price was going to crash anyway. Well played if so.
And while something like this could be seen as an attack against Bitcoin/Ethereum because on-chain fees are so high, it's pretty damn awesome for networks that scale higher like Litecoin and whatever else. No one complains about Litecoin fees (yet). Moving funds from the KYC offramp to another wallet would cost less than a penny at these rates. Again, this regulation serves absolutely no purpose and is completely nonsensical. What do they possibly hope to gain from such implementation?
"Not a security"
There's a reason why Bitcoin was deemed "not a security". It's impossible to regulate, so why even try. Adding this extra layer of KYC doesn't actually do anything but choke the corporations connected to Bitcoin.
Paypal
Paypal's new crypto business model is very very regulator friendly. It turns peer-to-peer currency into exactly the opposite, and that's what regulators want: to track and control everything. We'll, too bad, not gonna happen. The financial sector has been choked for so long it's evolving into something that can't be choked. This beast has no head.
There are so many posts I need to write.
Where does the time go?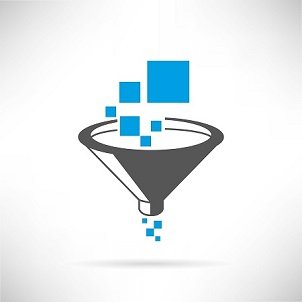 Regulators are trying to tighten the hold on this market and bottleneck all the markets through institutions they can control. This is the standard play, and it's going to fail spectacularly. It already is and has countless times. This regulation rumor is just further evidence of how incompetent they've become and how rusted and useless the tool-chest will be.
Just like the shear existence of Bitcoin allows dozens of other digital currencies to exist that should have been slapped down by regulations already, so will the tech evolve to make these regulations completely pointless.
Other on/off ramps to crypto/fiat are going to emerge. The crypto gig economy is coming where 'employees' will get paid directly in crypto. More and more crypto users will stop exiting to fiat altogether as products/services are paid for directly in the native currency. All of these developments add up to only one thing: regulations on exchanges only hurts the exchanges and the countries imposing them.
The regulators and the politicians and the corporations and gold bugs and the banks can whine as much as they like, but it simply does not matter on a long term scale. DLT is too valuable of an abundance technology to be stopped. Barriers will be erected only to be rendered completely inept.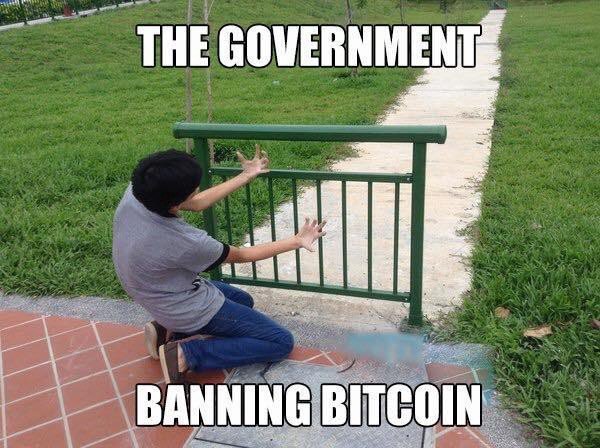 So let the manipulators manipulate.
All we have to do is hold and we win.
Posted Using LeoFinance Beta