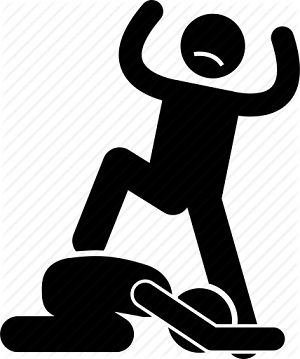 Bitcoin dominance is rising again, and this may just be the start. I've voiced my concern over this in the past. The next run up could be largely dominated by Bitcoin, while the alt-season my have to wait for BTC to taper off again and trade flat before it gets any action.
This happens all the time. Bitcoin is the Anchor. When the market is afraid, it latches onto the anchor for dear life and alt liquidity bleeds into Bitcoin pretty badly.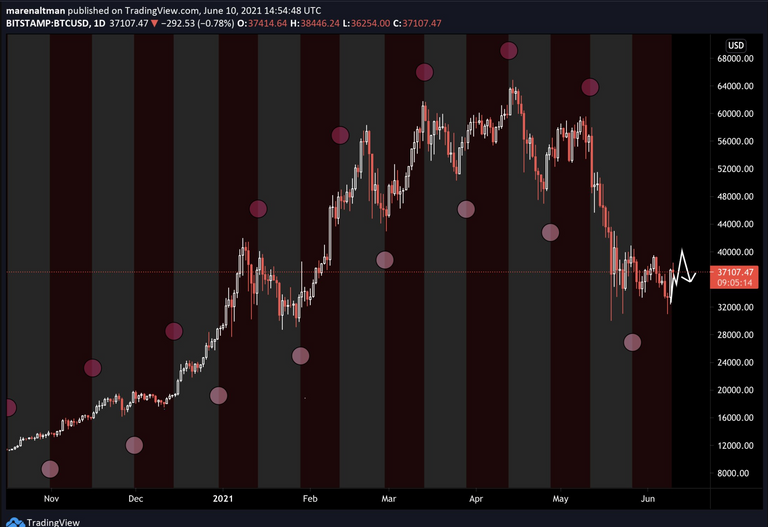 We got another new moon yesterday so if the pattern continues the market should be suppressed for another two weeks. At this point I'm pretty certain that $30k will hold, but again, Bitcoin might have to stomp on alts pretty badly to stop the ice from cracking.
This would also be an interesting time for a reversal, even from the Goddess Moon perspective, as during the new moon yesterday we also got a "ring of fire" solar eclipse:
Weird shit happens during eclipses so the mega-bull in me wants to think that this is the start of a Goliath summer run. It would make sense considering everything else going on in the market. From El Salvador to all the fake manufactured FUD to the fact that most of the weak hands have already been totally shaken out.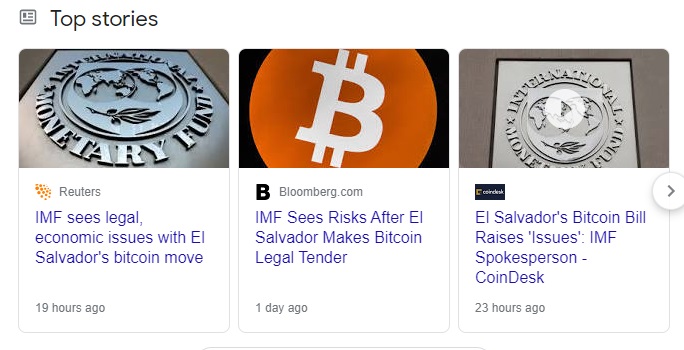 Speaking of El Salvador, it's no surprise that the International Monetary Fund is making a big stink about Bitcoin being legal currency on equal ground with USD. I'm shocked. Again, this political power play is going to see a lot of blowback and quite possibly a complete reversal. A lot of powerful entities out there do not want this to become a thing. Might be too late though considering a dozen other nations are already talking about following in El Salvador's footsteps. Pandora's Box may already be opened for the banking sector.
President Nayib Bukele is going to come under a lot of scrutiny over the coming months due to trying to make these big boy moves. I find this article particularly entertaining as to how blatantly biased it is.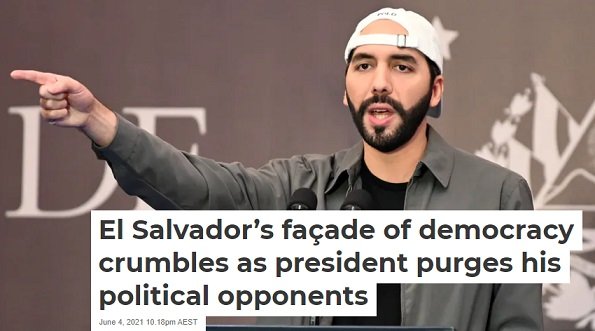 Yes, lets show him looking totally unprofessional wearing a backwards cap. LOL, Jesus Christ. Parsing this story was quite interesting.
El Salvador is in crisis after President Nayib Bukele on May 1 fired five Salvadoran supreme court justices and the attorney general.
Wow, baller move.
Yeah, he's got some dictator vibes about him.
I'm getting major Julius Caesar energy here.
Remember what happened to him?
Killed on the Senate floor publicly for trying to take away the power of the elite.
Salvadoran lawmakers supported Bukele's purge of his perceived opponents. And recent polls show more than 90% of Salvadorans still support the president.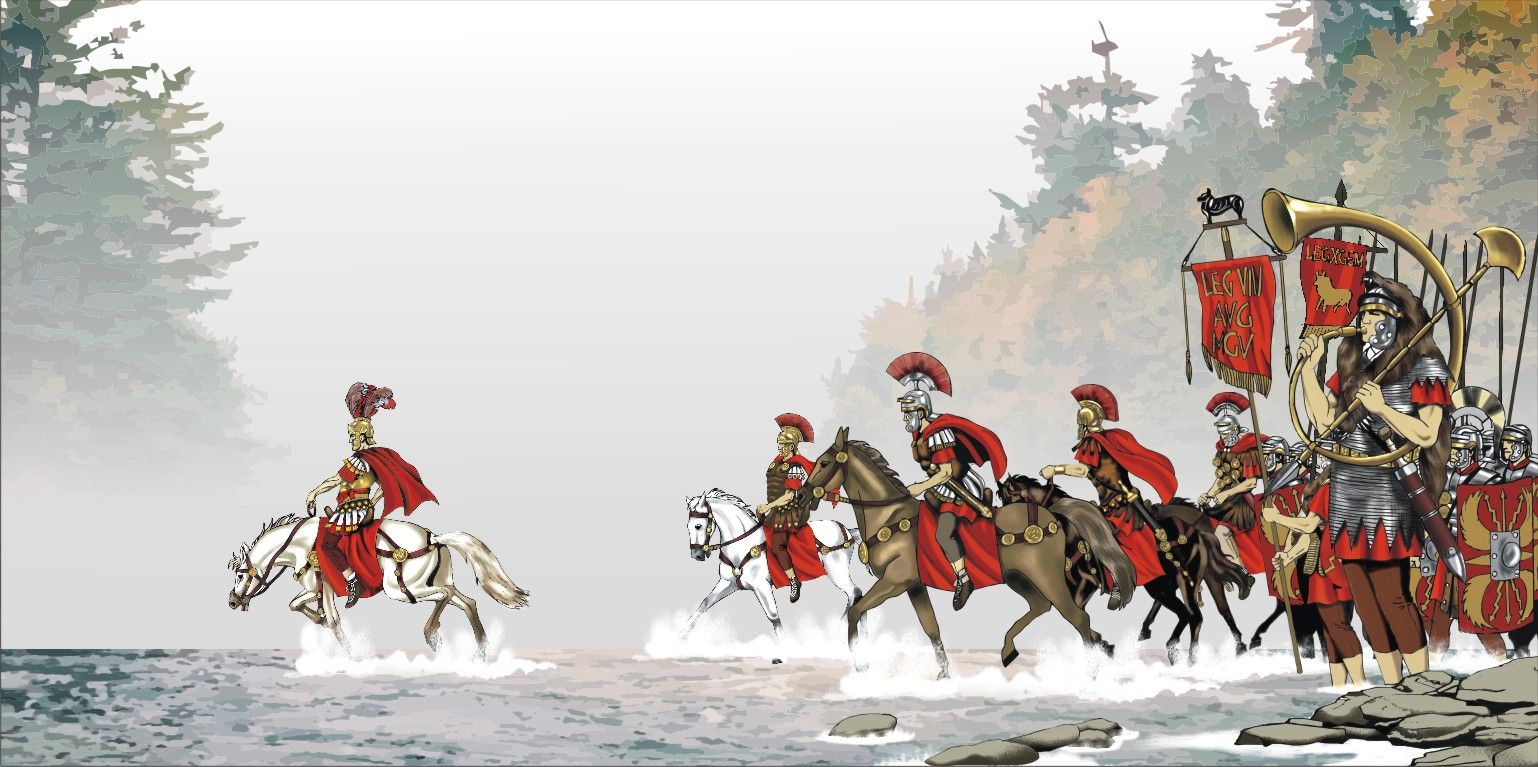 Yeah okay, that's insane.
Some people seem to forget that strong centralized leadership is the absolute best way to go IF you can trust the person in charge. Big IF, but it's still true.
When you can run around acting like a dictator and still have a 90% approval rating, that's insane. When you can do it while not even toeing the line of a main political party? That's even crazier. There's a lot more going on here than meets the eye.
It's comical that we would criticize the lack of democracy in El Salvador when literally there is no functioning democracy anywhere in the world. As far as we know from this report, these people he got rid of were total dipshits and El Salvador is even better than it was before. We don't know because the author doesn't care, they have an agenda and that agenda is to attack Nayib Bukele. They clearly don't actually give a shit about democracy. And even if they did, democracy has already been demonstrably hacked beyond recognition all around the globe, so again the point becomes irrelevant.
I'm very curious to see where this is all going.
It's certainly not going to be boring.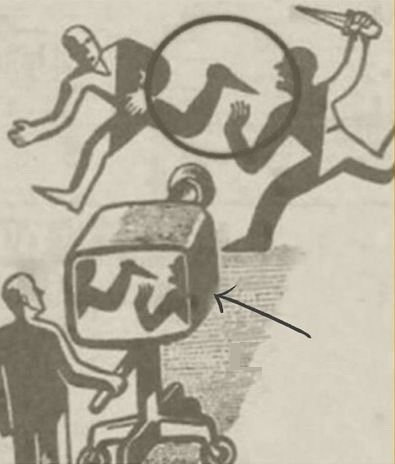 At the end of the day if Nayib Bukele allows Bitcoin and other cryptocurrencies to flourish in El Salvador, that automatically means he's allowing opt-in government to flourish in El Salvador, which is exactly something a brutal dictator wouldn't do, as they would want to retain as much control as possible. He may end up being a primary example of how a country can transition from strong centralized control into a robust decentralized system that benefits everyone.
Again, decentralized systems completely lack leadership and direction. If you can get the best of both worlds: you do it. Easier said than done, but it looks like El Salvador actually has a chance. Of course it will be interesting to see which countries impose harsh sanctions against the country because they opted for freedom. All the while trying to justify imperialism by making the claim that imperialist domination is the path to freedom. People are starting to wake up to the bullshit. The propaganda might not work this time around.
Posted Using LeoFinance Beta