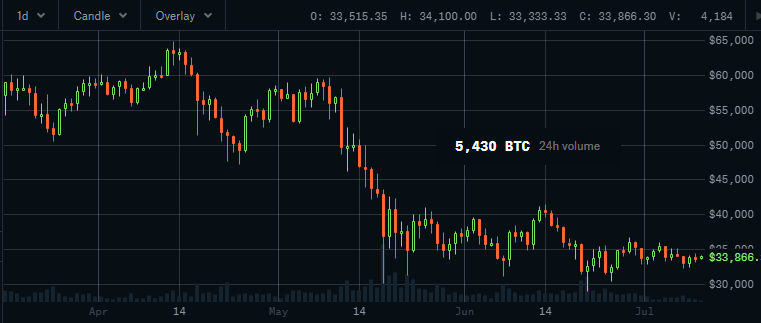 I have never seen such a pathetically weak Bitcoin given all the maddening and overwhelmingly bullish fundamental developments. If we were at $30k I would legit be calling for a crash to $20k right now. Luckily we have four thousand dollars worth of liquidity buffer down to that level, on top of a Bitcoin dominance buffer that will further support that price if the ice starts melting.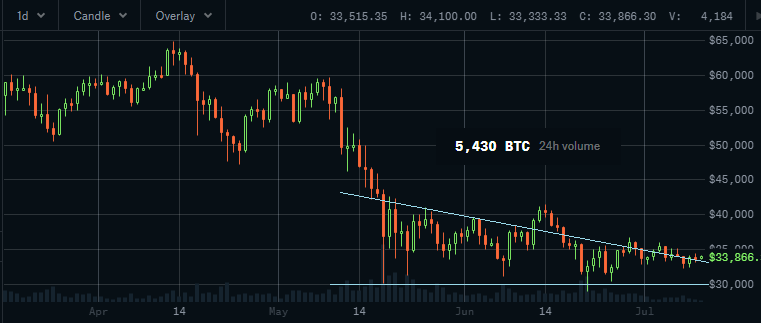 Definitely still one of the weirdest charts I've ever seen. So many psych-outs. So much fear. So many sharks (and even full-on governments) buying it all up. Now we sit in the calm of a lingering storm.
Volatility has dropped off a cliff.
Volume has dropped off a cliff.
The two week moon cycles are not on our side.
By all accounts it looks like we are going to test $30k again. Either way there's going to be a good amount of volatility coming down the pipe in the very near future. Volume doesn't stay this low for long. Usually it takes a dump to pick it back up, but I'm not sure if any of the whales are even willing to do that at this point.
All of the on-chain analysis points to the big players hunkering down and stacking up. There's also the possibility that Bitcoin's artificially-low hash rate is temporarily suppressing the price. Hash rate is correlated to the price, and due to the China bans in place the world is scrambling to farm BTC elsewhere. I think there's a good chance this artificially manipulated statistic could be keeping some bulls from pulling the trigger.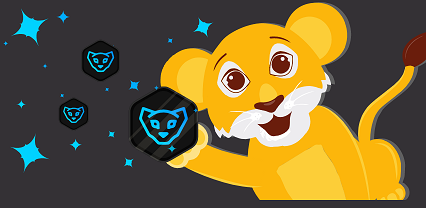 CUB
Price has been floundering around 75-80 cents ever since the new developments were announced. Pretty impressive considering the changes are late and the CUB Kingdom hasn't actually received that increased yield yet. Price has gone up 50% on pure speculation alone. It will be interesting to see if it will get even more of a boost later this week. There's also a chance we get a "sell the news" scenario if the changes weren't bullish enough on their own merit. Personally I think they are but who knows.
The entire point of "sell the news" mentality is that the thing being hyped doesn't create immediate short-term fundamental gains. Look at the Bakkt pump&dump of summer 2019. Everyone thought institutions were lining up the door to buy BTC. They were not. As soon as they opened their doors the price collapsed because the hype getting up to that moment was exhaustive.
The BTC halving event is also a great example. The halving is thought to be a bullish event because inflation is being cut in half. Lower supply, higher price, amirite? Well that's not actually true in the short term. In the short term the halving event is extremely bearish because it doesn't reduce the supply at all and it cuts the inflation allocated toward network security by 50% in an instant. Again, these are things that are thought to be immediately bullish but end up taking a year or longer to actually materialize real fundamental gains.
Is doubling the yield on the CUB den one of those things? The jury is still out but... I don't know I feel like yield is one of those things that starts delivering those dopamine hits immediately. We'll see.
Hive
The main chain is still doing alright. I finally recovered my voting power today from the whole curation bug fiasco. My 1% upvote is worth 4 cents (twice the dusting value) which is crazy to me when considering the drop from local highs. Hive doesn't have a lot of inflation (7.5% a year) so getting rewards on Hive is a pretty big deal.
Seeing as I get rewards on three different platforms for the same content (Hive/LEO/POB) it's all synergizing into some quite crazy stuff. For example, what happens if Hive moons and POB just automatically moons the same amount because it has no other liquidity pools? That would be pretty wild (and has already happened once).
Conclusion
At the end of the day I'm farming significant yield on four different tokens all connected to this ecosystem Hive/POB/LEO/CUB. Passive income is the new retirement account.
The market looks disturbingly bearish, yet no one is selling. All we can do is wait and hope number go up. If not, it will be time to hunker back down at $30k and defend that zone with the other "true believers". Don't get sucked in by the FUD storms, there's a lot of trickery going on with the markets these days.
Posted Using LeoFinance Beta