So many tokens, so little time!
But DACH token has been an interesting one, if risky. Today I would like to dive into DACH a little bit, for those that have not heard of it, as the fund has increased its exposure from 5 DACH to 26 DACH in the last 2 weeks.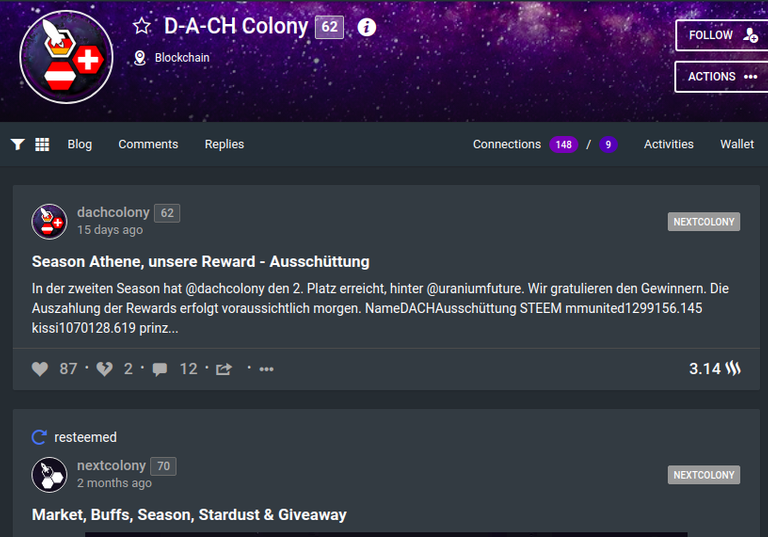 I first came in contact with DACH in steemnova - an experienced team of German Gamers that worked together seriously to dominate the game universe and literally make people rage quit - the only true way to lose at an OGame style game.
So when I noticed they were tokenizing guild rewards for NEXT COLONY last year, I thought this was the perfect alliance to back with an investment. Is this like investing in Germany in a war? No, this is online gaming, where wars games are designed to never end.....that's kind of their purpose. And silly as it is to say, no body does never ending warfare gaming better than the germans. he said with no evidence whatsoever
There are only 10,000 unitshares in the GERMAN alliance on the popular and rewarding game NEXTCOLONY.
Here are the fund's most recent rewards from the Athene season of Next Colony:


Since that date we have been looking to pick up a few more, and as of today, 26, which puts the fund in the 43rd position on the richlist.

Invest in this project at your own risk.
This is a SMALL allocation for the fund. This level was chosen because of the realities of the world we live in. There are no guarantees nor promises listed on the DACH on the web page or blog that I could find, and I don't speak German very well at all.
---
If you are looking for smartly diversified and entertaining exposure to this and a host of other projects being actively built on STEEM, with no guarantees nor promises, consider holding INCOME token.
Posted via Steemleo