NIGERIAN CYBERCRIME-WHO IS THE NIGERIAN PRINCE?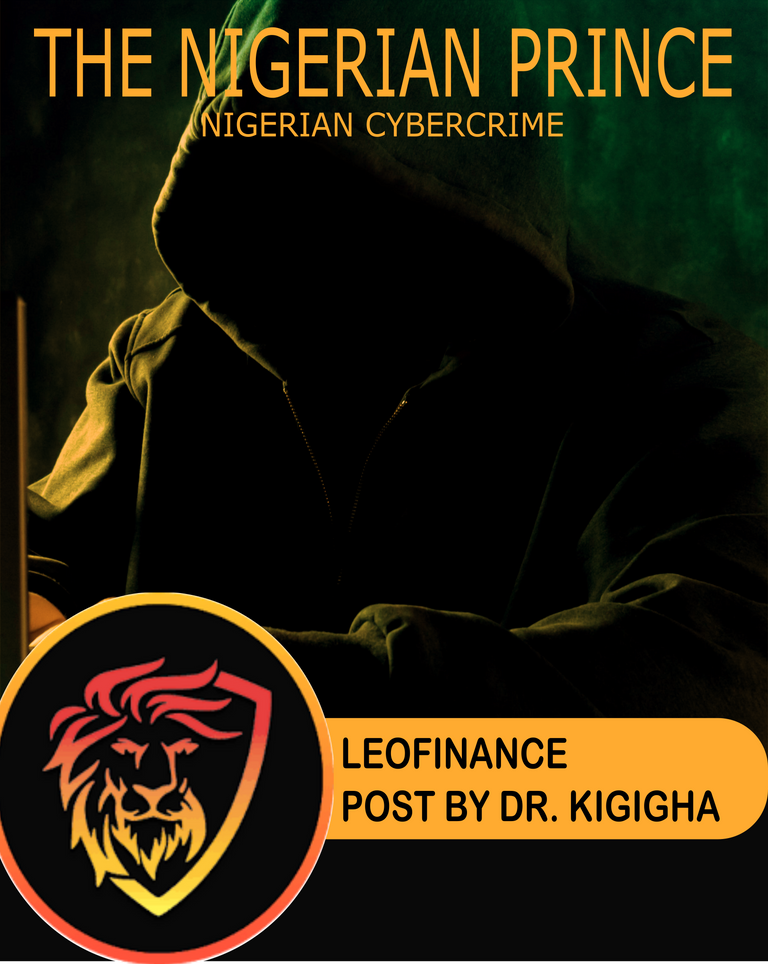 Were you active on the internet 10 years ago or some of the years before that? There is a chance that someone might have explained to you through an email that he was a Nigerian prince whose father just passed away and his evil uncle plans on taking the family's wealth. He probably continued by saying that he needs your help to make his claims to his father's wealth.
This is a touching story no doubt but the truth behind the story is the issue. There is a big chance that there was no dead father, no evil uncle, it was just someone in a room running operations on stealing your money.
In this post, we will be going deeper into the topic of cybercrime in Nigeria and getting to know more about the operations and what is actually involved.
In the conclusion section, I will be adding some helpful suggestions that Hive as a body can give to Nigeria as a country. So that the light can be put on the issue to fight it and make it a thing of the past.
HOW DO THEY OPERATE?
The Yahoo Boy
The Yahoo boy is what Nigerians call the cybercriminals who are actively involved in the operations of cybercrime. The yahoo boy does not live alone, he runs his operation with people around him in order for it to work. There are those who answer international calls, the person who works the bank accounts, and those involved in more technical parts of the job…like actual hackers. The university environment where the yahoo boy comes from has so many people to fit this role. They usually have offices that make fake documents and stamps and handle their phone connections. They change their VPNs, make fake social media accounts, and spoof websites.
THE STATE OF THE COUNTRY
I was talking to my brother @belemo about how in Nigeria we have to provide almost everything for ourselves. We generate power with small generators, we get our water ourselves with water pumps, we provide our security by locking our doors and keeping cutlasses close. In the house of a Yahoo boy, there is usually a generator burning fuel and creating a noise hazard to him and those around him.
FINDING A NICHE
Some young Nigerians are convinced that the best job for them is a life of crime in Cybercriminal activities. There are so many young graduates that are unemployed and there is hardly a chance for them to be employed. Whit that level of desperation it does not take much to be convinced to participate in these activities. They invest in figuring out a niche best suited for them, how to throw baits and which platforms are best. Knowing how to fake it so it seems like they are busy when in truth they know when to check back.
WHEN THE OPERATIONS END
When a victim transfers money to the yahoo boy, they do not stop until they know that you do not have any money. The Yahoo boy and his team of workers will ensure that their "client" as they call them, borrows money from friends and family to invest in whatever fake business they have lied about or help them with whatever fake situation they said they were in.
CONCLUSION
People need to pay more attention to the security of their gadgets by installing anti-virus software. All pop-ups that request for personal information should be dismissed. Always make your passwords strong and ignore emails from Nigerian princes or any call or email or text requesting bank details that are personal should be ignored.
With the cryptocurrency age building spaces on the internet, cybercrime in Nigeria will continue to rise and more needs to be done to reach out and take all that energy into something more useful. Enlightenment of the available jobs online for Nigerian youth is important. It is important that Hive reaches out to secondary schools in Nigeria and universities to explain how joining Hive can be beneficial to the country. To the elderly population who are victims of cybercrime, more needs to be done to show them that the crypto space is not just for the young, they too can be actively involved.
Hope you enjoyed learning about cybercrime in Nigeria. This is just an expository essay. I hope to be able to help in whatever way I can with the course. It would be nice to change the narrative of the Nigerian youth.
REFERENCES
Posted Using LeoFinance Beta
---
---