Everyone probably would like to make money passively, but it involves investing funds in cryptocurrencies,so that you can make money from them colloquially sayingnothing by doing nothing, that is, passively.
Acquiring more cryptocurrencies from them by expanding our investor's wallet, or home budget after converting to fiat( i.e. cash)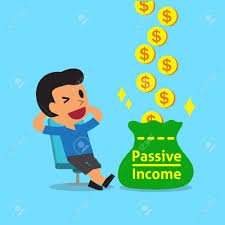 But to make money you have to invest.
Where to raise funds for passive earning?
It will show you where I got the money to make money in this way.
For example, a lot of people use free air drops, but unfortunately you have to wait most of a long time for them, do not see whether or not the airdrop will pay us and whether it will still pay off after thewithdrawal. A given cryptocurrency can always fall to zero or not stand out.
For this I have used a similar method, but the payer much faster and often in cryptocurrenciesthat are already on the market, or enter a new exchange.
Companies often offer for registering, opening an account on the stock exchange, or for learning about a particular crypt, a reward in the form of a certain amount of several dollars or eurosin a givencrypto currency, or in BTC.
Registering or opening such accounts is not difficult and you can even gain a low percentage for exchanging fiat data for specific covert currencies on these pages.
These are ways to encourage new users to register and use the platform data, and to recommend it to others, which also gives us additional benefits for us
What I use:
For registering and performing a specific action.
BITWALA : 15 Euro w BTC
BITPANDA: 10 Euro
BISON : 10 Euro w BTC
For learning about a particular crypto currency:
COINBASE :
- COMP (Compound) - 59 $ HERE
- BAND (Band Protocol) – 43 $ HERE
- XLM (Stellar Lumens) – 50 $ HERE
=== 152 $
It is a banking service combining both traditional payment solutions and a modern approach to blockchain-based banking with the possibility of setting up a BTC or ETH wallet. It is a brand which in itself is not a bank but a brand that allows you to set up an account with a German bank solarisBank. Thanks to which it has a banking license with a guarantee of up to 100,000 euros. And it applies all the safeguards required of banks in terms of payment security and personal data.
It has been operating since 2015, initially dealing only with cryptocurrency transactions and issuing prepaid cards. After 2018, she made available a bank account, giving the opportunity to handle both traditional currencies and cryptocurrencies. This is being developed through investment and support from the European Union.
It offers products:
-Bank account in EURO
-Exchange office and blockchain wallet BTC, ETH
In principle, all basic services are free. Bitwala, however, imposes certain transactional limits. Namely, the maximum daily limit for ATM withdrawals is 3,000 euros, and the monthly limit is 10,000 euros. For card payments, there are daily limits of €3,000 for landline payments and €5,000 for online payments.
BONUS 15 EURO:
we create an account

we undergo online verifications

we open a BTC account

We have to make a turnover of 30 euros (we deposit crypto what we want the amount,we trade for the amount of 30 euros)

= within 15 days bonus with us in your BITWALA account.
Remember also that if you register yourself (without clicking on the command link), then you will not receive a bonus - the command will not read and unfortunately you will not get a bonus for investments.
It is the largest crypto exchange in Austria, which launched in 2014. It already has more than one million users. Its main features are attractively low fees and asset prices. We trade directly with the stock exchange and not with its users.
It provides a multi-currency wallet with support for 20 cryptocurrencies and fiat (euros, British pound, Swiss franc and US dollar)
Condition for receiving a 10 euro bonus
Registration and verification of data.
Depositing at least 25 euros, the main condition for earning a bonus is to buy any cryptocurrency for the equivalent of a minimum of 25 euros. After purchasing Bitcoin, for example, you can sell it right away or postpone it for the future. That's how you'll make (almost) 35 euros out of 25 euros. I wrote almost, because the difference between the price of buying and selling a cryptocurrency can slightly deplete the value of the premium.
Remember also that if you register yourself (without clicking on the command link), then you will not receive a bonus - the command will not read and unfortunately you will not get a bonus for investments.
Bison
This is an application, Bison himself was created in 2019, so he is quite young Unfortunately working only in Europe.
It provides a personal account in solarisBank in euro.
Another service is the exchange office and blockchain wallet. Through the service you can not only purchase your cryptocurrencies, but also store them securely.
The Bison Wallet also allows you to send and deposit cryptocurrencies from another wallet.
To earn a €10 start bonus, you must complete purchase/sell transactions of any cryptocurrency for a total amount of at least €50 within 30 days of opening your account. For this purpose, you can fund your account with 50 euros and purchase bitcoin for the whole. The bonus will be paid out automatically in the form of the purchase of additional Bitcoins for the equivalent of 10 euros. Bitcoins equivalent to 60 euros will appear in your wallet right away. You will receive a confirmation of the withdrawal of the bonus in addition in the message within the application.
In each of these 3 systems, we can also raise additional funds for recommending these applications to friends and thus expanding our investment portfolio.
COINBASE
It is an exchange-based platform for buying, selling and storing crypto currencies. It serves more than 20 million users and its cryptocurrency turnover exceeded $150 billion. It is one of the largest exchanges in the U.S. market.
Move tothe heartof it in addition to theabovefeatures, you can acquire crypto currencies on it thanks to the crypto currency learning systemthey created.
It involves taking alook atshort videos of a particularcryptocurrency and answering a few questions for which we get a given currency from the dollar conversion for a given question.
After registration which takes place without video registration only. By taking a selfie and showing a photo and proof of a given address, e.g. electricity bill, we can start earning funds in a few minutes.
Unfortunately, sometimes due to a lot of interest we are transferred to the waiting list for a given crypto lesson. Therefore, sometimes it can take a few days.
But I succeeded thanks to patience
I presented to you the programs that I use to raise additional funds for investments in passive earning.
These are just examples taken from myexperience.
There are really a lot of programs that give opportunities to raise funds for investments.
YOU CAN REINVEST IN HIVE
Posted Using LeoFinance Beta