Seit etwa einem halben Jahr Stake ich nun einige Kryptowährungen auf der Plattform Hotbit, allerdings nur kleine beträge aus meinen Hive verkäufen. Nagut was heißt kleine beträge der Streit zwischen Steemit und den Hive Witness hat zu einem unerwarteten Geldsegen geführt. Meine 10.000 Hive die ich durch den Fork erhalten hatte konnte ich für 3500$ verkaufen. Über 13 Wochen tauschte ich die Hive gegen Kryptowährungen wie Band, ADA, Yearn.finance oder AAVE und noch einige mehr. Dadurch erhielt ich zwischen 0.5% -101% Zinsen.
Aber auf Börsen soll man bekanntlich nichts liegen lassen...
Das neueste Updates auf meiner Exodus Desktopwalltet eröffnete nun die Möglichkeit über meine Desktopwalltet Kryptowährungen staken zu können.
Zum Beispiel
Algorand für 7.31% Zinsen die täglich ausbezahlt werden
Cardano mit 5.14 Zinsen erster Claim nach 21 Tagen
Cosmos mit 9.02% Zinsen erster Claim nach 21 Tagen
Neo mit 1.02% Zinsen die täglich ausbezahlt werden
Ontology mit 4.62% Zinsen leider muss ich noch 35542 Blöcke warten bis zum ersten Claim von Ontology Gas
Tezos mit 5.44% Zinsen hier ist eine Wartefrist von 38 Tagen einzuhalten
Vechain zahlt zwar nur 0.49% Zinsen dafür aber vollautomatisch alle 15 Sekunden
Immerhin habe ich auf meiner Exodus Desktopwalltet nach wenigen Tagen schon 28 Cent Zinsen erhalten plus einem möglichen Kurszuwach denn die Zinsen werden in der jeweiligen Kryptowährung ausbezahlt.
Ps. Aus den 3500$ auf Hotbit aus meinen Hive verkäufen sind mittlerweile 5500$ geworden. Auch diese werde ich weiterhin für 0.5- 66% Zinsen anlegen
Kennst du einen Bausparvertrag, Lebensversicherung oder Sparbuch das dir auch solch eine Rendite gewährt?
Pps. STEEM, HIVE und APPICS Token APX werden auch auf ihren jeweiligen Sozial Media Plattformen mit 3-4% verzinst.
English
For about half a year I have been staking some cryptocurrencies on the Hotbit platform, but only sell small amounts from my Hive. Well what does small amounts mean? The dispute between Steemit and the Hive Witness has resulted in an unexpected windfall. I was able to sell my 10,000 hive that I had received through the fork for $ 3,500. Over 13 weeks I exchanged the Hive for crypto currencies such as Band, ADA, Yearn.finance or AAVE and a few more. This gave me between 0.5% -101% interest.
But, as is well known, you shouldn't leave anything behind on stock exchanges ...
The latest update on my Exodus desktop wallet now opened the possibility to stake cryptocurrencies via my desktop wallet.
For example
Algorand for 7.31% interest paid daily
Cardano with 5.14 interest first claim after 21 days
Cosmos with 9.02% interest first claim after 21 days
Neo with 1.02% interest paid daily
Ontology with 4.62% interest unfortunately I have to wait 35542 blocks until the first claim from Ontology Gas
Tezos with 5.44% interest, a waiting period of 38 days has to be observed
Vechain only pays 0.49% interest for it but automatically every 15 seconds
After all, after a few days I already received 28 cents interest on my Exodus desktop wallet plus a possible price increase because the interest is paid out in the respective crypto currency.
Ps. The $ 3500 on Hotbit from my Hive sales have now become $ 5500. I will also continue to invest this for 0.5-66% interest
Do you know of a home loan and savings contract, life insurance or savings account that also gives you such a return?
Pps. STEEM, HIVE and APPICS Token APX also earn 3-4% interest on their respective social media platforms.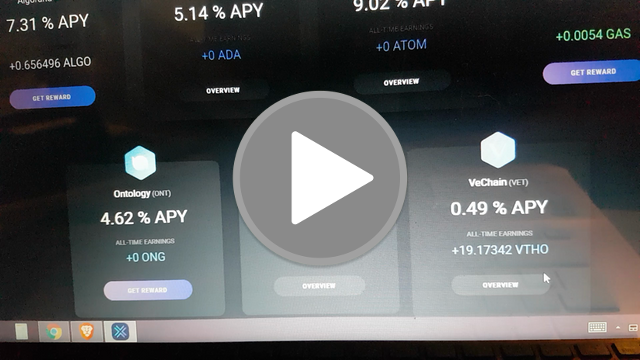 Posted Using LeoFinance Beta