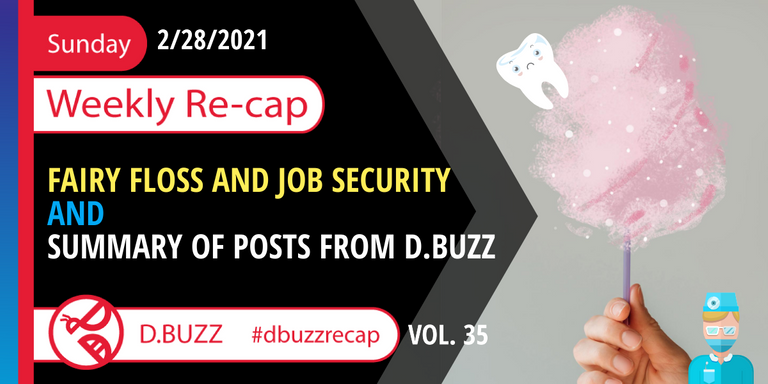 ---
Recap of this Week's Posts by D.Buzz
For the week ending on : (2/28/2021) | Vol.35
---
What's Buzzing Friends...
William Morrison, do you know who he is? No? We did not either until we start to write this article, but we've all probably enjoyed his invention at one point in our lives, what is that invention, well it is "Fairy Floss."
First thing note is that our boy William Morrison, was an actual factual dentist. Keep that in mind, he is a dentist... So as we talk about Fairy floss remember that point.
You see, one day William Morrison got together with the confectioner John C. Wharton, and they made a machine to make liquid sugar into what we call today, "Cotton Candy".
This all happened in 1897. It was later introduced in 1904 at the World's Fair as "Fairy Floss.". Later on in 1921, still yet another dentist, (*YES, another dentist) Josef Lascaux, took it upon himself to ruin teeth faster and redesign the machine, he was the one who then coined the name "cotton candy," and it became a cultural icon of fairs and parks everywhere.
We guess if you are a dentist you want people to have bad teeth so have more work (#JobSecurity), but like come on man, two different dentists designing machines to spin liquid sugar into tasty treats for kids, something evil about that... lol.
But you know what is also as tasty as fairy floss or cotton candy? Yes you guessed it, it is the update from D.Buzz this week. let's lick some confectionery lyrical goodness, here we go!
---
Last Sunday
Here's a link to the previous recap post from last Sunday. >> 2/21/2021 <<
---
Monday
The waning days of winter is here, as that snow dries up and the spring starts to spring, it's a good time to read a book or two before you get out to start gardening. Today's Monday challenge was about recommending a good book. Recommend one and potentially win 15 HIVE!
---
Tuesday
Today was an exciting day as were released a mobile and desktop App for D.Buzz, but not just any app, a progressive web app (PWA). WOOT. You can download it and start using it right now, no play store or Apple Store needed.
---
Wednesday
Today we released a video on how to install and use the progressive web app from D.buzz!
---
Thursday
@shmoogleosukami , a multifaceted member of our community that's doing a lot and is a great person to know!
---
Friday
We were asked on how to install the PWA on your mobile device, so we made a short video on it. WOOT!
---
Saturday
This week the spot on reward authors have submitted great poems, songs, artwork, photography, pet pictures and more! It is without a doubt worth checking out.
---
Knuckle bump Bro / Bro-ett.
Thanks for being an active reader here on our blog.
As we move forward, we aim to build a strong community.
If you have any suggestions on what we can do better, please let us know.
See you all Monday!
---
---
Is a censorship-resistant short form microblogging platform that empowers you to share your thoughts in 280 characters or less.
Censorship resistant and built for the community with love.
---
We strive to have a fun and neutral stance on topics. If you have any concerns with the content, please contact @jacuzzi, who writes and generates the content for our articles, or the @dbuzz team for clarification.
---


---