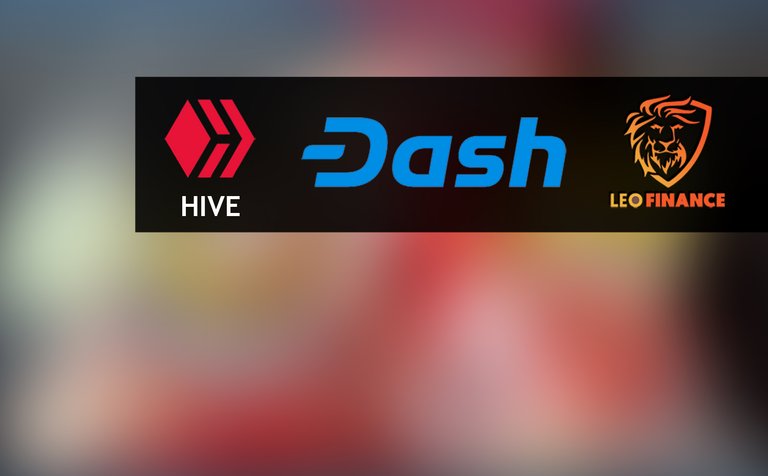 A few days ago I did a tweet that was very successful; in fact it is my most far-reaching tweet since I opened my account on that platform to promote HIVE.
That tweet was poisonous; by that I mean it was well thought out to meet several objectives and it did?
1 Promote HIVE
2 Promote Leofinance
3 Promote crypto-currencies in Venezuela as a means of payment
4 Connecting the Dash Community with HIVE
The first objective was achieved by commenting that the purchase I was making was thanks to my earnings from publishing in HIVE. I also wrote that I was saved from the devaluation of my country's currency, Venezuela, thanks to the crypto-currencies. With this I also connect with the public that still does not handle the crypts.
The second point I achieve, because I place the link to the post in Leofinance, where I published all the experience of paying with cryptomoney. Who would like to read the whole story, would know leofinance.io
The third point I achieve by mentioning the Excelsior Gama; a well known supermarket. Also when I mention that it saved me from the devaluation of the bolivares.
The fourth point is because I paid with Dash and tagged the main account of this cryptomoney, which made me a retwitt with commentary.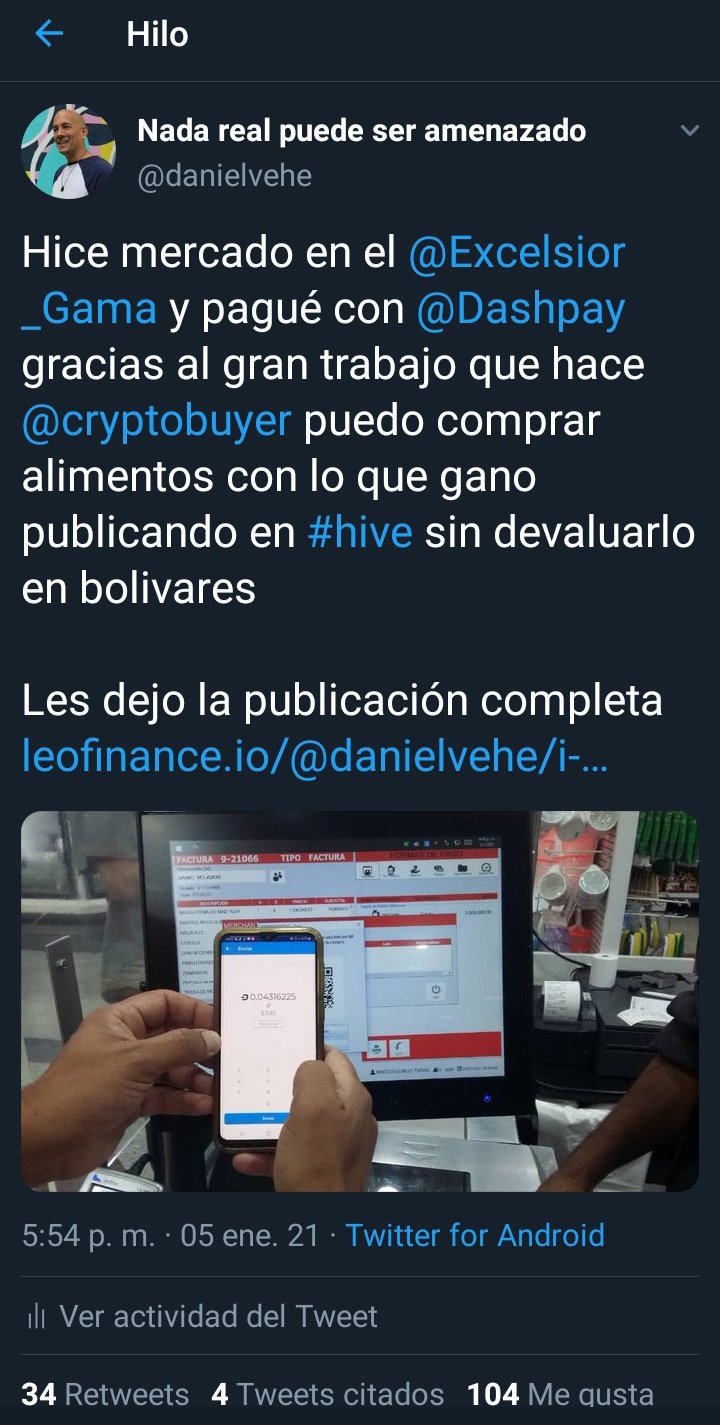 My tweet says:
I made market in the Excelsior Gama and paid with @dashpay thanks to the great work of Cryptobuyer I can buy food with what I earn by publishing in HIVE without devaluing it in bolivares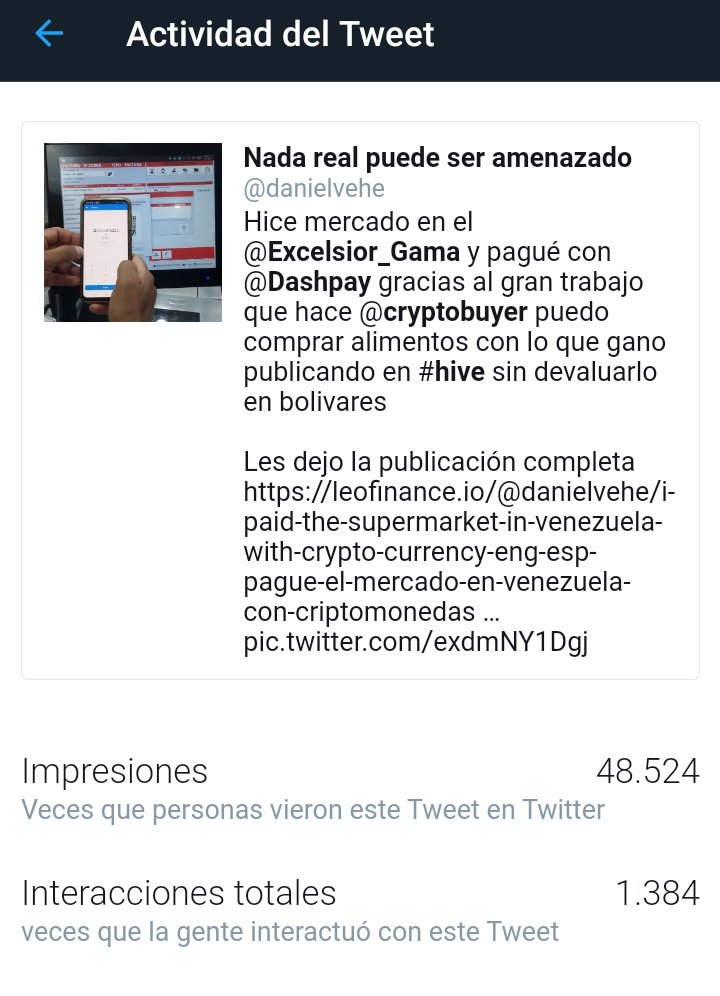 The repercussion was amazing. More than 48 thousand impressions and 1,300 interactions. The most important were 4 retwitts, which were key to that success.
The first one was from Dash's official account, which by the way, they have also had an account in HIVE for years with the same user as in Twitter: @dashpay. By the way, I invited her to publish the LEO, since nobody sees it, she made me retwitt and that's when the magic started.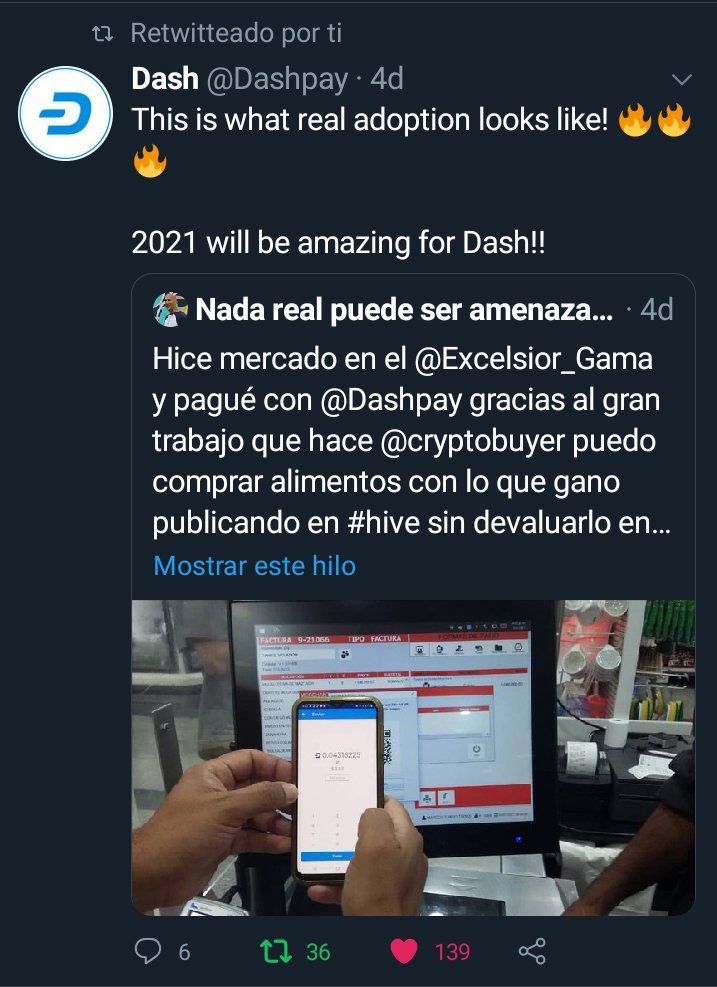 Link
Other accounts came to do the same. What surprised me is that they read the entire post at LEO. Two of the accounts talked about it, one even posted a capture of a part of the post. The other put the link to the post in leofinance.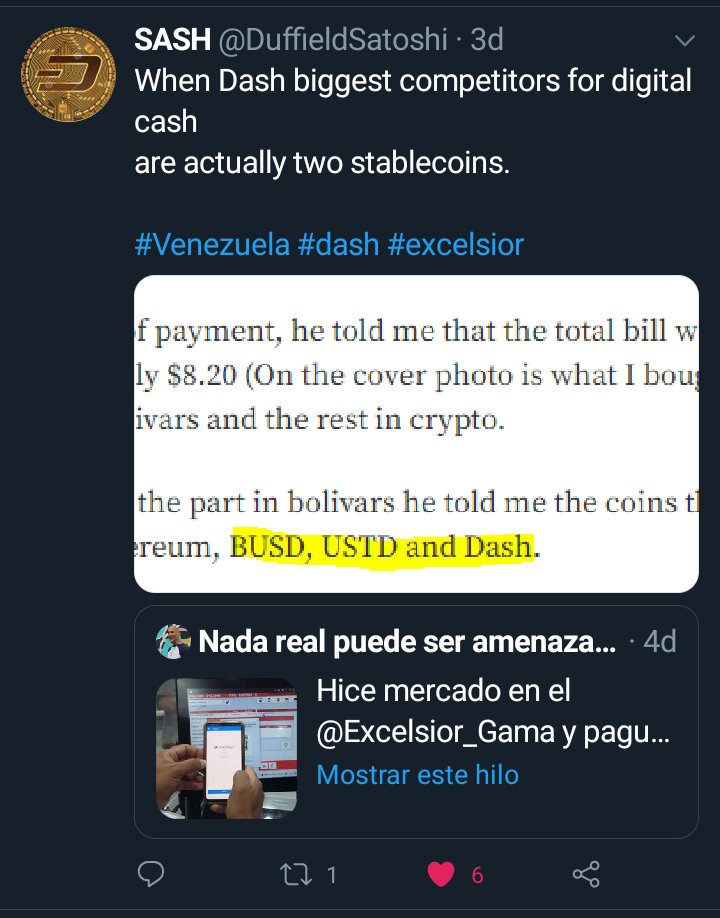 Link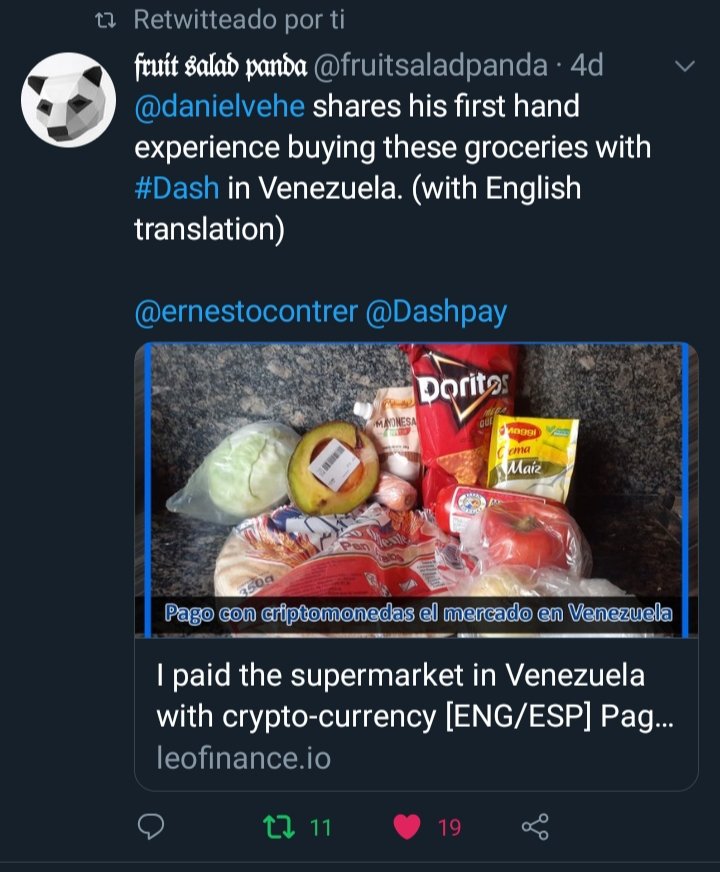 Link
And finally came Dash's account in Venezuela...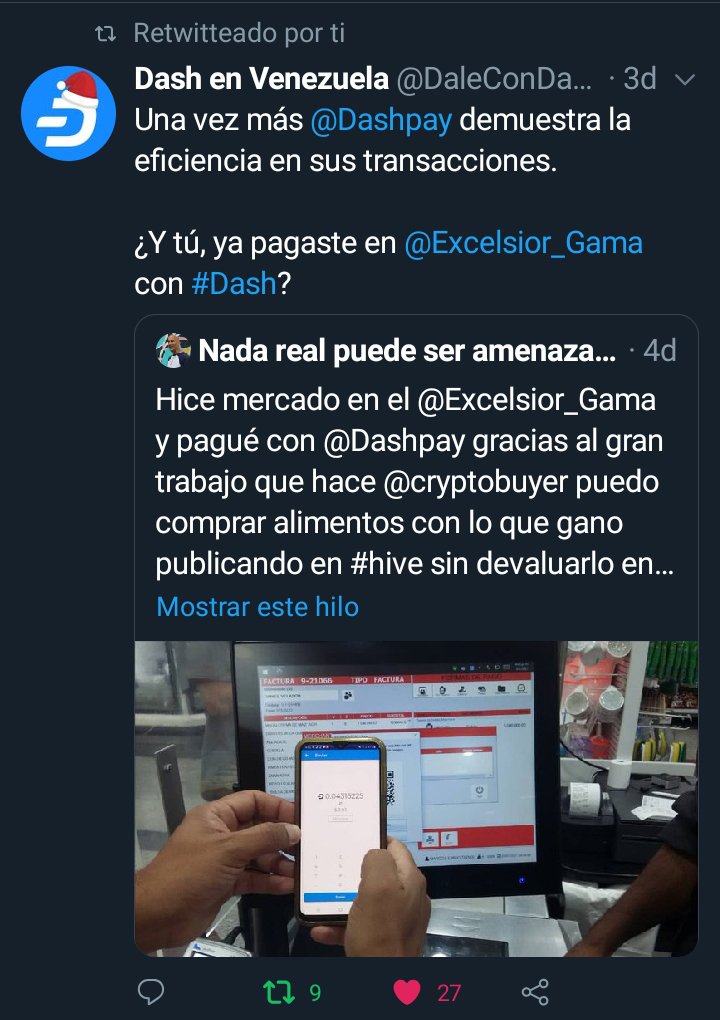 Link
They also asked me about HIVE and how money is generated.
Dash in HIVE
I have known for a long time that Dash has an account here. I was involved with that community in 2017 and 2018. I met her a month after I met Steem and I always liked her a lot. In Venezuela there are many people who know her. Unfortunately she has an account, although she publishes every week; she lacks an intensive course on how to publish in HIVE. We will see if I can get closer to them so that they can get more involved.
Dash is ranked 36th with a capitalization of $1,243,651,030 and is one of the most used crypt coins for small payments. Their community is very active and it would be amazing to bring them to HIVE and especially to LEO.
This strategy I used can be done with other cryptomonies. Every time you have the opportunity to pay in crypto, make a post on LEO telling your story and then on Twitter tagging the main accounts of that crypt currency when you promote your LEO post.
With Dash himself it would be great to promote him more and attract his community. HIVE is not in competition with the means of payment. Many crypto currencies compete with each other, but HIVE can be the world of communication where they all live together. Being the social media blockchain, they should be here more than on Twitter.
Soon I will be creating a tutorial on how to pay with Dash in the Excelsior Gama and I will continue to look for that community to come alive here. I will also pay with Dash every time I can to repeat the strategy.
The truth is that I was hoping that they were no longer in HIVE and I was pleasantly surprised to see them active. I would love for them to show themselves more and for the whole community to know them.
I don't know if there are any other crypto currencies in HIVE, apart from @smartcash who even had a bot that rewarded the posts with their currency, but that's a shitcoin that died. If you know of other projects, let me know in the comments...
Translated with www.DeepL.com/Translator (free version)
---

Español
Hace unos días realicé un twitt que tuvo mucho éxito; de hecho es mi twitt con más alcance desde que me abrí la cuenta en esa plataforma para promocionar a HIVE.
Ese twitt tenía veneno; con eso quiero decir que estaba bien pensado para cumplir con varios objetivos y lo hizo...
1 Promocionar a HIVE
2 Promocionar a Leofinance
3 Promocionar a las criptomonedas en Venezuela como medio de pago
4 Conectar a la comunidad de Dash con HIVE
El primer objetivo lo logré comentando que la compra que hacía era gracias a mis ganancias publicando en HIVE. Además escribí también que me salvo de la devaluación de la moneda de mi país Venezuela, gracias a las criptomonedas. Con esto conecto también con el público que todavía no maneja las criptos.
El segundo punto lo logro, porque coloco el link al post en Leofinance, donde publiqué toda la experiencia de pagar con criptomoneda. Quien quisiera leer la historia completa, conocería a leofinance.io
El Tercer punto lo logro mencionando al Excelsior Gama; un reconocido supermercado. También cuando menciono que me salvo de la devaluación de los bolívares.
El punto 4 es porque pagué con Dash y etiqueté a la cuenta principal de esta criptomoneda, la cual me hizo un retwitt con comentario.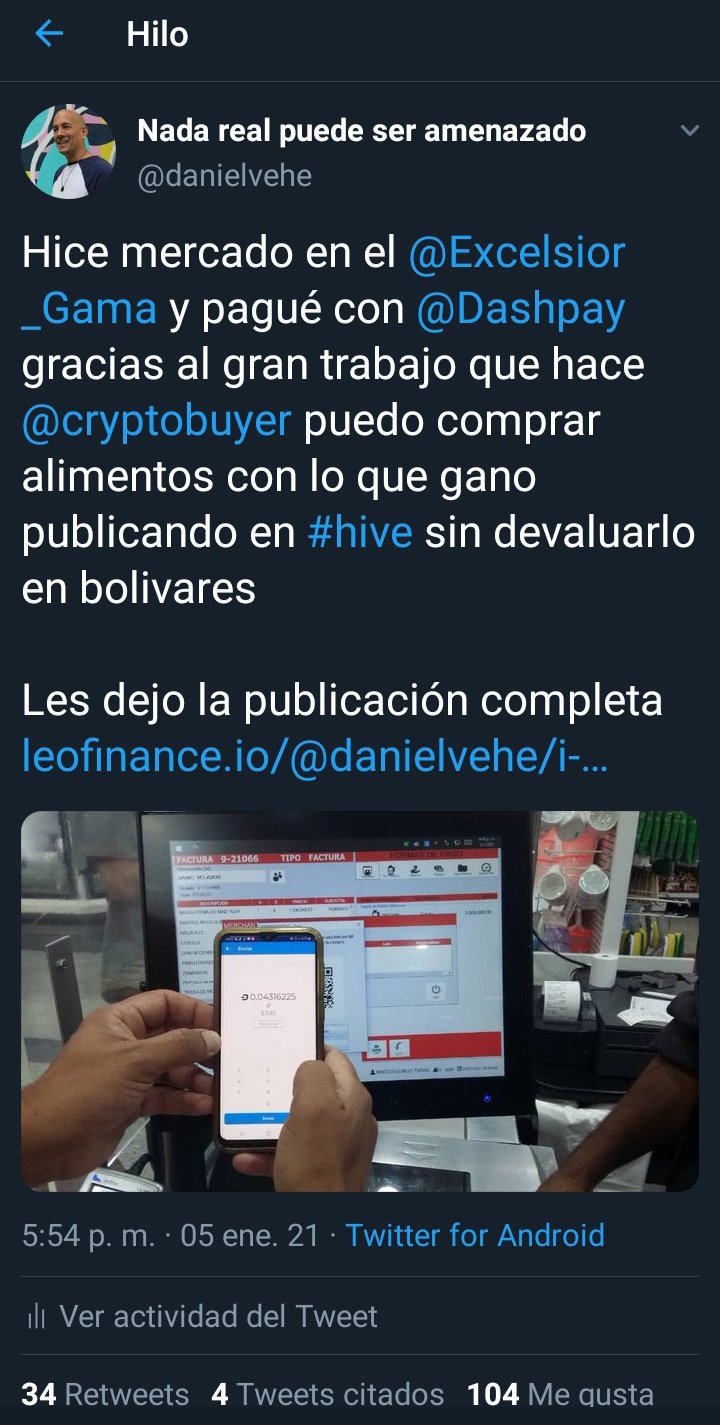 Mi twitt dice:
Hice mercado en el Excelsior Gama y pagué con @dashpay gracias al gran trabajo de Cryptobuyer puedo comprar alimentos con lo que gano publicando en HIVE sin devaluarlo en bolívares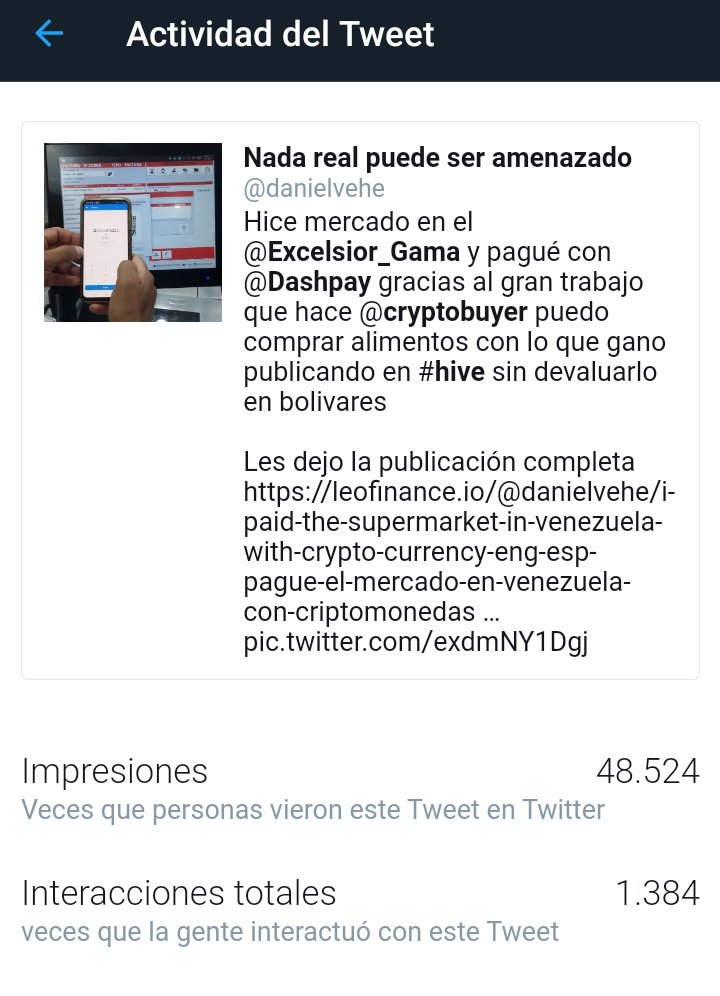 La repercución fue asombrosa. Más de 48 mil impresiones y 1.300 interacciones. Las más importantes fueron 4 retwitts, que fueron clave para ese éxito.
El primero fue por parte de la cuenta oficial de Dash, que por cierto también tienen cuenta en HIVE desde hace años con el mismo usuario que en Twitter: @dashpay. A la que por cierto invité a publicar el LEO, ya que nadie la ve, me hizo retwitt y ahí comenzó la magia.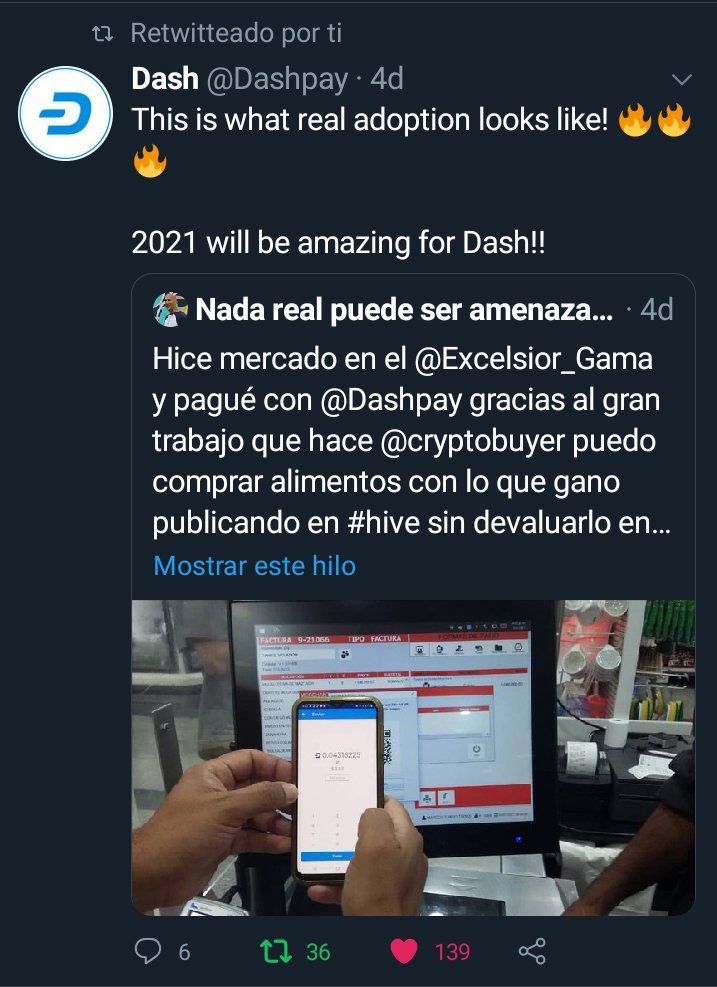 Link
Llegarón otras cuentas para hacer lo mismo. Lo que me sorprendió es que leyeron el post completo en LEO. Dos de las cuentas hablaron de él, incluso una colocó una captura de una parte del post. La otra puso el link al post en leofinance.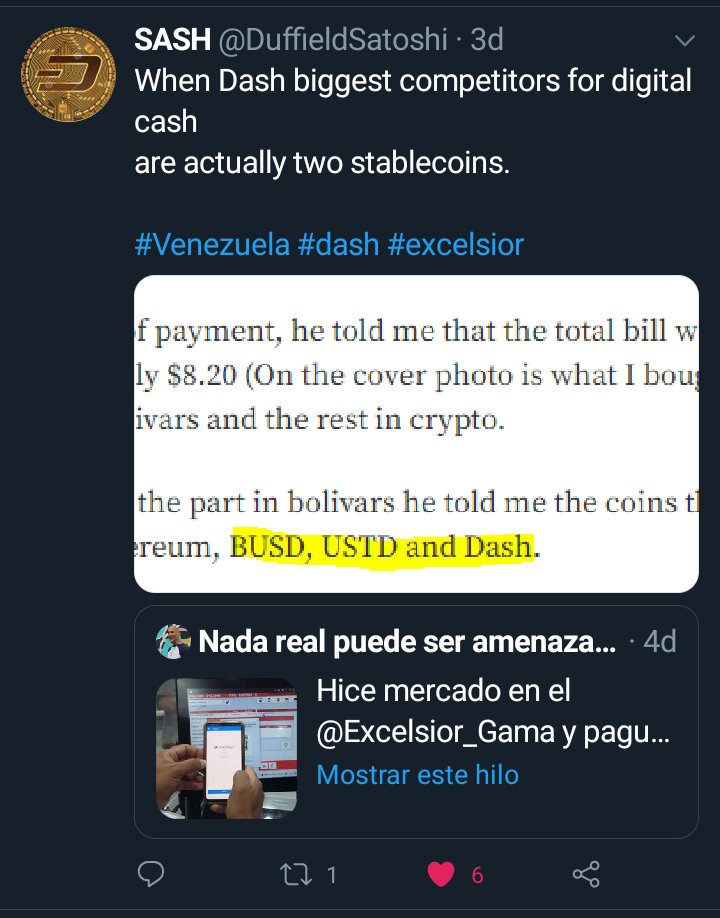 Link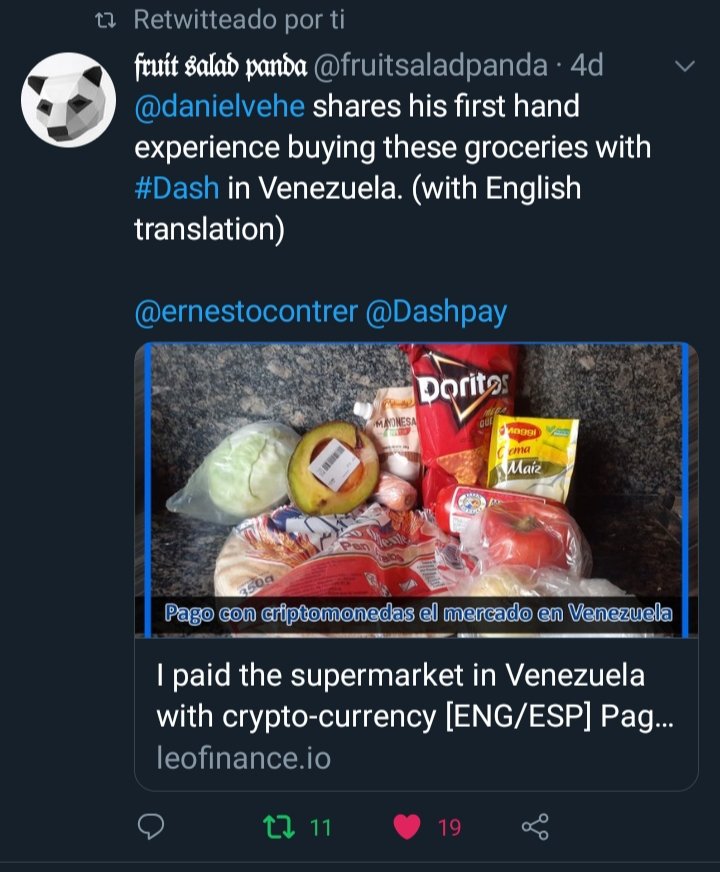 Link
Y por último llegó la cuenta de Dash en Venezuela...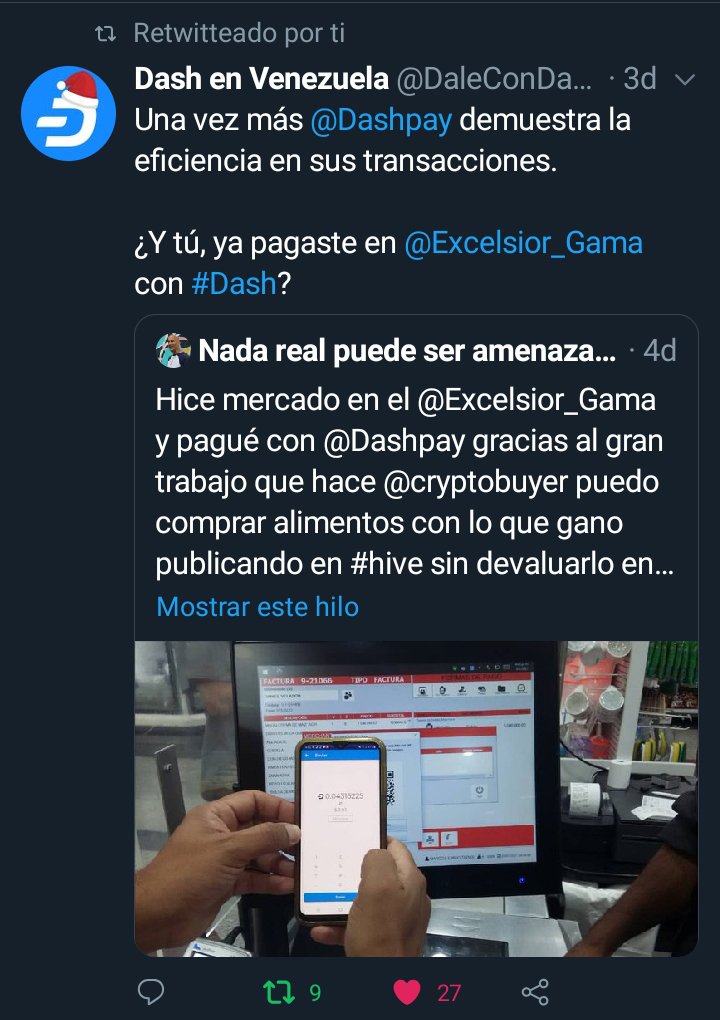 Link
También me preguntaron por HIVE y como se genera dinero.
Dash en HIVE
Desde hace mucho sé que Dash tiene cuenta aquí. Estuve involucrado con esa comunidad en 2017 y 2018. La conocí un mes después de conocer a Steem y siempre me gustó mucho. En Venezuela hay mucha gente que la conoce. Lamentablemente la cuenta, aunque publica cada semana; le falta un curso intensivo de cómo publicar en HIVE. Veremos si logro acercarme a ellos para que involucrarlos más.
Dash está en el puesto 36 con una capitalización de $1,243,651,030 y es una de las criptomonedas más usadas para pagos pequeños. Su comunidad es bien activa y sería increíble traerlos a HIVE y sobre todo a LEO.
Esta estrategia que usé se puede realizar con otras criptomonedas. Cada vez que tengas la oportunidad de pagar en cripto, haz un post en LEO contando tu historia y despues en Twitter etiqueta las cuentas principales de esa criptomoneda cuando promociones tu post de LEO.
Con el mismo Dash sería genial promocionarlo más y atraer a su comunidad. HIVE no es competencia de los medios de pago. Muchas criptomonedas compiten entre si, pero HIVE puede ser el mundo de comunicación donde convivan todas. Siendo el blockchain de social media, deberían estar aquí más que en Twitter.
Pronto estaré creando un tutorial de cómo pagar con Dash en el Excelsior Gama y seguiré buscando que esa comunidad haga vida aquí. También cada vez que pueda pagaré con Dash para repetir la estrategia.
La verdad me esperaba que ya no estuvieran en HIVE y me sorprendió gratamente verlos activos. Me encantaría que se mostraran más y que toda la comunidad los conozca.
No sé si hay otras criptomonedas en HIVE, aparte de @smartcash quienes incluso tenían un bot que recompensaba los post con su moneda, pero esa es una shitcoin que murió. Si conoces de otros proyectos me avisas en los comentarios...
Posted Using LeoFinance Beta