Ok, so most of hivers have some STEEM left. A lot of them maybe sold out already. I have seen some asking what to invest in already. One of the obvious options is HIVE obviously 😊. But if you like to diversify some here is an interesting option what you can do with your STEEM.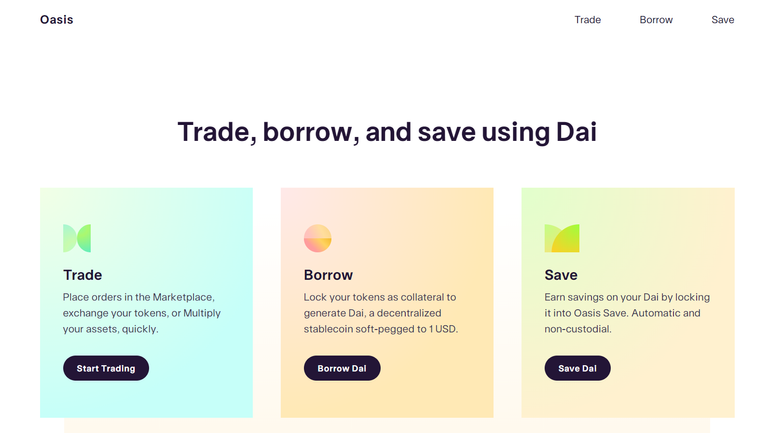 MakerDAO and the Oasis.app
For those unaware MakerDAO is an Ethereum protocol that allows users to lock Ethereum and create a stable coin DAI. From recently they have added BAT as an option as well to put in collateral.
You can think of it as making a loan. You lock your crypto assets (put in collateral) and take out a stable coin DAI as a loan. Until you don't pay out your debt, you cannot withdraw your collateral (locked coins).
There is something called collateralized ratio. This is basically the ratio between the value of the collateral (locked coins) and the value of the loan (generated DAI). The minimum ratio is 150%. This is very important, and you should keep an eye on this to not get you liquidated and return your collateral at loss. I'm keeping mine at minimum of 300%. I have locked BAT and my liquidation price for BAT is 0.1$. BAT is currently trading around 0.24$ so I have some room. If it drops below 0.1 my collateral will be liquidated at loss, and if I had 1000 BAT locked, I will receive less than that if the price of BAT drops below 0.1. If your liquidation price is dangerously close you can always add more to the vault to keep it safe. If BAT keeps increasing in value your collateral will grow and you will have more than 300%, and maybe generate/borrow more DAI with the collateral, or pay it back to free up your funds.
I will not go into depth here about the MakerDAO and the oasis.app. You can visit the web and play around a bit with it. https://oasis.app. The oasis.app is an interface to the protocol. You will need a Metamask extension and some ETH or BAT as well 😊. For those not familiar with this. BAT is an ETH token so one ETH wallet will work for both.
Just be careful setting up your vault, it can take of some fees. Set up a lower tx speed for less fees.
@khaleekazi made a great tutorial video on setting up a vault, you can check for details here.
https://leofinance.io/hive-100421/@khaleelkazi/ieuehnum
DAI and what to do with it?
So, you can buy some ETH or BAT, lock it in a vault and generate a stable coin DAI. Now what?
One of the options is to move the DAI to an exchange and play the trading game there. That can be risky but rewarding at times.
The other, in my view safer option for Hivers is to buy HIVE 😊. If you are around here for a while you know how things work here and how to use your hive. Invest in something that you know. I have recently made a post about the ROI of the HIVE POWER and how it is one of the best in crypto staking Is Hive Power One Of The Most Profitable Crypto Asset? Easy 13% ROI and possibility for more than 20%.
The options for staking crypto are the safer way of earning crypto, other than trading. But this is a personal thing and if you have some experience in trading and feel comfortable with the risk, taking losses etc, then trading might suit you better. Although most of the people loose money when trading.
Once you have your HIVE in the wallet you can power it up and start earing staking and curation rewards.
You can even make a dedicated account for this HIVE and try to optimize your curation rewards. You can put a part of this account in power down mode and slowly pay back the DAI with CR. Just a thought, it's up to everyone else how to manage this 😊.
To sum it up:
Sell STEEM for ETH or BAT,
Generated DAI with MakerDAO trough the Oasis.app,
Closely monitor your collateral ration (very important),
Transfer the DAI on exchange and buy HIVE,
Transfer HIVE in your wallet
Start earning CR and pay back DAI slowly in time
Why doing this and simply not exchange STEEM for HIVE?
For me it is because of diversification. ETH and BAT are both great projects that I think have a nice future. Having an option to use them as collateral in MakerDAO is great.
On the other hand, I found just holding crypto a bit boring 😊. Like for example BTC. You buy it put in a wallet and that is. Hive is much more fun. The option that I have described above gives me the best of both worlds. I can stay diversified in projects that I like and at the same time I can have some HIVE as well.
With 300% collateral it means I can have only 30% of the initial value of the coins, but still its better than nothing. Like if you sold STEEM for a 1000$, buy 500 ETH and 500 BAT, put those in collateral and generated 300$ worth of DAI. Then buys some HIVE with it. In the end you will have only 300$ worth of HIVE instead of 1000, but you will have ETH and BAT as well. If you plan to hold them for the long term, this is a great option. Lock them in and play your Hive game meanwhile.
What do you think?
All the best
@dalz
A mandatory note that this is not a financial advise etc ….
Posted Using LeoFinance