Ever wonder how long your post should be? Do longer post on Hive get better rewards?
Here we will be looking at data for posts length and payouts.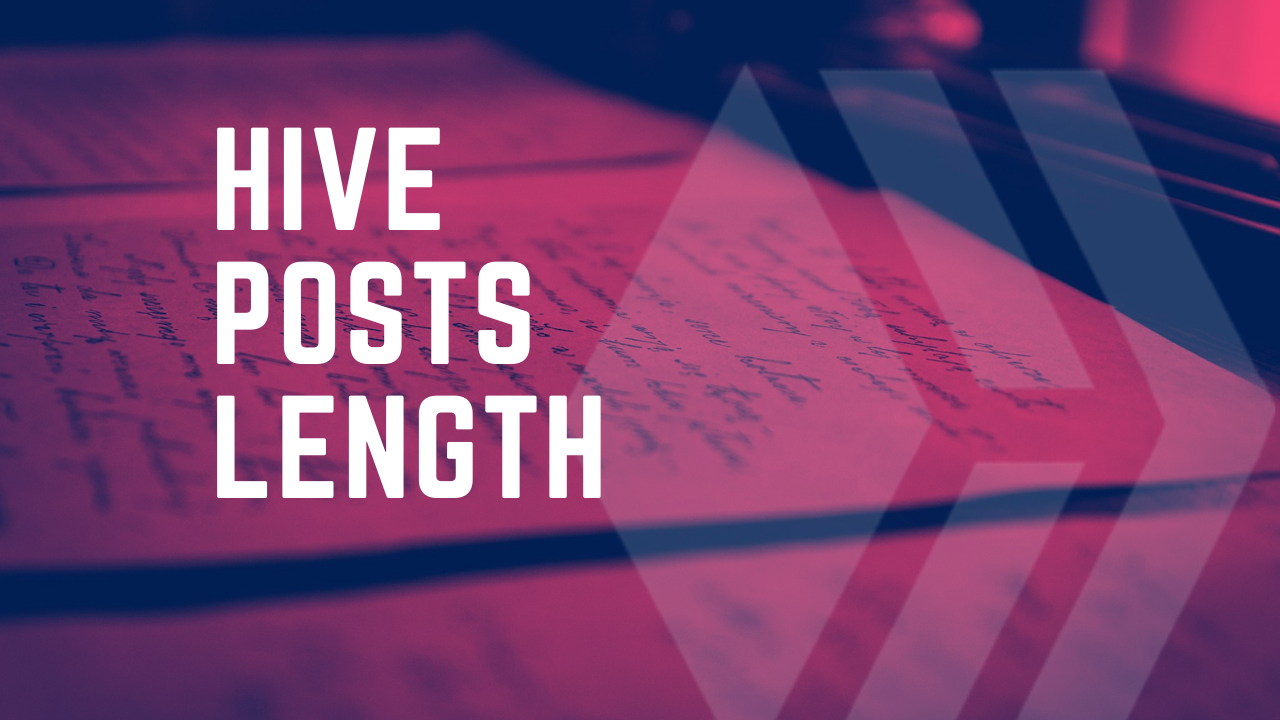 There are a lot of things that are up for debate on Hive. Posts quality for example. What is it? How to determine is a post a good one or not? Do quality posts get rewarded enough etc.
Here we will be looking at the number of characters per post, what is the average and how does daily numbers fluctuate. Then we will be taking a look at the payouts for the posts according to their body length.
The period that is analyzed here is August 28 till September 27, 2020.
Total number of characters from posts
Here is a chart for the daily number of characters from posts.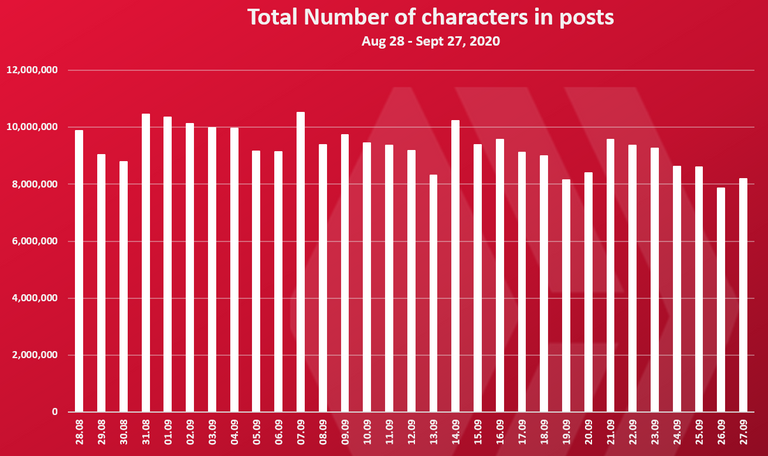 On average there is 9.2 million characters in posts per day. Characters from comments are not included above.
Note that a character can be a number, a symbol etc, not just letters. Tables can generate a lot of characters. Links, images as well.
The number of characters by itself doesn't tell us much.
Let's take a look at the average characters per posts.
Here is the chart.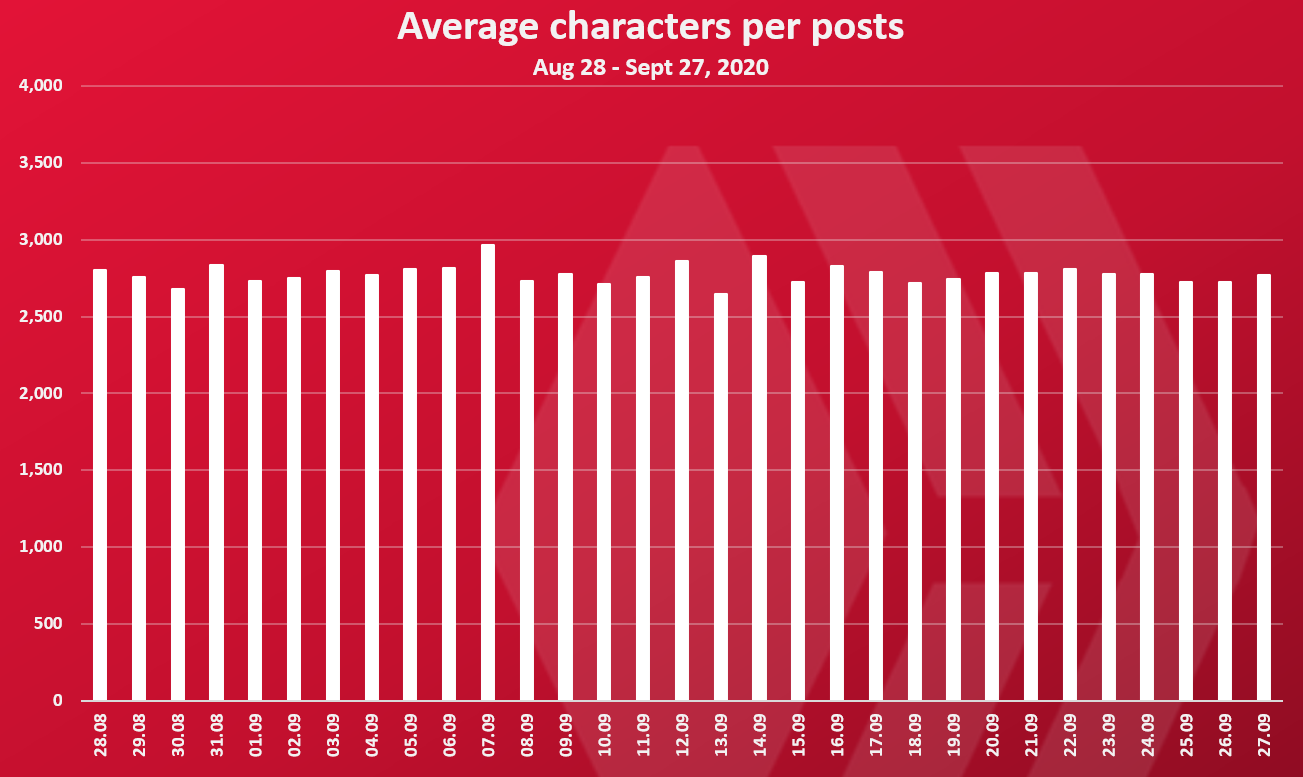 An average if 2770 characters per posts!
How many words is this? Well this can warry, as sometimes its 5 characters per word, other times 7 etc. In our case I'm going with 5 characters per word. This means that the average post is around 550 words.
550 words on average per post.
This is an estimate as already mentioned, because of all the other symbols that make a character. But on average its probably close enough.
550 words per post is somewhere between short to medium post. Meaning after all hivers are not getting to long in their post, but still keeping it at some decent level.
Note that videos are usually short on characters, that doesn't represent their length.
Posts length VS Payouts
Is there a correlation between the posts length and the payouts?
I have tested a few charts for this. Lets see.
Fist the scatter chart.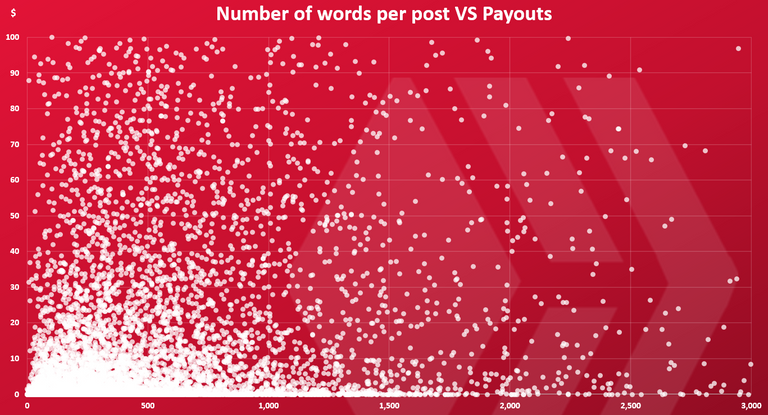 Looking at the chart above one can conclude that the shortest posts are earning more. Most of the dots are bellow the 500 words limit.
But this is not an accurate representation. What the chart above is telling us is that basically there is more short post than long posts, and the individual earnings of each of them.
What we need is the weigh of these individual dots.
Next the histogram chart.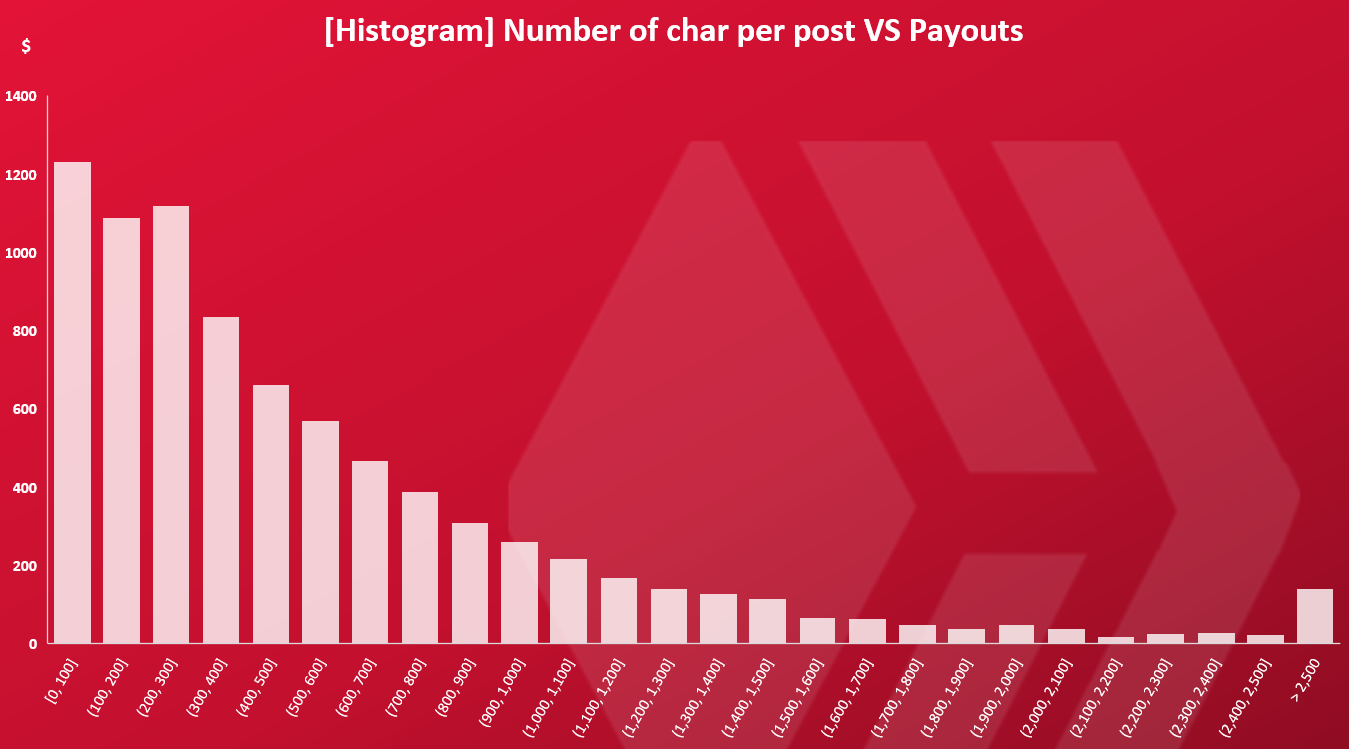 This chart is also inclining to the short post as well. Also not a real answer do longer posts earn more.
Categorize post per length
If we just categorize the posts and extract the average earnings, we get this.
| Words per post | Number of Posts | Average earning [$] |
| --- | --- | --- |
| < 500 | 66,367 | 1.71 |
| 500-1000 | 23,543 | 3.61 |
| 1000-1500 | 8,134 | 5.26 |
| 1500-2000 | 3,331 | 5.66 |
| 2000-2500 | 1,740 | 5.98 |
| 2500 + | 2,158 | 6.71 |

We can see a clear correlation here. Longer posts do earn more. Out of the 105k posts in the period 66k are under 500 words, or 63% of all posts. The second group 500 to 1000 words, has a 22% share. This two groups account to 85%.
The posts under 500 words on average earn 1.71$ and the posts with 2500+ words earn 6.71$.
From the above we can clearly notice a trend. The number of longer posts, are much less than the shorter ones, but on average they do earn more.
So, there you have it. Want to earn a bit more on Hive. Make longer posts. Or post 3 to 4 times a day with 500 words each 😊.
Who is making the longest posts?
Here is the chart for authors who are making the longer posts.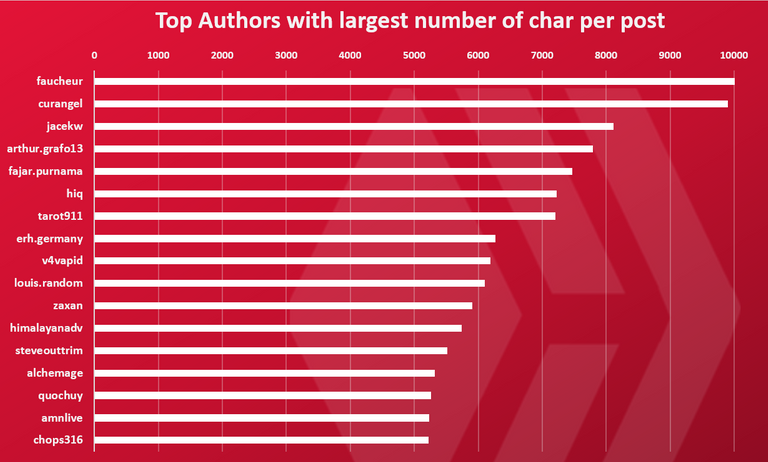 Some popular name in the top, and some not as much 😊. A compilations posts tend to be longer so there is a few of those in the top.
All the best
@dalz
Posted Using LeoFinance Beta