Recently I have been going through the Hive inflation in a 2 series of posts:
Some of the things that were discussed:
Top Cryptos Inflation, for comparison
Hive projected and actual inflation
Possible scenarios for lowering the HIVE inflation
Lowering down the DAO/DHF and authors/curation rewards
One of the main conclusions was that most of the other crypto projects have around 5% inflation, while HIVE is currently at 8%, and with the HBD conversions it will probably be more than that. To lower the inflation from 8% to 5% one of the possible ways is to remove/reduce the inflation for the DAO/DHF and cut the authors/curators rewards in half.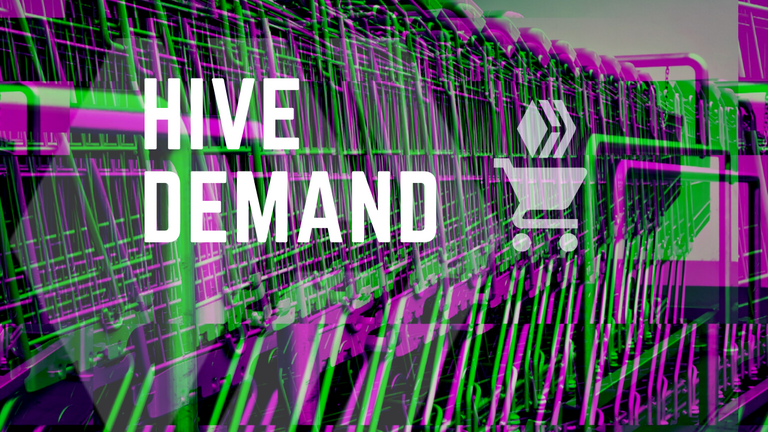 Now, lets take a look at the other side of the story. Demand!
Price = Supply VS Demand

Inflation is just one part of the story.
Inflation is something that in most cases is in the hands of the project creators. It is the easy side of things. The hard part is how to create demand? If the demand side is strong, the difference in a few percentages of the inflation would means nothing. If the number of users/owners on Hive grow x10, x100, the inflation wont matter much. Although cutting down inflation sometimes can act as a catalyst for growth. Bitcoin is a prime example of this.
In a recent posts from @yabapmatt Some thoughts on the future and @theycallmedan Hive value props went through a similar topic.
How to create a demand for HIVE?
The most obvious way for running a crypto project, that a lot of others projects are doing is this:
Build a good product
Create a revenue
Introduce buybacks and burns
An example for this is Binance. They have a good product, traders used it, they are making revenue from the fees, and later use a share of this for buybacks and burns of the BNB token. Brave is also doing a similar thing. They have a great browser, people use it, they are making revenues from running ads, and use a share of it to buyback the token. In the process they also reward uses with the BAT token for watching ads.
How can Hive generate a revenue?
The most obvious answer that has already been put in use is ads. Steemit Inc did it on the previous chain. LeoFinance is doing it now for its community and products. They are introducing a multiple projects/webs as well.
But not to forget, Hive is a blockchain. The frontends like Hive Blog, Peakd etc. are just dApps built on it and they can be run by a central authority. They are not run in a decentralized manner.
Hive Blog and Peakd are now somewhere equal in the number of posts made from then and in the traffic as well. What this means is that each of these projects needs to implement a separate revenue pool and buy backs. In most cases, most likely they will introduce their own token and run their tokenomics. Making buybacks for Hive would be a voluntarily act from their side to try and help the whole ecosystem and increases the overall growth.
So, if we look at the ads program from this perspective it seems that it can bring value to the dApps built on Hive, than the core token itself. But this is not entirely true since a part of this value will transact to the core token. More users on the blockchain is good for everyone. If we ever hit a massive adoption, then recourse credits will become a valuable asset and dApps will need it for their users.
The main point from this is that each and individual dApp/frontend should be responsible for ads and buyback programs. They can have their own token and put the buybacks on that or make buybacks and burns on the native Hive token. Eventually a part of the value, directly or indirectly will flow back in the core chain/token.
This is for the frontends. Not all project owners will create a frontend. Hive now has communities. Its easier to create communities and run a project there, then a totally new web. I have already seen some options and ideas for marketing/promoting within a community. A native ads program as well. Communities are slowly but surely growing on Hive.
The numbers of communities subscribes keeps on growing.
As communities grows and more ways are introduced for marketing/promoting they can really boost the demand for Hive. Although for this to happen a larger audience is needed. The introductions of SMT's is also a step in this direction.
Hive as an Incentivization Platform
Yabapmatt coined the phrase above. This is the idea of creating tasks for upvotes. It is already used in form of contents for creating content, or just ongoing rewards for certain type of posts. For example, Splinterlands content get votes from the game account, other games are also doing it. It's a form of promotions. @theycallmedan often makes call to action, in most cases a twitter task etc. You need to have a large amount of HP to do this, but it's a uses case. If/when the price goes up, these types of tasks can be even more popular. It's a way to reward people without giving out a piece of your stake, but trough the inflation of that stake. Tipping forever 😊.
Some refinement on this might be needed to avoid abuse, sort, and categorize all the tasks. A website where tasks can be created and executed. Like a freelance platform. A hiver goes there and check it out the current task and see if there is something for his taste. The large stakeholders at the same time go there and create tasks. A large audience and a more valuable token will help for this concept to grow.
Hive as a medium of exchange
Aka money 😊. I think this is still undervalued, but it slowly gets on surface. We now have Hive Engine and some Hive is locked there. Its used as a base token to trade the other tokens with. We also have dApps/Games that use Hive as a currency. You buy things in the game with Hive. This is the case for Splinterlands, dCity and all the other games that have come up recently, CryptoBrewMaster, Exode, Rising Star Game, Piggericks etc.
Recently I was negotiating a dCity sale, where the value of the city was almost 10k. The buyer needed a liquid Hive to make the purchase. As more and more dApps/Games are built and more users come, this will be even more apparent.
There has been more development in the NTF space. NFTShowroom, tokenize art, the lensy.io for photos. These also are using hive as a medium of exchange.
But to have this demand for Hive first we need to have these applications and games. The value of HIVE from this comes secondary. Overall, the more application the better 😊.
Demand for the token for governance purpose
This seems far fetched for the regular user, but it can really push the demand for the token. Its usually the whales who are buying the token for this purpose as it gives them influence on the witnesses and now on the DAO/DHF. Having a dozen of whales competing for governance over the chain can create a serious demand for the token. Actually, this is the case for a lot of the DPoS chains, like EOS etc.
But again, to have a system where whales would be interested in competing for governance first you need to have a value in that system. Users, dApps etc.
Resource Credits
At the end just to emphasis the resource credits. Its what you need to make actions on the blockchain. It's the ultimate value of the chain. Resource credits are gained from Hive Power. At some point its envisioned that they will be able to be delegated as well as a separate asset. Resource credits is what makes Hive scalable (or not 😊).
If the usage of the chain is high enough, and have in mind we are talking about a DPoS chain, not a PoW chain like BTC or ETH. If the usage is high enough resource credits are the ultimate value.
Can this happen? I'm not an expert on the RC system but in theory yes, of course. If millions of people are putting text at the same time (second) there will be issues. Also, Splinterlands is a game that is heavy on activity. Splinterlands players are making a lot of custom JSON transactions each day. If a day comes where Splinterlands has a million players, it will be interesting to see how that will affect the chain.
---
Summary
In summary the demand for HIVE can come from:
Ads from a community run frontends
Creating tasks for upvotes
A medium of exchange
Governance
Resource credits
Other
But when we think about it, in the last 5 years none of the points above were in full force. Some of them were but in a symbolic and limited way. It was basically the community that kept the project alive. The idea of the system and what it can become. The financial freedom that it can brings and all the things and project that can be built on it.
This is the core value of the chain. The layer zero as many calls it. All the bullet points above can build on top of it.
Some of the points above are already starting off. Its still small but the roots are there. Once a certain level is reached it will just snowball from there and compound. More and more projects built, and more and more users coming on board.
At the end value can come from things yet to be build. The other bullet in the list. Concepts yet to be discovered. For example, Hive/Steem started as blogging platform with a vision for communities and SMT's.
All the games that we are seeing now were not envisioned at the begging. The use of custom JSON was meant for followers lists only. Now that feature is being used far beyond its original intention. Hive Engine is built on top of it, and all the games.
For example recently we have seen the creation of warped HIVE (wHIVE), on the ETH network, that can act as a collateral or loan, a gate into the DeFi world that has seen billions entering it. Nobody envisioned this a year ago, who knows what it can bring.
What are your thoughts on this?
All the best
@dalz
Posted Using LeoFinance