Uniswap just introduced their UNI token, airdropping it to the community in what has probably been the largest crypto airdrop in the crypto history.
Everyone that has interacted with Uniswap in any way before September 1st, got at least 400 UNI. The liquid providers got even more. The early liquid providers, from a year ago got the most. At the moment of the airdrop UNI traded around 2.5$ to 3$, and now is 5$. That is a 1000$ to 2000$ airdrop. If you have more wallets that have interacted with UNI, all of them are eligible for the airdrop.

Uniswap made quite a long announcement post going trough the details of the airdrop, but also the tokens allocation, share and inflation.
Here we will be looking into the supply, inflation and the marketcap. I strongly recommend you give the link above a read.
More info can be found here as well:
https://github.com/Uniswap/retroactive-query
UNI Supply = 1 Billion?
There is 1B UNI minted as a genesis UNI tokens.The important thing is this tokens will be distributed over the next 4 years.
After the 4 years period a 2% inflation will be set, meaning 20M new UNI tokens per year.
Initial distribution
1.Historical users and liquid providers 150M
Out of the 4B tokens, 150M are airdropped to the Uniswap users (historical liquidity providers, users, and SOCKS redeemers/holders). From what I could understand looks like the majority of these tokens will go to the liquid providers.
The 150M are put in circulation immediately and available now.
2.Community Treasury
Next a 430M goes to a so-called community treasury. These 430M will not be available immediately.
| Year | Community Treasury | Distribution % |
| --- | --- | --- |
| Year 1 | 172,000,000 UNI | 40% |
| Year 2 | 129,000,000 UNI | 30% |
| Year 3 | 86,000,000 UNI | 20% |
| Year 4 | 43,000,000 UNI | 10% |
These tokens will be distributed on ongoing basis through contributor grants, community initiatives, liquidity mining, and other programs.
3.Team members and future employees 215,101,000 UNI
These tokens are also not available immediately and will be distributed over the course of the next 4 years.
4.Investors 178,000,000 UNI
Same as for the team members tokens, these tokens have four years vesting period.
5.Advisors 6,899,000 UNI
Four years vesting period applied here as well.
The genesis UNI tokens allocation pie looks like this.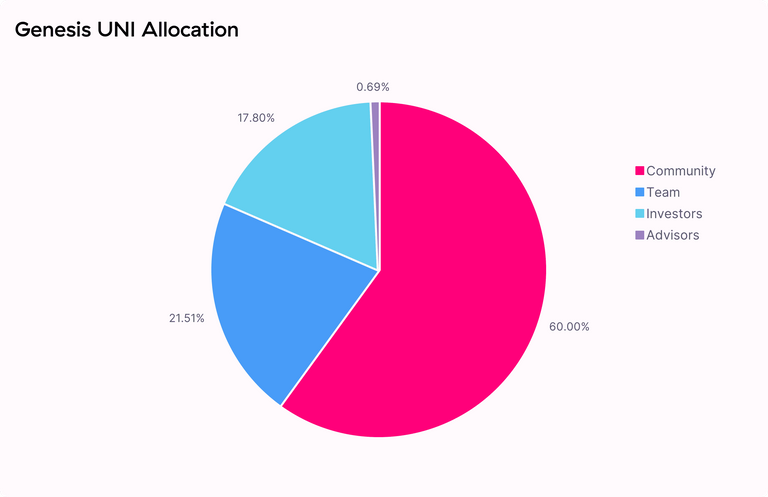 Four Years Release Schedule
The genesis tokens will be released in a period of four years following the char bellow.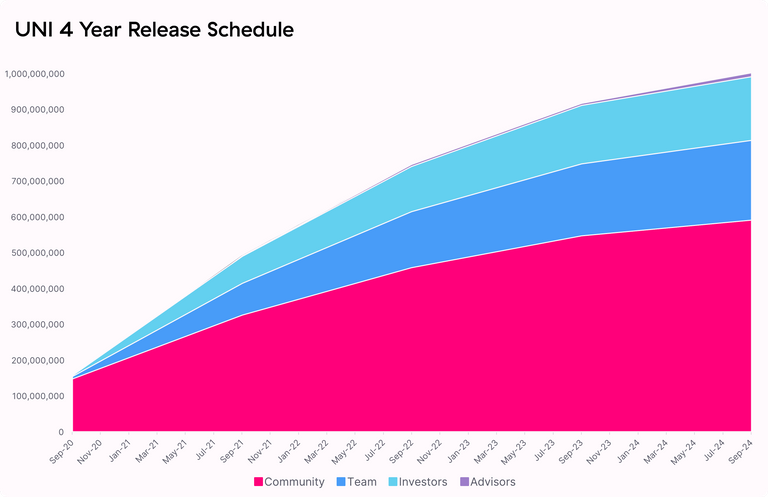 You can see the team, investors and community tokens released in the next 4 years period. After this period a 2% inflation will be set, adding 0M more each year.
If we approximate the chart above as table, we get this.
| Date | Tokens |
| --- | --- |
| Sep-2020 | ~170M |
| Sep-2021 | ~500M |
| Sep-2022 | ~720M |
| Sep-2023 | ~900M |
| Sep-2024 | ~1000M |
Quite an increase in the supply 😊. Going from 170M to a 1B.
Marcetcap
What is the Uniswap marketcap then?
Uniswap is already listed on coingecko and if we go to the link https://www.coingecko.com/en/coins/uniswap we will see this: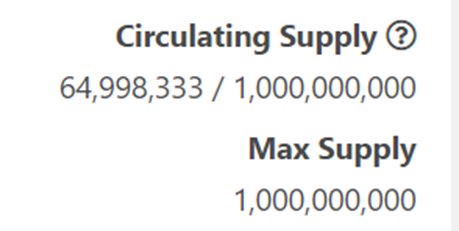 The total supply of the token can also be found here:
https://etherscan.io/token/0x1f9840a85d5af5bf1d1762f925bdaddc4201f984
A circulating supply of 65M out of the 1B total supply. For now :). If we hover over the question mark we will notice all this minus (-) sums. I guess those are the vested token according to the representation above.
Even without the vested tokens, there should be around 170M UNI circulating supply. Why there is only 65M? I guess this is because not everyone has claimed their airdrop yet. Basically out of the 170M airdropped to the community, at the moment of writing this (Sept 18) there is only 65M tokens claimed. I checked this number on Coingecko yesterday and there was somewhere around 16M circulating only.
Will all the airdropped tokens be claimed?
Most likely not. This will mean that there will be some lost tokens in the process. What will happen to those tokens, will there be some deadline after they will be burnt, or maybe redistributed remains to be seen.
At 65M circulating supply and 5$ UNI (currently) equals 325M marketcap.
This will put UNI around the 50 place in marketcap ranking.
If all the 150M tokens are claimed, at 5$ the marketcap will be 750M, around 30 spot on the ranking list.
At one billion supply (in four years), 5B marketcap.
I see some people mention that with the fully diluted markecap of 5B Uniswap is overpriced.
Not to forget this is four years time. Four years is a lot of time in crypto!
Right now, the markecap is around 325M and with more coins claimed it can go to 750M.
For comparison, the top CEX, Binance has a 4B markecap at the moment. Uniswap has almost revolutionary technology in terms of liquid providers and simplicity. A 4B marketcap for UNI is quite possible. A 1B very probable. Even with 200M coins, 1B markecap is UNI at 5$. A 4B marketcap and 500M UNI circulating (next year), the price of UNI will be 8$.
Off course this is some funny math, but it grasps the overall numbers. The market will have its final say, but it looks to me that we are only getting started with this. Marketcap in billions is quite easily achievable for protocols that are revolutionizing the crypto exchanges.
Also not to forget Uniswap is fully open source. What this means that competition can be real. Everyone can copy past the code, add something on top of it and launch a new product. That's what happened with Sushi. They copied Uni and added a token on top of it for farming from LP.
But since its open source, we are now seeing Uniswap takes this as well and improved their protocol 😊. In open source environment, each improvement can be taken by everyone.
All the best
@dalz
---
P.S. Few hours after posting this, the circulating supply is around 100M, and the price 6$, for a 600M MC.
---
Posted Using LeoFinance