(I decided to split it up, otherwise it would have been a really long post)
Yesterday I talked with a few people about who to delegate too, sparked by the post of
@acidyo
(Can be found
here
).
I gave a few examples of which accounts you could delegate to in order to help the Hive Ecosystem while getting some liquid hive back (passive hive)
I know a few on top of my head, but I did find a few more afterwards which I want to share here, if anyone is interested in delegating to different accounts.
P.s I will 100% not get all of the accounts/communities or people who do good stuff here
So lets get started with the first few accounts which is properly the most straight forward way.
---
@curangel is a project which have curators who focuses on finding undervalued quality posts and gives them an upvote.
They work in many different communities!
This is what they write themselves:
Thank you for your interest in the Curangel project! If you want to help us supporting a wide range of valuable community members and at the same time receive a share of the generated curation rewards, consider sending us a delegation. By doing so, you will also receive the possibility to help us move rewards from overrated posts back to the pool.
I have 1000 HP delegated to @curangel and receives around 0.2 - 0.25 Hive pr day. I think this is around a 13% APR.

@ocdb is the manual curation account for the @ocd project. You can find the posts supported by the @ocdb via @ocd
Curation Guild for undervalued, quality posts by newcomers
@ocd / @ocdb also works in different communities.
They also have a witness account @ocd-witness, so if you think they do good, you should go vote for them :D
You can check out the different delegators here and the pending payouts.
https://thegoodwhales.io/delegators.html
I have 1000 HP delegated to @ocdb and receives around 0.2 Hive pr day. So thats also around 13% APR I think.

@tipu works a bit different. You have to be allowed to call the @tipu bot to "tip" / upvote other peoples posts with the bot.
But you can still delegate to @tipu and receive a 10% APR.
I don't know how to be curator for @tipu :p

@ua-promoter is very simple. You delegate and receive hive every week, not daily.
We are supporting Ukrainian community by curation. Sponsors get 90% of total weekly curation amount, including curation from own 18057 HP.
I have 1000 HP delegated and I receive around 2.6 Hive pr week, so an APR of 13-14%

@dustsweeper will upvote your post or comment if it doesn't hit the threshold of 0.02$ in order for dustsweeper to do this, you will have to send hive the dustsweeper, so you aint paying for upvote to gain big upvotes, they just insure you don't lose out on potential small upvotes on comments or posts.
What is dust?
A post or comment is considered to be dust if it has a value of less than $0.02 at the time of payout.
Anything less than $0.02 will not be paid out.
So even if your comment is worth $0.019, at payout you will receive nothing. Zero, zilch, zip, nada, nothing!!
You can delegate to @dustsweeper and receive Hive on a daily basis, the apr is way more random since the payouts are made from the amount of Hive sent to @dustsweeper on any given day. Which varies a lot.
If you want to know more then click on the FAQ I have linked below.

@hodlcommunity is straight forward. You delegate and receives hive on a daily basis with an APR of 13%
If you would like to delegate some HP to our community and support us; we give you back 90% of the curation rewards on a daily basis ! APR > 13%!
@vlemon will there be changes in the hodlcommunity? I read you post https://peakd.com/hive-167922/@vlemon/committing-100-to-leofinance-and-its-ecosystem

On an end note. These are the communities I currently delegate to. I will be delegating to all of these communities on my list whenever I get enough HP :P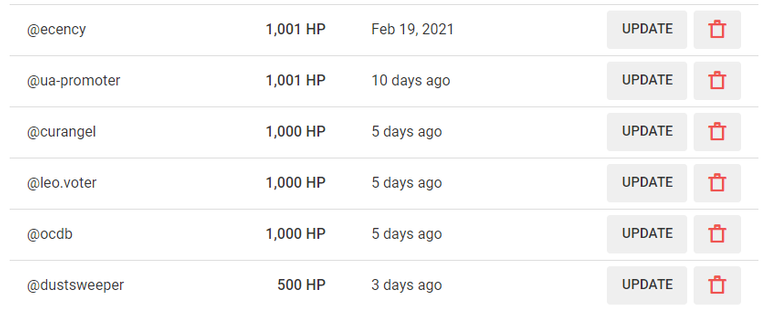 I found 18 (at the moment) different accounts or communities to delegate too.
So thats why I decided to split it up..
---
cc: @amphlux