(I decided to split it up, otherwise it would have been a really long post)
Yesterday I talked with a few people about who to delegate too, sparked by the post of acidyo (Can be found
here
).
(I am not going to continue to tag and spam Acidyo, so you can just copy his name)
I gave a few examples of which accounts you could delegate to in order to help the Hive Ecosystem while getting some liquid hive back (passive hive)
I know a few on top of my head, but I did find a few more afterwards which I want to share here, if anyone is interested in delegating to different accounts.
P.s I will 100% not get all of the accounts/communities or people who do good stuff here
So lets get started with the next batch. These are still straight forward but some of them gives out tokens aswell.
---
@ecency is a dapp for IOS and Android, but they also have a browser version and a desktop version! It works really well and I have always used ecency's mobile app for steem/hive things!
This is what they write themselves:
Aspire to decency, aspire to greatness! Join immutable, uncensored, rewarding communities! https://ecency.com
I have 1000 HP delegated to @ecency and receives around 0.2 - 0.3 Hive pr day. I think this is around a 13% APR.'
BUT I also receive 100 ESTM which is @ecency points which I can use to promote or boost my posts! Every post is checked by a human, so you can't just spam shit posts and get upvotes. So the APR according to @ecency is closer to 33% with the ESTM included.
By delegating to @ecency you also help the Hive ecosystem, because @ecency uses its RC to claim accounts, so newbies can get free accounts

@leo.voter is a manual curation account used by the leo team! They properly have curators to help them.
Curating content that is posted natively from https://leofinance.io and paying delegators in our token, LEO. Learn more about us at https://leofinance.io/@leofinance
.
They also have a witness account @leofinance, so if you think they do good, you should go vote for them :D
I have 1000 HP delegated to @leo.voter and receives around 0.3 - 0.4 Leo pr day. You will not receive liquid Hive, but liquid Leo on HE or Tribaldex

@actifit is another dapp here on hive and have been here for a long time. Its a step counter to get you out there and walk more or just be more active. I have used it for years! :D
They also have their own website - https://actifit.io/ .
They pay out a weekly dividends from @actifit.pay
I don't delegate to them, so I don't really know the APR.
Also, I don't delegate to them only because I don't have enough HP xD

@indiaunited is very simple. You delegate and receive hive every week, not daily.
UNITED WE STAND || A collective members from India
@indiaunited is like @ua-promoter, they just support indian content instead :D
I don't delegate to them for the same reason as actifit. I need more HP.
But it does seem like the APR is around 13 - 14%

@exhaust is another fitness dapp, which does it a bit differently than actifit.
From what I can see then its tracks more fitness related things such as running and biking and not only steps.
The delegation system for @exhaust users is now live! There is no pressure to delegate, but if you choose to, you should start receiving payments 7 days after the delegation is made! @exhaust strives to pay back 100% of the curation rewards that delegated HivePower earns!
I have personally not used @exhaust mainly because I don't run or bike xD I like to walk, but I know @steevc (sorry for tagging you buddy) have used it a lot
I don't delegate to @exhaust because I need more HP, but it seems like they also hit a 13 - 14% apr daily.

@appreciator supports different communities on hive and undervalued posts.
Delegate your HP to have your share in daily rewards and more.
Appreciator is more focused on uplifting quality content on the Hive platform and in support of this endeavour, Top 5 posts will be selected daily to be featured here from manually curated posts.
I don't delegate to @appreciator because I need more HP, but it seems like they also hit a 13% daily.

On an end note. These are the communities I currently delegate to. I will be delegating to all of these communities on my list whenever I get enough HP :P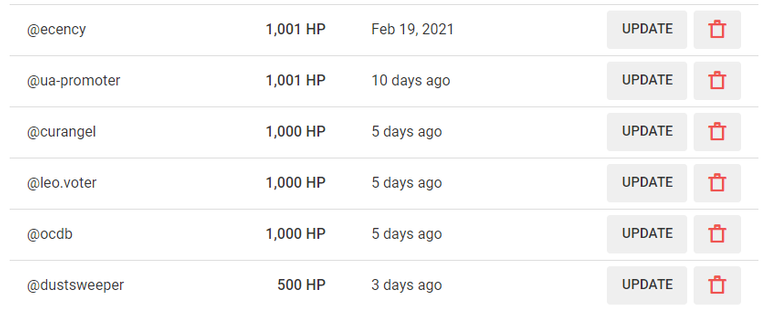 I found 18 (at the moment) different accounts or communities to delegate too.
So thats why I decided to split it up..
I wanted to post these every second day, but I had a lot of things come up.
---
cc: @amphlux