This post can also be read in Portuguese
We are being privileged to monitor the growth that LEO is currently experiencing. Much is yet to come, but it is perception to realize how much the truth that a project, token in a little over a year (15 months) has achieved so far. Thanks to wLEO, LeoFinance is discovering other horizons besides Hive and this is very important to show more people about their LEO ecosystem.
Just now I saw in an announcement by @leofinance that they intend to list wLEO for Blockfolio and of course, I didn't think twice to help vote. More details can be found here, but if you don't want to waste time and want to show all gratitude to LEO the link to vote is this one:
https://feedback.blockfolio.com/coin-requests/p/wleo-httpsleofinanceio
It is in these moments that I believe that the community must show its strength and unity. It is a way that I find helping spread the word of LEO so that more people can grow together with me. As a way to return all the support so far from the entire LEO team and all the curators, it is a pleasure to help and I am sure that wLEO will be listed on the Blockfolio.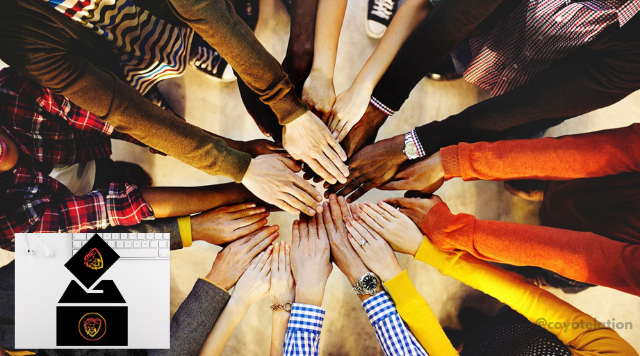 Don't forget that for those who are going to vote and leave a print on the aforementioned @leofinance post, you can receive a symbolic "gift" as gratitude. Of course, a "free gift" is always good, but the vote is the least we could do to get the LEO name to the top.
This is very important because imagine how many famous Exchanges Binance, Bittrex Kraken ... that wLEO can be listed, as it is an ERC-20 token on the ETH platform this will make your listing much easier. According to the LEO team, we are going in the right direction and achieving some interesting milestones even when it comes to liquidity.
I hope that more people can participate in this vote and do not forget that in addition to posting any comments there, they should also vote, which is the most important. At the moment the post is being made we have 27 votes in total for wLEO to be listed. Since this poll was created (3 hours ago) I still think the community can do better than that.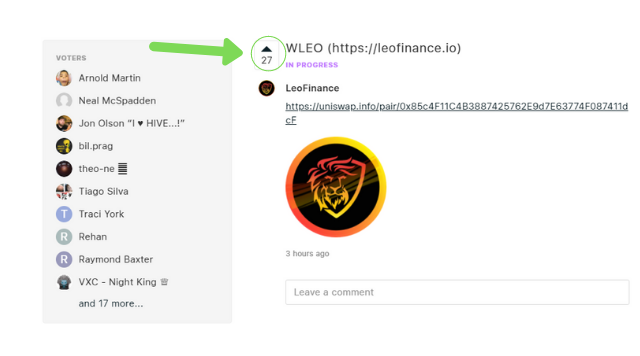 Source
If you agree with me and think that wLEO deserves to be listed on the Blockfolio, we will express that feeling by voting. I count on your help so that in addition to more votes being generated, that more people know and take LEO to the Moon! 🚀

Versão em português
Estamos sendo privilegiados por acompanhar o crescimento que LEO está tendo atualmente. Muito está por vir é verdade, mas é emocionante perceber o quanto que um projeto, token em um pouco mais de um ano (15 meses) conquistou até agora. Graças ao wLEO, LeoFinance está descobrindo outros horizontes além do Hive e isso é muito importante para mostrar para mais pessoas conhecerem seu ecossistema LEO.
Agora a pouco vi em um anúncio feito pelo @leofinance que eles pretendem listar wLEO para o Blockfolio e claro, não pensei duas vezes para ajudar a votar. Mais detalhes pode conferir aqui, mas se não quiser perder tempo e quer mostrar toda gratidão com LEO o link para votar é este aqui:
https://feedback.blockfolio.com/coin-requests/p/wleo-httpsleofinanceio
É nesses momentos que acredito que a comunidade deve mostrar sua força e união. É um meio que encontro em ajudar a espalhar a palavra de LEO para que mais pessoas possam crescer juntos comigo. Como forma de retribuir todo apoio até agora de toda equipe LEO e todos os curadores é um prazer em ajudar e tenho certeza que wLEO será listada no Blockfolio.
Não esqueçam que para quem for votar e deixar um print no post da @leofinance acima mencionado, você poderá receber um "presente" simbólico como gratidão. É claro que sempre é bom um "presente free" mas o voto é o mínimo que poderíamos fazer para levar o nome LEO ao topo.
Isso é muito importante pois imaginem quantas Exchanges famosas Binance, Bittrex Kraken... que wLEO pode ser listada, por ser um token ERC-20 da plataforma ETH isso facilitará muito sua listagem. De acordo com a equipe LEO estamos indo para o caminho certo e conquistando algumas marcos interessantes inclusive quando o quesito é sobre liquidez.
Espero que mais pessoas possam participar dessa votação e não esqueçam que além de colocar algum comentário por lá devem votar também que é o mais importante. Nesse momento que o post está sendo feito temos ao todo 27 votos para que wLEO seja listada. Desde que foi criado essa enquete (3 horas atrás) ainda acho que a comunidade pode fazer melhor do que isso.
Se você concorda comigo e acha que wLEO merece ser listada na Blockfolio, vamos expressar esse sentimento votando. Conto com sua ajuda para que além de mais votos sejam criados, que mais pessoas possam saber disso e vamos levar LEO para Lua! 🚀

Thanks for reading so far. If you liked it, give that strength with your upvote and rate me. Feel free to leave a comment .Thanks guys!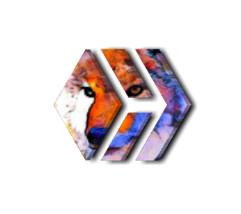 Posted Using LeoFinance Beta