Splinterlands | Fixing Bronze Rewards Economy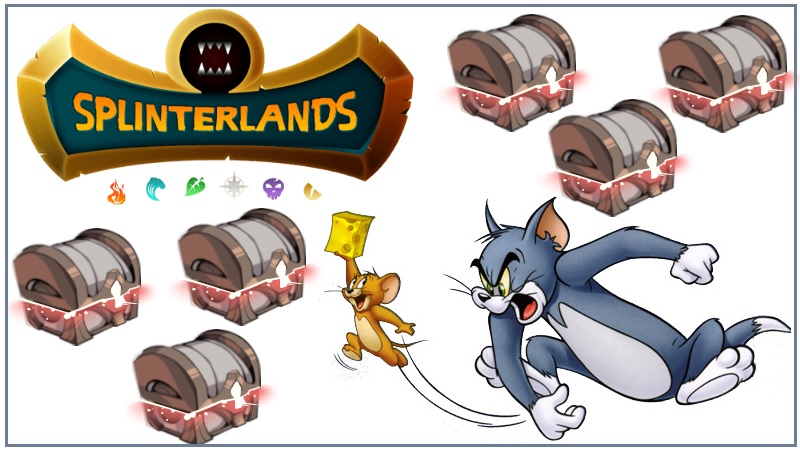 While yesterday I wrote an article (Link) on how it's now a great time to start playing Splinterlands, the reality is that the current system for Bronze League is completely broken and needs fixing. Here are some thoughts and possible solutions on the issue.
---
Current Optimal Way Of Playing

There is always an optimal way that the game ideally should be played and an optimal way for it to be played to extract as many rewards as possible to get the best return on investment. While in a perfect world, both these ways are identical, in reality, this is never really the case and it's always a cat & mouse game. Previously having a ton of bots playing with Starter cards was the most optimal way, now this is the meta.
Have multiple accounts, let's say 10 and play half of them during a season while letting half inactive during the season so they drop back to bronze rank.
Either rent cards on a daily basis for your focus Splinter or delegate them from a main account.
Start off in bronze and quickly climb all the way up to silver or Gold league while still getting bronze chests.
Rake in a shit-ton of chests each day and on the season that have a 33% chance to include a card.
The season after, do this again with other accounts letting the accounts you played cool down and drop in ranking while they are inactive.
This method optimizes Rewards like crazy and requires little to no investment right now which is totally against the point of the game.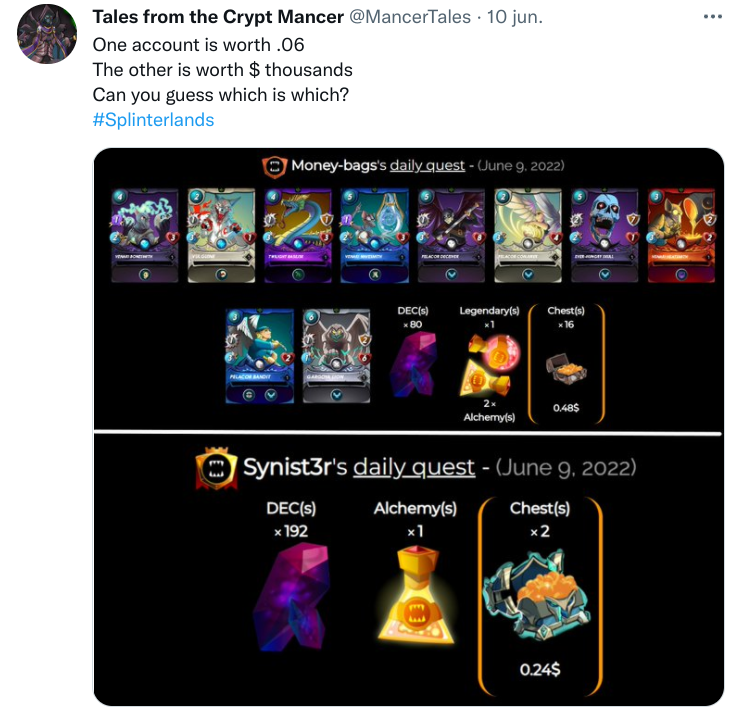 ---
Right now it's mainly real players that do this often delegating cards from their main account they don't need on the day because of the daily focus. If this system isn't fixed by next season, an army of bots who saw their rank get back to bronze will start doing this making the printer of reward cards go totally crazy.
Common Reward cards right now go for 0.01$


Epic Reward Cards for as low as 0.19$


Legendary Reward Cards for as low as 1.27$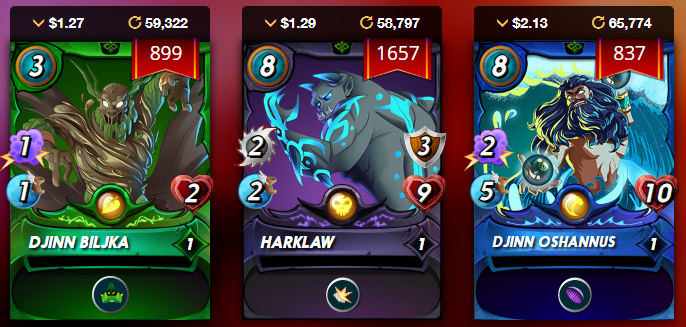 ---
The reality is that the team highly overestimated the adoption of the game printing way too many reward cards. Now around 10 months into the current reward set, 50%-60% of them have been printed and the rate has increased by a lot since the new ranked rewards system was introduced.
---
Solving The Problem

The problem they wanted to fix with the new rewards system is that there were not enough incentives for players to build their collection and rank up. The way things are going right now it has gotten worse even though higher-ranked players are getting more rewards. It's just so easy to get bronze chests that it doesn't weigh up. There is also the issue of the daily focus which forces players to use just 1 splinter each day forcing that upon the rules which is great for those that rent day-by-day but it sucks for players that have a pretty complete collection. Things that can be done:
Limit reward shares that can be earned based on the chests you earn on the season. This means if you start in bronze you will only be able to earn an average of 166 rshares for a win instead of 3084 for a win when moving up to silver. This system however sucks for genuine new players. Maybe switching from earning bronze chests to Silver chests when moving up might also help fix this.

Introduce Collection Balance Score Multiplier. Pretty much give each account a score based on how balanced their collection is. Someone that owns (or rents) just 1 max-level deck to play with a specific splinter gets a low score on this while players that have a more complete collection across the board get a much higher score. If this score counted toward a multiplier that allows these players to get more reward shares for a win, it would encourage players to have a balanced collection of owning cards from all splinters and prevent them to delegate cards for a day to an alt account or rent them on the market while they are not used based on the daily focus splinter.

Extend the current Airdrop Snapshot Sytem. So right now, all assets in the game for each player are calculated giving them airdrop points that directly impact how much SPS they get each day. I'm not sure what will happen after the airdrop is over with many of the assets but a similar system could be used to incentivize players to hold assets. If they also give a multiplier on rshares players earn, it would allow players that are invested in the game on different angles to more quickly get earn their daily chests while making it harder to those that try to leech rewards optimally with minimum investment.

Changing the Daily Focus System. One of the reasons it's possible to get a lot of rewards with minimum investment is that just renting a couple of cards in lower leagues allows players to crush their opponents due to the extreme Pay2Win aspect of the game. A Yodin summoner pretty much gives instant wins. If there was a system where the Daily Fucus refreshes each time a chest is earned or a system that works with certain achievements which unlock chests/reward points during the day. For example, there are a maximum of 30 chests earned each day. Some ideas
Win 1 Game with Water = x amount of reward points
Win 1 Game with Fire = x amount of reward points
Win 1 Game with ... = x amount of reward points
Win 3 Games with Water = x amount of reward points
Win 3 Games with ... = x amount of reward Points
Win 3 Games in a row = x amount of reward points
Win 5 Games in a row = x amount of reward points
Finish a Game with a Draw = x amount of reward points
Win a Game where all your monsters stay alive = x amount of reward points
Win 3 Games with Sneak Damage = x amount of reward points
Win 3 Games with Snipe Damage = x amount of reward points
Win 2 Games without Neutral Cards = x amount of reward points
Climb 150 points in ranking = x amount of reward points
Win 1 game with a specific card.
This system would allow players to get reward points just by playing optimally and it would give high incentives to have a balanced collection. The downside is that it will be a lot harder to get rewards for players that are renting probably hurting that market
---
Conclusion
Creating an optimal balance between economy and fun in
Splinterlands
having all the incentives right to align what should be optimal play with what earns the most rewards is a crazy challenge. Right now after the new rewards update, there seems to be a massive exploit that needs to be fixed sooner than later. I'm sure that this will get fixed as the devs have a proven track record of finding smart ways. It's going to be interesting to see how this plays out in the weeks to come. In the meantime, everyone is able to get crazy high rewards with minimal investment in bronze league.
---
Play2Earn Games I'm Currently Playing...
Posted Using LeoFinance Beta
---
---