Interested on how you can earn rewards, join on Communities of your interest, socialize all around the world and even bring forward your business/ music/ art while blogging?

Well, this is one of the best places to do so, and I am going to start my series on "Earning through the Internet" with this one!

World, be presented to Hive Blog!



---
This article is written both for being promoted outside Hive, so that more people become interested in joining, but also for people that are already here and want to find ways for having better results! And among other things, it is also my first post on Leofinance, after a long, long time of beating the point to death about what on earth I could write here! 😺
My initial idea was to make a whole guide that would say everything that I have discovered about Hive during the last months, as well as the good practices, the things that work for me, my challenges and my ideas. Yet, rather later than sooner and after banging my bloody head for nearly a week, procrastinating on posting it because I couldn't make it complete AND not overwhelming at the same time, I have decided to take it step by step. It will come on Volumes and every new one will contain the links to the previous ones!
So, newcomers and all of you that are not members yet and are interested, take my word for granted that it's super awesome here (yes, we have candies too 😜) and read on, because the good part begins in a heartbeat!
---
THE WELCOME!
But before anything else, I would like to welcome my first invitee here, @underwarrior from Greece and invite you to follow and support him if you are interested on subjects like surfing, working-out, spirituality and exploring internet & cryptocurrency solutions for earning money as he does! Here is his first – introductory post, alongside with his sailing adventure of the day he wrote it!
Introduction and today's adventure!
So, right at it!
---
What is Hive?
Hive is a Decentralized combination of a Community based Blogging Platform – Social Media built on the Blockchain, where one can earn rewards by creating/ curating content in it or getting involved with its cryptocurrency given that they are familiar with it/ willing to become!
If you are still not a member here, you can follow this Invitation – referral link , choose Create Account (except if you would like to explore the options it gives you firstly) and follow the instructions it gives you!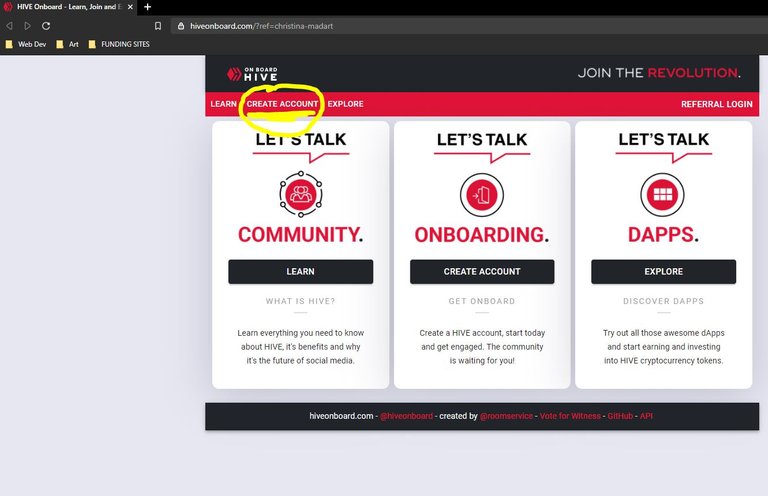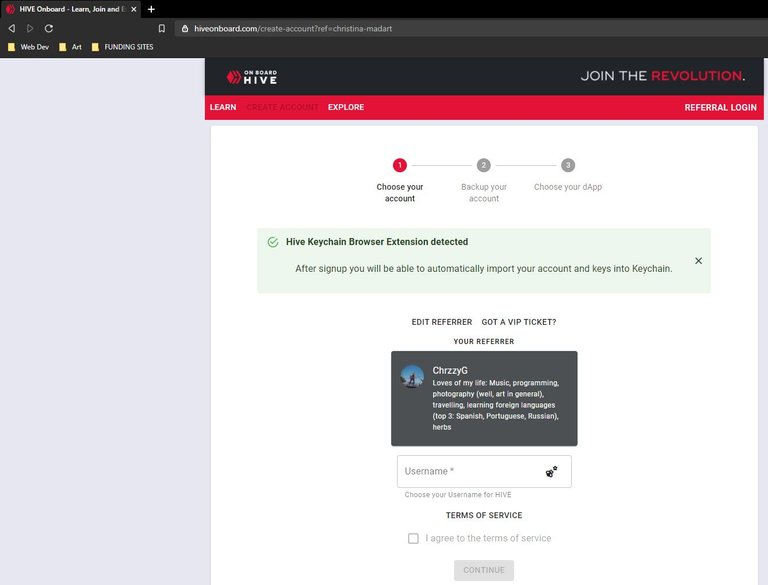 You will have to be extra careful to store in several safe places the keys that you got generated, as they are super important, and maybe consider making a second account later on, and use it as a Recovery Account.
Some nice articles - guides on the subject, no need to re-invent the wheel here:
Changing My Recovering Account by @filotasriza3
Hive Account Loss And Recovery: A Personal Tale Unfolds Between Two Full Moons by @barge
Review your recovery account, if you don't want to lose your assets! by @engrave
How to access your new Hive account and change your keys and recovery account. by @pcste
---
Differences between Hive and Peakd/ other DApps
On the next steps, Hive comes with the freedom of choosing the interface/ DApps that you like the most!
You can do so just by changing the "hive.blog" on the URL with the interface you would like to use.
For example "peakd.com" for better appearance, more helpful features on bookmarking, making collections of favorite authors, articles, communities and topics, "leofinance.io" if you are going to write a lot about financial subjects and many many more interfaces, on which I will make another post in the future!
An example of this can be made for my profile:
It's https://hive.blog/@christina-madart on Hive,
https://peakd.com/@christina-madart On PeakD and
https://leofinance.io/@christina-madart On LeoFinance!
There are also a few for smartphones, like Ecency & Dapplr.
Another step is that you will be prompted to install one of the next extensions to your Browser:
Hive Keychain,
Or Hivesigner,
Or Metamask
This helps making easier, quicker and with security any actions and transactions that you may want on the Hive ecosystem.
---
Difference between My Blog and My Posts
Your Blog/ Profile (https://peakd.com/@christina-madart) is where all of your posts AND the ones of others that you re-blog (aka share) live!
Your Posts/ All Posts (https://peakd.com/@christina-madart/posts) is where only YOUR posts are listed, as well as the cross-posts that you make (this is a technique that you may want to use when you write an article that is perfectly suited for more than one Communities).
Also here you can find the articles that you have posted on various communities but have not re-blogged and are not visible on your main Blog/ Profile tab.
---
Where should I post my article?


At the beginning I thought that the only place I can publish a post was through my own profile. But later I have discovered that it is much more fruitful- both in terms of how many people enjoy it and in terms of earning - to choose a Community that is on the article's subject and publish it there.
Let's say for example that you have a travelling article to post.
You can go to the Haveyoubeenhere Community, subscribe to it and then write a post there!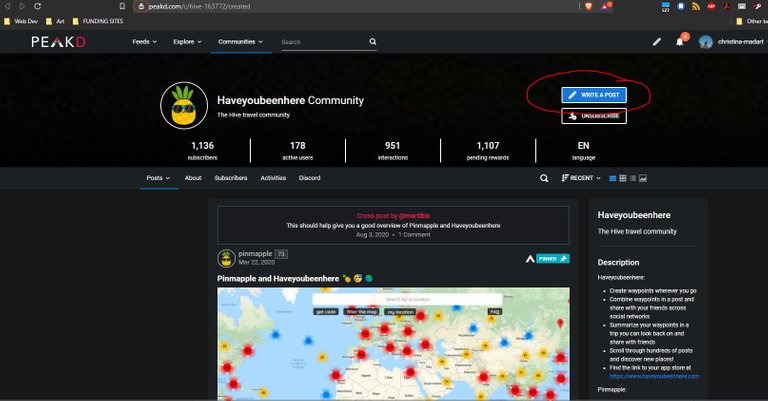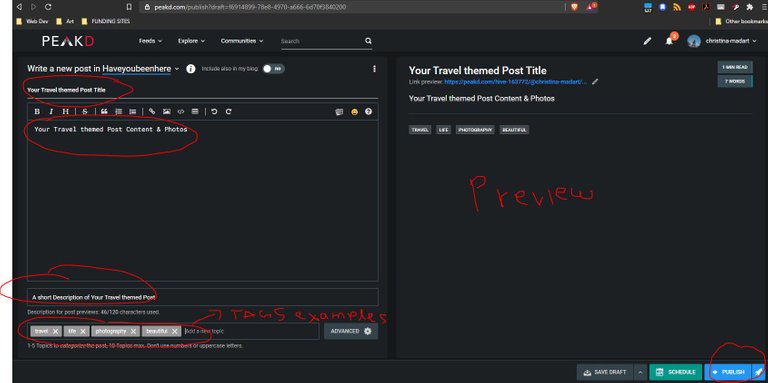 You can also post from various apps built on Hive but for special thematics, either on PC such as Leofinance or on Smartphones, such as Ecency, Actifit, Dapplr, Haveyoubeenhere and I am sure that there are much more that I don't know yet or am forgetting, but that's for a future guide!
---
re-blog in our Blog/ Profile
Right afterwards I am re-blogging it so that it appears on my Blog too!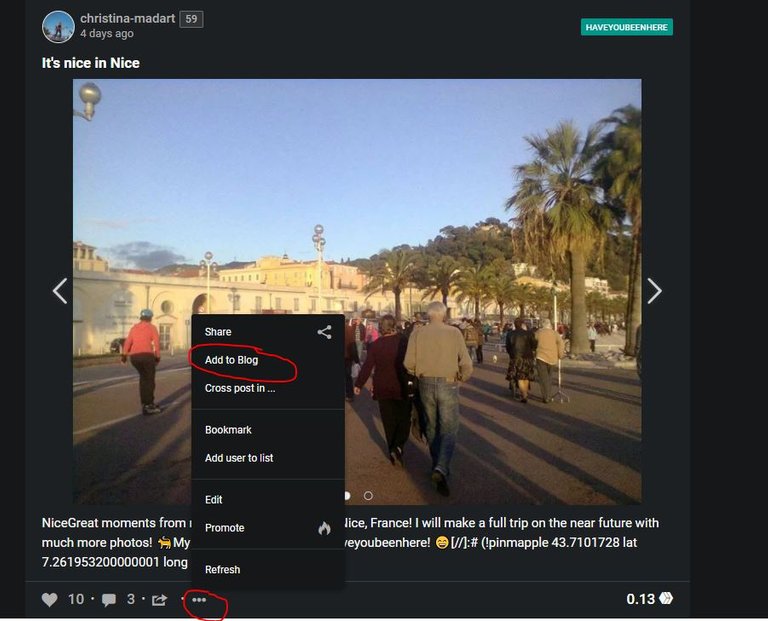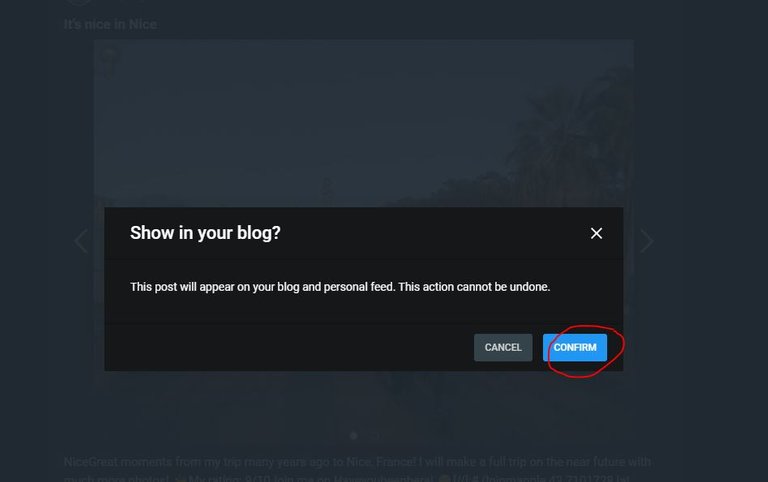 ---
TWITTER PROOF OF SHARE - POSH
I personally share it on Twitter too, using the Posh rewards system.
This essentially helps Hive and the whole ecosystem to become more known around the world and the team behind @Poshtoken are rewarding us with an amount of their tokens every time we are using their system, which on the near future will have some value that we can use to Power Up or do other transactions.
I am not fully informed on every detail of it, but after researching a little it now is really easy to do – I support its mission, so I am doing it for every post of mine!
On the following links you can read more about this project and how you can do the same:
What it is
How to do it – The official way
Alternative way – Someone has actually created a simple frontend to help with registrations for PoshToken.
How to use PoshToken Frontend for Registrations
---
STARTING OUT
When you are starting, you have limited ability to post/ upvote/ comment, as you have zero Voting Power.
But as you start blogging, get your first upvotes , or even get delegation from other people / invest an amount of money on Hive Dollars – Power, you will have more and more options, abilities and subsequently earnings!
Moreover, as I have found out in a @katerinaramm 's welcome post to a friend of her, Welcoming a new hive member coming to us from Publish0x! Welcome Iris (@andrastia )! ( you can actually learn a lot from her guide too ), there exists a website that can be used to collect some Hive Tokens (Hive) that can be used for Powering Up or other transactions!
Meet Giftgiver!
As they explain in their About Page ,
Giftgiver is an initiative to help the onboarding process on the HIVE blockchain. Many users might find it frustrating to run out of Resource Credits(RC) which prevents them from doing any actions on the chain. To help alleviate that, we provide users with a temporary delegation to help get them out of the the RC pit and get back to using the platform.
You just write your username without the @ , complete a captcha to prove you are human and every one hour you can claim your 0.003 HIVE !
---
Communities
After you get a grip on the basics and you want to get a little more into strategies to make your content widely read, you will want to explore Communities on your interests, where you will find content that you like to read and people to follow/ support that will possibly do the same.
General content Communities
Apart from very specific thematic communities, like Photography , Urban Exploration , Music , The Bass Place Community , HiveGR Community etc, there are two major ones with a lot of subscribers where you can publish general content articles.
Those two are GEMS
To highlight true Gems of Hive community with User Retention as primary objective


and OCD (Original Content Decentralized)
Original Content Decentralized is a curation project on Hive focusing on Original Content
I will be returning to this subject on a future post to make my own guide of Communities that I like/ recommend!
---
Some general good practices are the following (I am repeating myself in some of them, but you know what they say about repetition):
Subscribe & Engage on Communities !
Write great content!
Take some time to make sure that you are giving some kind of value on any aspect to your readers with what you are sharing!
Is it something funny that can give us a laugh and make our day?
Is it something inspirational and heartfelt that you want to share?
Is it your daily activity combined with something special (or not) that you did and will motivate us to do something on our own?
Is it a guide to something, a recipe, a walk on the nature to remind us its beauty, a music post?
For nearly everything there is at least one Community and loads of tags and people to cherish it!
##### SUPER IMPORTANT !!!!!!!!!
HIVE DOES NOT ACCEPT PLAGIARISM UNDER NO CIRCUMSTANCES! DO NOT STEAL OTHER PEOPLE CONTENT! CREATE YOUR OWN! IF YOU WANT TO USE A LITTLE PORTION OF SOMETHING, GIVEN THAT THE CREATOR IS OK WITH IT, YOU HAVE TO MENTION THE SOURCE!
READ MORE HERE: Plagiarism, Spam, and Abuse
Think of what you would like to read and would upvote yourself!
Use photos/ images between paragraphs to make it more enticing!
Don't photodump though, except if your theme is photography!
Research and use the most relevant with your subject tags
For example the Introducemyself Tag
Just change the name of the tag on the url and put the one that you want, to see if it popular/ already has posts, how many and if it is good for your post's promotion to use it.
Use cross-posts ( it's really easy on Peakd )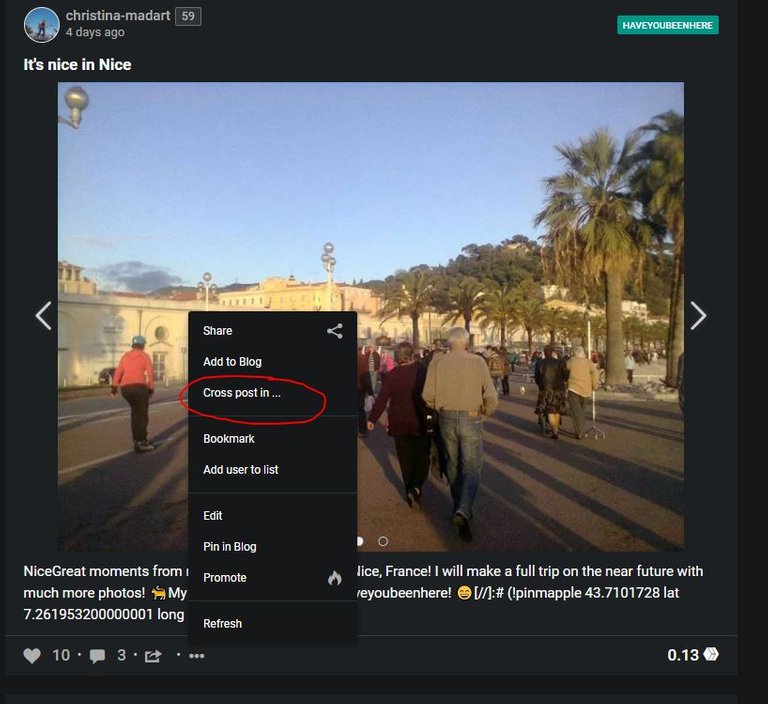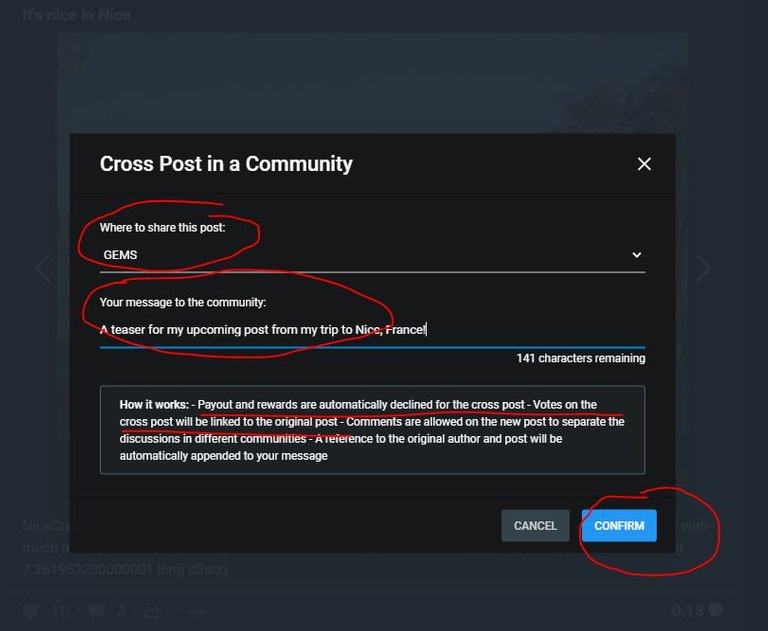 Upvote other people posts that you like and even re-blog (share) some of them
Learn about the rewarding system of both creating content (writing, making videos, photographing), upvoting/ curating/ sharing and if you're into it, even investing on Hive Dollars and empowering your account/ increasing your voting power, Hive Currencies, The Pool etc
Commenting - building relationships and friendships – a reward big enough itself
Tag people if it is relevant, but don't overdo it/ tag-spam!
Participate in Contests/ Challenges and thematic post series/ Other DApps
More on that soon!
Promote on other Social Media and Channels (posh on twitter, discord channels post-promotion conversations, facebook groups)
Also more on that soon!
---
TWO EXTRA BONUSES
01. FORMATTING YOUR TEXT EXAMPLES WITH SCREENSHOTS
Dividing Line

Extra Vertical Space

H2 - if you want you can research more about h1 - h6 and the importance on using them correctly in your articles!

Hyperlinks

How (approximately) your image appears on the text editor

Quoting

Here are some more guides on the subject:
Markdown Vs Markup | Useful for Hive Blog Formatting
HOW TO FORMAT YOUR BLOG IN AN EPIC WAY | +A Guide For Beginners
Master Formatting Guide For Hive Blogging.
7 Powerful Formatting Hacks For Your Next Hive Post
02. VIDEOS TO UNDERSTAND MORE ABOUT HIVE, BUT ALSO FOR THE WHOLE BLOCKCHAIN ECOSYSTEM & DECENTRALIZATION
For those who are really into learning more and quicker, here are two nice videos on YouTube!
Guide to Hive - The Most Comprehensive Tutorial for the Hive Blockchain Ecosystem
This is a video that explains everything about Hive! It's long but I think it's very enlightening
Blockchain: Massively Simplified | Richie Etwaru | TEDxMorristown
And this is about Blockchain, on top of which all these interfaces and platforms are built
---

That's all folks for now!
Stay safe and sane and see you on the next one!

And if you have any questions feel free to drop them on the comments!


---
MY "Earning through The Internet" LEO SERIES POSTS:
ON HIVE - GUIDES:
Invitation to Join Hive, A thorough Guide Vol I and A Welcome | EN
OTHER:
Invitation to Tsū - Wonderful & Paying Social Media😺- my "Earning through The Internet" Leo Series | EN
UHive Social Universe - Invitation & Introduction - my "Earning through The Internet" Leo Series
---
MY SOCIAL MEDIA
TRADITIONAL SOCIALS
NEW & PAYING SOCIALS
TSŪ - SOCIAL MEDIA THAT PAYS (The_Holy_Bass)
UHIVE - Create - Discover - Earn (Christina The Holy Bass - CODE: 0JFH1I)
READ.CASH : read.cash is a platform where you could earn money (total earned by users so far: $ 216,651.45). You could get tips for writing articles and comments, which are paid in Bitcoin Cash (BCH) cryptocurrency, which can be spent on the Internet or converted to your local money.


NOISE.CASH : Would you like something like read.cash, but for shorter messages? Make some noise on noise.cash, get some Bitcoin Cash!
PUBLISH0X : Publish0x is a crypto agnostic publishing platform similar to Medium, where both author and reader earn different tokens.


WEBTALK : The world's 1st universal contact management system for both personal AND business use ( Connect personally, professionally or both ways to segregate your networks. ​Add searchable tags, labels, notes and network values for your closest relationships and prospects.​ Get CRM contact folders and a file tree for all types of relationships, personal and business ) - You can earn points that redeem for cash monthly. You'll earn points for engagement, creating popular content, and for your referrals to Webtalk.
TORUM : A Groundbreaking Ecosystem with a Mission to Unite and Connect Worldwide Blockchain Technologists and Cryptocurrency Enthusiasts - About Torum
---
Posted Using LeoFinance Beta