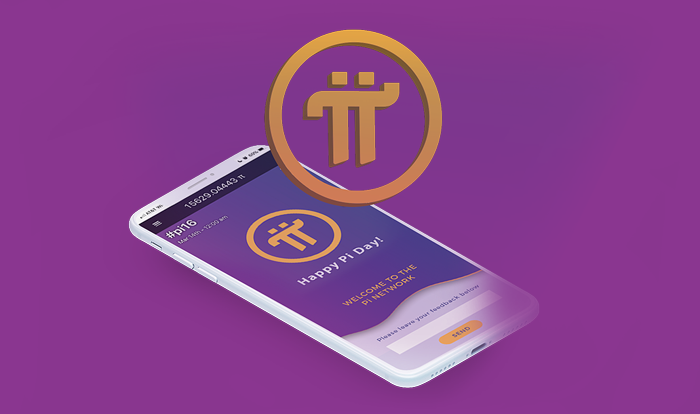 So for the past 2 weeks, I've managed to mine past the 3 figure mark, thanks to couple of friends who've enlisted to help out. But getting to the monetizable part is pretty arduous and daunting task. For those who don't know, Pi Network is a Smartphone app available on both iOS and Android, that mines the Pi digital currency. The Pi Network is founded and being developed by 4 Stanford Graduates; Dr. Nicolas Kokkalis, Dr. Chengdiao Fan, Vincent McPhillip, and Aurelien Schiltz, based on the Stellar Consensus Protocol and Federated Byzantine Agreement algorithm. It made its inception since March, 2019 and after several months at the end of that year, reached 1m members since. That number has skyrocketed from 1m to 8m till now.
Mining crypto is hard. Investing in crypto is risky. Too many of us are left out of the cryptocurrency revolution.

As their slogan says, this alternative makes it just easy to leave your app open and let it mine while you're minding your business like it's the usual day elsewhere. But it's not all as simple as it seems. Pi Network tokens are globally shared and decentralized currency that is currently not in the Mainnet for trade, yet. It is mined mainly by using your phone, what it does is use only a small part of your phone's processing power to mine the coin, such example was using my Xiaomi Mi A2. I barely notice the battery draining and checked out to see the app only draining less than 1% of my 3000mAh battery. But in large, the only way to increase your mining rate is to refer other people by your referral code and adding them to your pioneer circle. pioneer is the collective noun for members of this app.
Just simply download the app, type the referral code from someone (or give from other sites), set up your KYC and you're good to go. But that's only just a start.
Is Pi Network Reliable
For the most part it is, the question remains about whether it's monetizable yet. Which remains to be seen as the trading in the mainnet has been turned off for a while now, then they have stated from their FAQ that it is currently worth 0 US dollars. This, however will change as the site is waiting till it has surpassed 10m pioneers or phase 3. Last time it went online, sold for nearly 0.40 USD per token. Since then, it's been pretty quite.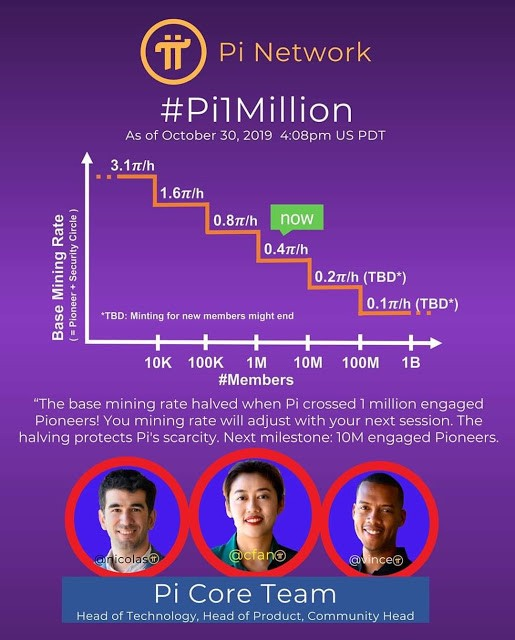 Pi Core team and the current rate between 10m user goal
As for its legitimacy, a lot of news articles, forum posts, blogs and other medias have full verified it and it checks out. Trustpilot has already 4.9 star reviews aggregated, though am not sure if that adds credence. The Google Play Store app has passed 5m downloads, with availability in Apple store, it probably reached over 3m there as well.
While there could be future monetary gains, Pi is also seen as a good investment for its concept of being the next Bitcoin. How far-fetched that sounds is kind I guess upto the high investors to tell. Because seeing it amass nearly 10m members in over a year is quite a feet.
How Does Pi Network Works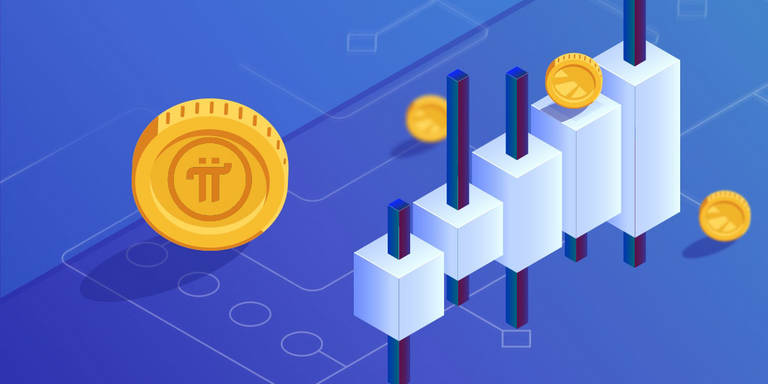 Image from Changelly.blog
While you could just download and run it yourself, you're experiencing much of the needed process of being part of Pi Network. It's more preferable if you use a referral code first, there's plenty out there. Heck, use mine: mcniddas to join and receive 1 free token while you have me added to your mining circle. That's the other thing, you need to add people. You can share your referral code to other people, but what about the ones who've already joined? Well, that depends. There's a vetting process called KYC that involves you verifying whether you're a real person or not. This is important, otherwise your tokens will be lost. You can use either your phone number or Facebook account. Using either of them, you can add other miners via your added circle.
Then there's the next step, since you've started as a pioneer, you need to continue mining for 3 days. Once that's done, you've reached contributor rank. Adding more people who've done their KYC means they are secured connections. Next is Ambassador, if you've invited people, small portion of their earning rate also gets added to your total Pi/hr rate.
Node is currently on beta phase, of which you install it on your PC and will act as a support system along with your phone. Its official release will come right around phase 3. I've tried and while it did seem like an interesting concept, for now it takes a lot to really get it going. Here's my account now and the nomenclature for these roles: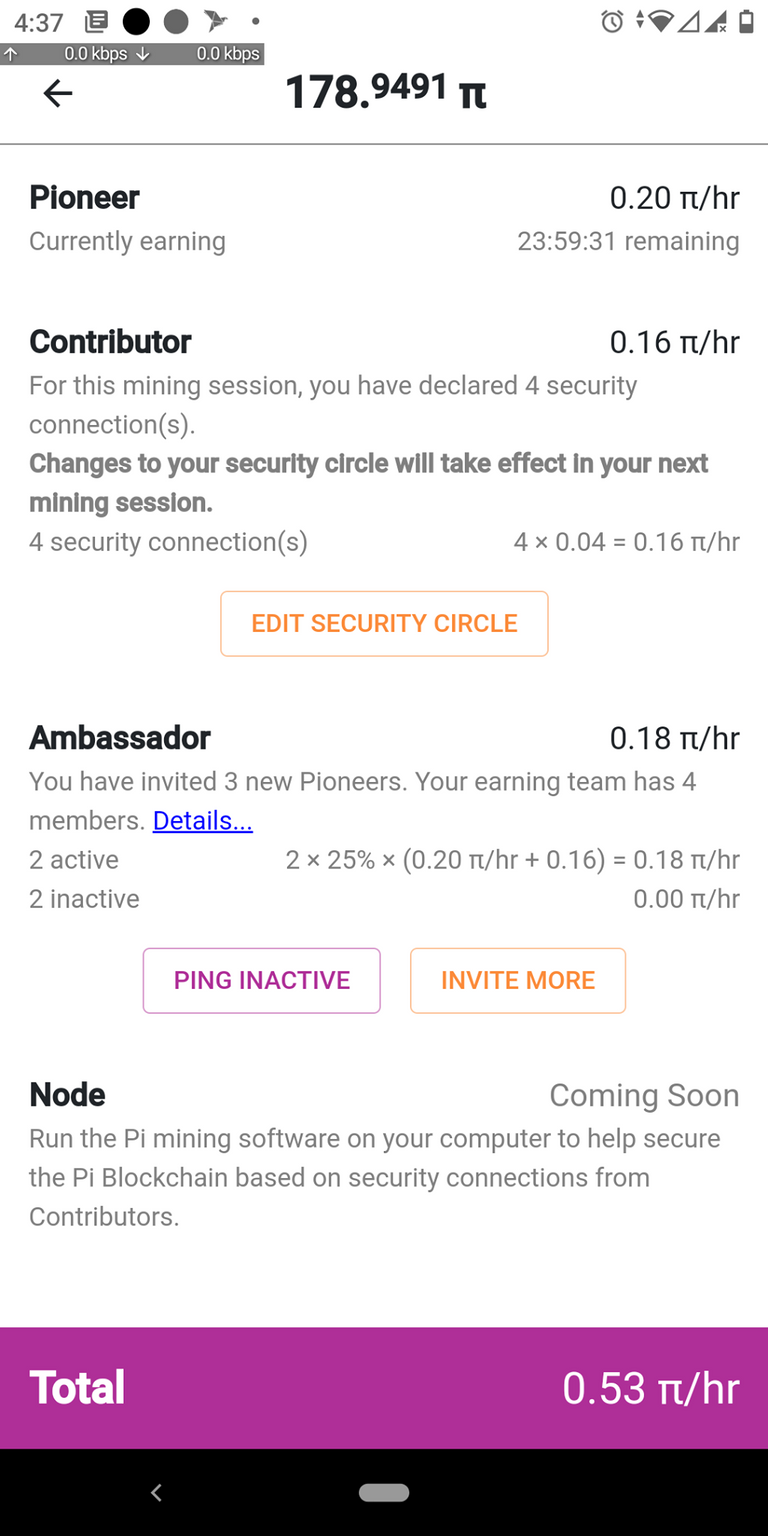 | Roles | Count | Rate |
| --- | --- | --- |
| Pioneer | 1 | 0.20π/hr |
| Contributor | x*(0.04) | 0.04π/hr |
| Ambassador | x(25%)(0.20π/hr+0.16) | 0.09π/hr |


Strangely looking at this, 10m mark could have already passed the point. Who knows. As a contributor, with 4 secured connections even inactive ones, you still get some semblance of high rate. Though, if you ask me, that's probably some incentive to add people for curious sake before they venture onto elsewhere. But Ambassador is where it's really at when it comes to active rates. So number of active accounts vs secured account is the dilemma at times. Either you get more people added or you get more continuing with this project.
Also thank god I still remember some algebra.
Future of Pi Mining
Pi Network Mining has had huge surge in popularity all through the last year and half, right now at the end of the year and somehow in-between this neverending nightmare of pandemic, Pi Network flies. But like Icarus, it could crash hard or maybe tumble.
There's no guarantee about its monetizable future, there's just more hints, suggestions and history to tell anybody what could happen next. As of now, there's no Mainnet exchanges currently ongoing, but we'll get there pretty soon.
As of now writing, I've managed to earn around 200 tokens within 2 weeks. That is insane yet a great hard start to something amazing. Here's to hoping it continues with its progression, won't replace Bitcoin, oh no but at this point, it needs to make a decision of what kind of large presence should it have.
So now am getting to wrap this from here and on endnote, here's the gist of it:
Download app, use someone's referral code, get token and have someone in circle
Add more people using your referral code and vice versa
Check your app and continue to mine daily, all it takes is 1 minute
So if you're interested, here's the link: Pi Network
Use the referral code mcniddas to get your free token and bonus rate. Just experiment with it, see where it takes you. If you've enjoyed this read, thank you. Also if you've used it before, let me know something, reel me in, am curious enough about this app to participate in long threaded discussions. And that's it for me
But do feel free to leave an upvote