Hey Jessavers
As money printing continues to be the only solution to all our problems, two camps have stood up and called for a different playbook. The gold bugs and the Bitcoiners, while they seem to be at each other's necks on Twitter, are both part of a similar belief system, a system of scarce, hard money.
Hard money is a type of money that is not easy to produce; it must take value to produce and is limited in its creation and supply.
In a hard money system, credit is only extended based on collateral, so while there is debt in the system, it has a natural limit and has value backing its new money creation.
Focusing effort in a hard money system
When you have hard money, any effort that can be done that cost less to create money but earns money is valued. So Instead of trying to pull a bar of gold out of the ground or mine a Bitcoin. I'd much rather try to offer value to another who would pay me in hard money; this increases the velocity of money over time.
The harder the money, the lower the supply, the tougher it is to make the higher the velocity, the more value each unit of money creates and spreads abundance much faster and wider than in the current system.
In a hard money system, people are encouraged to have savings, the value they hold isn't debased and cannot be taken through government-mandated inflation. Goods, services, trade become more efficient because we have a peg to measure it by across all value chains, and therefore misallocation of capital is reduced.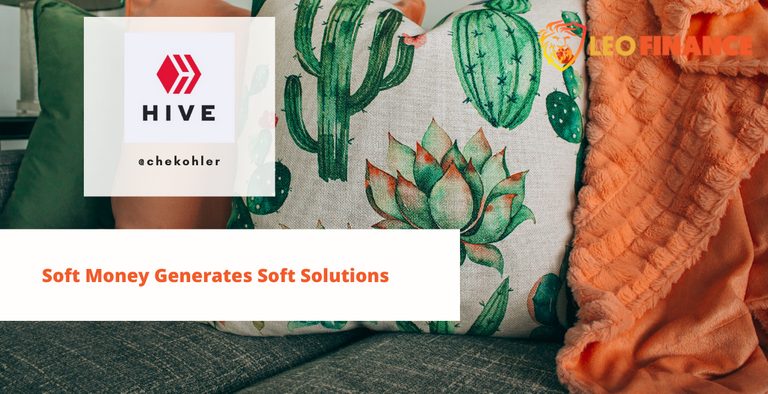 In times of crises
In a hard money system, people would have savings; they would live without assistance, governments and private charity would call for aid from the wider country and local communities, people would retain their independence and power.
Capital will be decentralised. Therefore, it can be applied in a more nuanced way on the ground where it's needed. Not waste a penny on administrative costs, fraud and overinflated salaries of bureaucrats.
Soft money makes soft people
As the money supply continues to get diluted, as savers are stripped of their purchasing power, they become dependant on the government or the banks, in the form of debt. The more dependant they are, the less chance of revolt, the easier they are to control, you won't bite the hand that feeds you.
The softer the money supply becomes, the softer the people become as we push more people into a neo-feudalistic system. Soft money has its uses don't get me wrong, it's great for financing assets as your obligation decreases over time to replay back cheaper fiat each year.
However, it's no store of value and this is the mistake the vast majority of the world is making. Until the penny drops and people understanding saving in fiat is harming them, then the soft money society will continue to decay without government assistance.
Have your say
What do you good people of HIVE think?
So have at it my Jessies! If you don't have something to comment, comment "I am a Jessie."
Let's connect
If you liked this post, sprinkle it with an upvote or esteem and if you don't already, consider following me @chekohler and subscribe to my fanbase
| Safely Store Your Crypto | Deposit $100 & Earn $10 | Earn Interest On Crypto |
| --- | --- | --- |
| | | |
---

Posted Using LeoFinance Beta