Hey Jessinvestors
In crypto free money has become such a staple, people often expect it. There's an airdrop every week with the vast majority not being worth your time, I think my Meta Mask Wallet is proof of that lol.
---
Side note: Can someone figure out how to burn all those tokens or atomic swap them into ETH dust instead of just having these meaningless tokens that aren't even worth the gas fees.
---
Airdrops that actually turn into anything material are few and far between, off the top of my head I'd say airdrops/forks like HEX, BCH, ONT, UNI was worth getting into especially if you sold during those early excitement days and scored some of that free money profits.
Airdrops tend to live and die on the current liquidity of the market, and with Bitcoin starting to pump I think there will be more attractive airdrops coming, as was the case in 2016/17.
If the airdrop is a decent product like UNI, it can be worth keeping, if the airdrop is a random shit coin with no product behind it, it's time to drop it like its hot.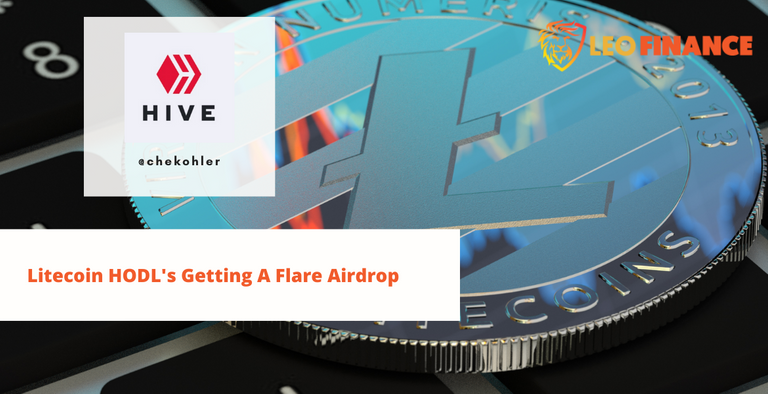 Airdrops flare-up
One airdrop that people are making a bit of noise about is the flare network which is a side chain product built one of those "blockchains" we all love to hate, XRP.
The chain brings smart contracts to the XRP network, something most of us probably couldn't give two shits about because no one is going to WANT to run smart contracts on XRP when you can do it on ETH, EOS, TRON and Polka for that matter.
The flare network dropped 46 billion tokens to XRP holders and it saw XRP pump up to around $0.70 as people wanted to get a bigger allocation of the airdrop. Now it has been reported that 5 billion tokens will be distributed to LTC holders.

I personally don't see this product as something the market needs or something worth investing in but if you own LTC like myself, it may be worth picking up your allocation. If XRP believers are anything to go by you'll know that there's irrational exuberance around the project and it should have enough demand to buy up the allocation you get.
Airdrops are coming
If this announcement is anything to go by I am pretty confident that there will be more airdrops coming in the near future. As frenzy and confidence come back into the market all sorts of weird and wonderful things will begin to happen.
BTC and ETH have begun to run, but I feel like it's still been timid in terms of bull runs so far, so my gut feeling is, its only getting started.
Have your say
What do you good people of HIVE think?
So have at it my Jessies! If you don't have something to comment, comment "I am a Jessie."
Let's connect
If you liked this post, sprinkle it with an upvote or esteem and if you don't already, consider following me @chekohler and subscribe to my fanbase
| Safely Store Your Crypto | Deposit $100 & Earn $10 | Earn Interest On Crypto |
| --- | --- | --- |
| | | |
---

Posted Using LeoFinance Beta