Hey Jesspeculators
I've been laying into NFT's for some time now because I think it's a thorn in the side of crypto adoption once this blows up, which it rightly will. I've spoken about the bubble I see developing in NFT's, and I've spoken about the shortcomings of the current NFT implementations.
As a "know it all" millennial, I am always going to rub it in peoples faces, and I'll continue to do so; I've made calls on doge and NFT's despite the market saying otherwise and being called a hater and not understanding whats going on.
Oh, I understand alright, gambling and a poor understanding of tech, along with misguided and, in some ways unethical marketing, has brought us where we are today.
Now the latest story to hit NFT news is the disappearing NFT. I lol'd so hard when I read these stories; man, people really don't get how the internet works do they? But hey, keep "investing in the future"
....A future where you are having fun staying poor.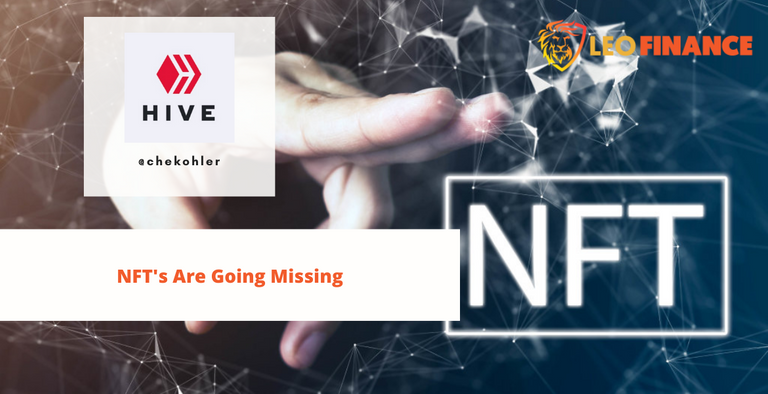 Not All NFT's are New Financial Trash
Let me be clear; all NFT's aren't equal; an NFT that is native to an application or multiple applications can still have a market where the value can be extracted, such as in-game use.
When I refer to New Financial Trash, I am specifically talking about the frenzy around art NFT's and these images people are supposedly selling to one another as collectables.
The problem with these NFT's is the image itself and the token hashed onto the blockchain are not the same. The token is only a collection of text metadata added to the chain, and the image is referenced with an external source.
Image files are inherently centralised
The external source could be the site you used, and where they store their image files, it could be a centralised server, it could be a cloud storage service provider, or it could be a distributed storage provider.
The thing is the image itself as sweet blue fuckall to do with the token; all the token does is host a URL to where the image is hosted.
If the image provider site goes down,
if the host server crashes,
if the cloud storage bill isn't paid,
if the distributed cloud storage is cleaned due to rules
That's it; you're token is referencing a dead link; the image URL referenced in the blockchain is calling a URL that no longer exists.
A few NFT owners find this out the hard way, and now all they have is a very expensive token that points to a 404 page.
IPFS Isn't permanent
Some say they can reference multiple hosting providers that could help reduce the single point of failure or reference an IPFS link, but this is only a stop-gap solution. If the file on IPFS isn't accessed regularly, the file no longer has much value to the network and is often removed.
Now, sure, you could have a self-storage option that you pay for, but then how does that make the NFT an asset. If you're paying for storage, then it becomes a liability unless you can generate an income to offset the losses in storage.
Monetising NFT's outside rampant speculation
Perhaps you could charge others to view your NFT, get your NFT listed on sites that pay you a revenue share for curating with them.
Perhaps you could run ads on your NFT page, so income from viewing your NFT pays for its hosting, and you earn an income on top of that. To me, then it becomes an asset because it has cash flow.
As for now, NFT's are still overpriced references to JPEGs, with many of those links soon to die when these NFT platforms go bust in the future.
Sources
Have your say
What do you good people of HIVE think?
So have at it, my Jessies! If you don't have something to comment, "I am a Jessie."
Let's connect
If you liked this post, sprinkle it with an upvote or esteem, and if you don't already, consider following me @chekohler and subscribe to my fanbase
| Safely Store Your Crypto | Deposit $100 & Earn $10 | Earn Interest On Crypto |
| --- | --- | --- |
| | | |
---

Posted Using LeoFinance Beta