Yesterday I received a suggestion from
@alexvan
, to invest in the token that will be launched soon on December 7th, it is LeoBacked Investments (LBI), and he recommended several reading links to read about this token.

Source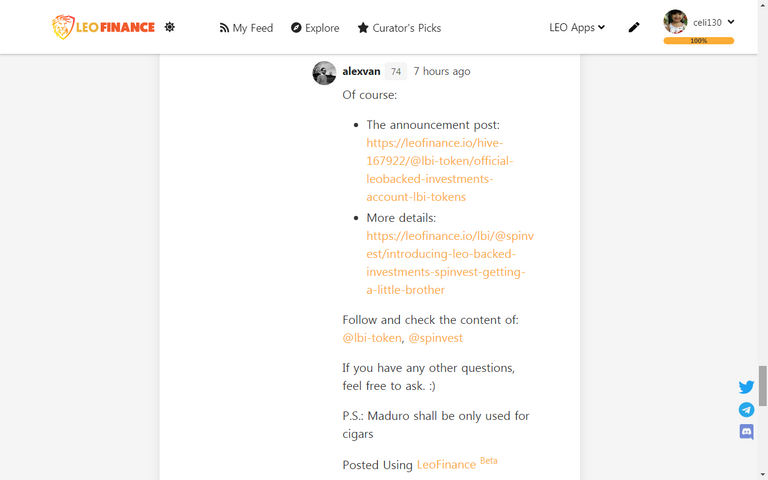 Source
I read them, from what I understood is that:
Each LBI tokens will be backed with at least 1 LEO wagered per token.
50% of weekly LEO earnings are paid to token holders in the form of Leo Dividend
It is an investment to obtain a reward passively in the long term.
That when I decide to withdraw, I can sell my tokens without difficulty.
The price will be 1 LBI for a Leo.
LBI will be a long-term HODL token based on the SPI model.
But this type of investment, we can do it in a small way, I am on this platform like a pussycat (small cat), which is just beginning to take its steps on this platform, thinking about investment is not a bad idea for me, more than I am from Venezuela and mother of a little girl who depends on me, I have to be aware of her needs, this investment would ensure our future?
Investments must always be studied, sometimes you win and sometimes you lose. Investing in platform only done in my dedicated time, but in the form of money online I have never done it. I have always seen it as something risky to lose, for my economy I cannot give myself that.
But if we see the other side of the coin, which is an investment later on it will give me great results, I lost my opportunity because I did not see myself as risky.
I would like your advice on this issue, to make decisions before December 7.
thanks for your help
Celimar Muñoz.
Posted Using LeoFinance Beta