Investing in cryptocurrency never crossed my mind, buying Cryptocurrency much less, the only thing I always did was invest my time in making a post to get some money and thus be able to buy the things I need for food and basic things for me daughter.
But yesterday, when I made a post that staked my first Leos, someone said some very wise words to me:
Collecting all that you earn is not a way to change your financial future. Instead, you simply change your financial present. @taskmaster4450le.
These words during the night I was lying with my daughter, they made me a lot of noise and once again it crossed my mind, I looked at my daughter asleep. My questions were what do I want for my daughter? A better future or a good present? Of course, the answer at the same time was both I want my daughter to have a good present that she does not lack her food, her remedies so that she grows up healthy, but at the same time I want to ensure a financial future for her, as if it were my escrow that us both will help in the future, because thus continuing on this course that until now we do not know where this dirty policies will take us, this hyperinflationary economy that food rises every day without any control.
Today I sold some coins that I had, I bought some Leo coins, I know they are hardly few, I have always read people who buy 1000, 100 Leo, well that up to now is not my case, I cannot acquire those large amounts, but as they say a saying in my country
"From grain to grain the hen fills the crop"
This does not imply that little by little extraordinary things can be found, so we must not believe that nothing is little, if we continue to persist and add a grain every day we will be able to obtain our wishes, with sacrifices but we obtain it. One of the things my father taught me is not to let myself be defeated by anything or anyone, that by fighting and persevering you get what you want.
Well today acquire 11.96 Leo at a price of 1.84 Hive. It is a good price at which it was days ago which was the 2.1 Hive, this is an offer that we must take advantage of now because tomorrow these coins will have a value of up to $ 1 or up to $ 10, can you imagine when that moment arrives, that my investment of 2.5 $, tomorrow it will become 12 dollars, or 120 $ that to what I would call a good investment and think ahead, others would say that lucky for me it would not be lucky for my serious confidence in a project, commitment to a platform that has given you great moments that I previously did not have in another.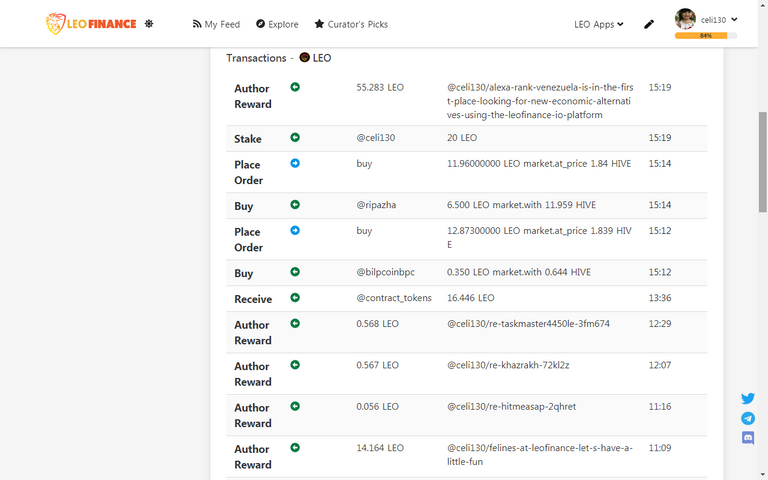 Well apart from acquiring those 11.96 Leo, I set 20 Leo today, my Leo Power reaching 102 Leo Power. This way I continue to ensure the future of my daughter, and not just a present.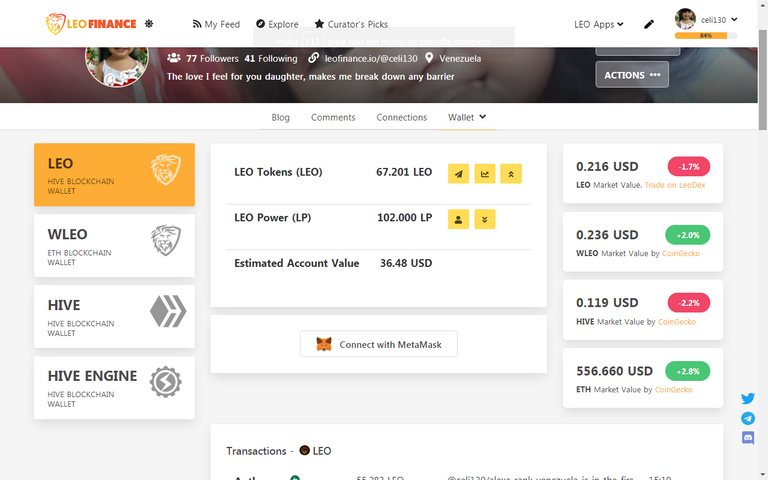 What plans do i have
Continue posting, commenting and curating on Leofinance.io, as I get the opportunity to continue investing in small Leo acquirers and then stake it to reach my proposed goals.
My daughter have a better future.
Thank you
Celimar Muñoz.
Posted Using LeoFinance Beta