After a long absence for health reasons of my sister that since December 26, began with a strong pain in the belly doing several studies, one of those studies showed that she had a tumor that was pressing on her bladder that had to be operated on As a matter of urgency, we had to move my mothers, brothers and my daughter to another city to expedite everything for their operation, due to the situation in Venezuela we had to buy medical supplies so that they could be operated on in a Hospital, since we did not have financial resources to operate her in a private clinic that they asked for $ 750 in addition to transferring her to another city. Among the expenses, it was almost half of what a clinic asked for. Thank God my sister was operated on, the operation came out very well, the tumor was sent to perform the biopsy, the price was $ 50, for the size that weighed 1,950 kg, what they extracted from my sister, that biopsy showed that I did not have nothing evil. Today we are at home with her recovery, I will be activating little by little to the leofinance.io platform, we need to pay the debts and continue buying food.
Good news
Well today when entering Leodex.io to be able to sell some coins to buy food, I just was surprised with good news our Leo token is rising like a rocket going to the moon with a value of 0.369 equivalent to 3.1 Hive, that 1 Leo equals 3.2 Hive this is good news both for me and for all the users of this platform, we are celebrating that its value continues to increase, until it reaches more than $ 10 imagine that would be incredible.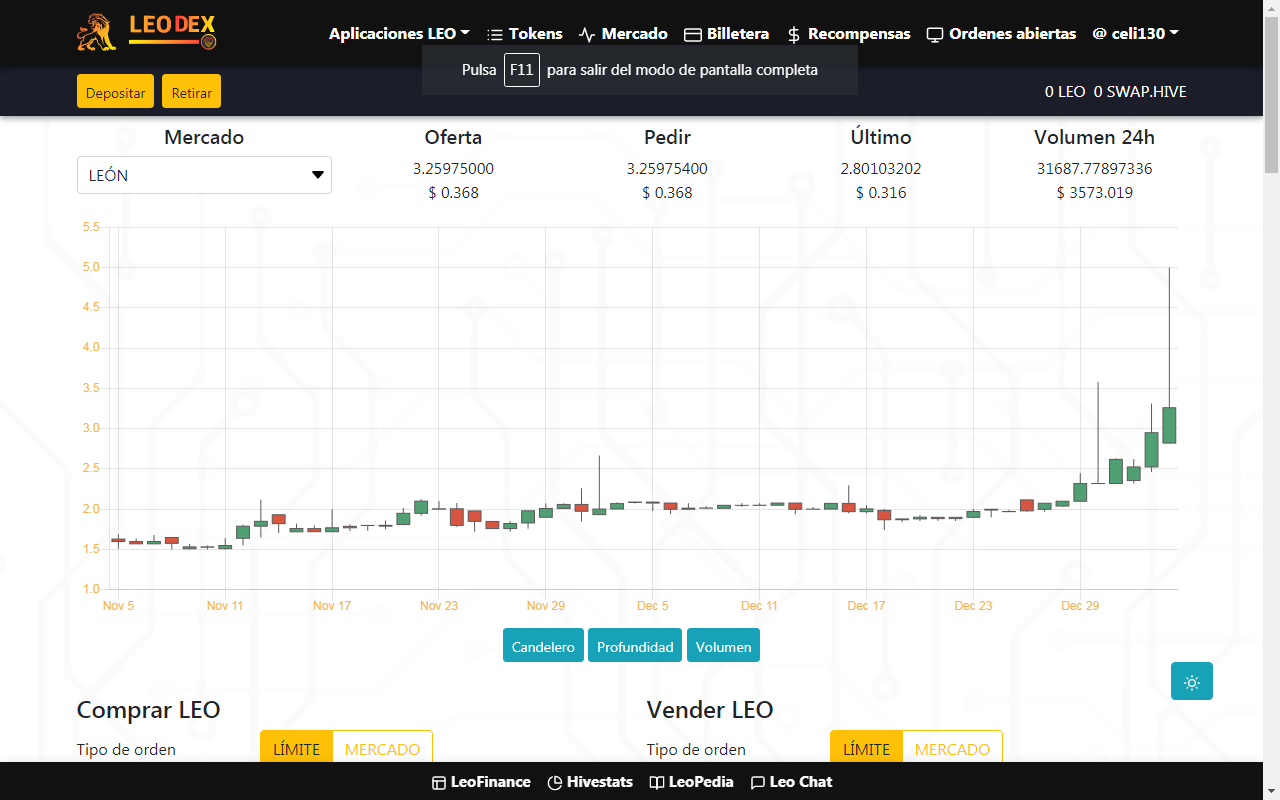 Source
My investment increases
The other good news for me is to see how my 170 LBI was valued at $ 50 dollars when I acquired it today its value is at $ 95.36, it is the first time I have invested in a currency, I had never done it, the only thing I invested It was my time because it was the only thing I could do. But since I arrived at Leofinance.io my economy has changed a lot that I was able to buy food, clothes for my daughter and be able to invest for the first time in this currency.
Today I feel very happy that investment is increasing, apart from voting Yes to the proposal made so that it accumulates for 3 months, see better results that begin now on January 12. It is better to accumulate to see a good number that reaches my wallet within 3 months.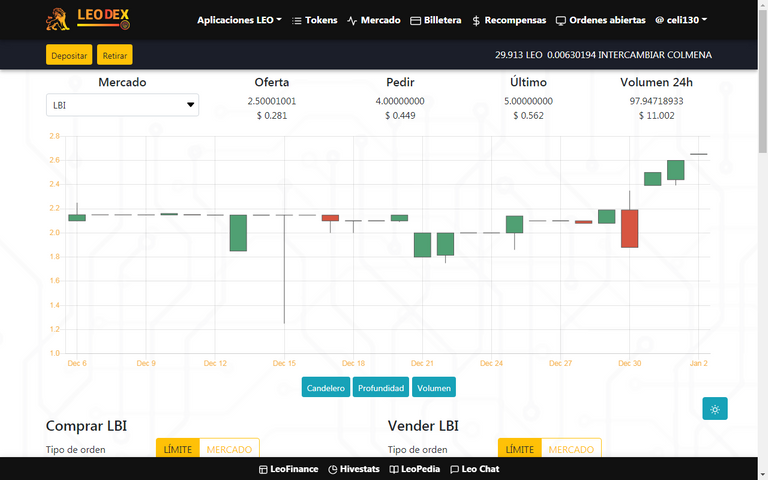 Source
According to our previous graph, I have come LBI its value is increasing day by day, today it is at $ 0.56 each LBI, that would be 4 Hive for each LBI, if this only increased with a single month, how will its value be in 3 months.
As my father used to say, most of the investments are long-term, we must think big, in order to reap those great benefits.
Well I say goodbye for today, I just wanted you to know the reason for my absence, the great news I got today.
Posted Using LeoFinance Beta