This is my post for the participation of the initiative recently published by @theycallmedan asking "How has Crypto and Blockchain technology impacted your personal finances?"
Well this would start with a story that happened two years ago.
It starts like this….
The first time I heard about cryptocurrencies was in August 2018, I started on the steemit platform, on the recommendation of my brother @ junior82, where he told me about this platform and its benefits, that when publishing content they would pay me, I confess that at the beginning I did not believe him, as a page would pay me to publish, if to have a blog, you have to have money. Well, but I'm still curious, I gave myself the task of investigating, I found enough information, I saw those post in trends with a number that marked votes and next to others with the $ sign, my eyes shone when I saw so much money that could help me with the situation I was experiencing of having an 8 hour job and a girl in my arms who needed me.
Apart from the fact that my father was diagnosed with a Tumor Injury in the cervical area, which made my father lose strength every day, until he became paraplegic, my brothers and I did everything to operate him, we collected money, we sold food, because my Father had to be operated urgently, even though he was going to be operated on in a public hospital, he had to buy everything he needed for the operation, from the surgical gown to the injections, because in my country we are going through a tough situation that in hospitals there is not even for an injection. But after almost a year he and my mother were in another state to be able to operate on it, but a few days before operating it to my sister, the Dr. tells her about the risks of the operation, among them being paralyzed, being left vegetable or dying in the surgery, when this was known, my mother told my father, he decided not to have surgery.
Well I remember that my first posts were about technological products, innovation among others, the label I used or the community where I participated first was steemhunt, where sometimes I did well, sometimes not, but it helped me with the expenses of the house and the feeding my daughter.
This platform at the beginning was like a source of income an extra job, but as time passed I immersed myself more and my thoughts changed, now it was a sea of ​​knowledge where day by day I obtained new information from different areas, where I got friends in where time or distance exists, it was my blog where I could publish from different areas and with a value sense.
After death my father lasted a while without publishing, he did not cause me anything, but little by little I started again, but I still continued in my old job, I could not leave it, I had a little girl who depended on me (being a single mother), help my mother get ahead, we are people with few resources and here in my country the situation is strong, but at the same time we are a VERY UNITED FAMILY, I confess that I was going to my job out of obligation, I did not want to continue, but I could not leave my job without having something secure, I worked part shift for the breastfeeding period.
A year later at my job, she informed me that I had to start working both shifts, at that moment I did not know what to do, I wanted to get out, my only way out was Steemit, which was the only part that obtainedyear-old girl.
But in that same year, due to fate, this Steemit platform seemed to be closing, there was a discussion that I little understood (it was focused on my problems) someone bought Steemit inc, a person by the name of Justin, I saw many posts about that, now I felt that my only way out was closing, I had to continue in my first job, with a bad salary and bad treatment from the bosses, I felt very badly sad, depression.
A month before declaring Covid-19 in my country Venezuela, I talked to my brothers and I told him how I felt, in that my brother @ junior182 had a new job where he was doing well, my sister worked in Barquisimeto among those who told me that He could help me, while I established myself with my career in Public Accounting independently, I resigned on February 28, 2020 after 15 years working in that entity that my work was never valued, that continued because there was no job market in my city , that today, November 25, not even my settlement payment has been given to me.

My daughter and I
I continued making my post on Steemit, but with the fear that that little window that I had would close and all users would be left without them, a new crisis, but then something emerged in Steemit there was a lot of information about HIVE New Web 3.0 at the beginning I thought it was a platform for developers, but it was not for me, every day that passed I found more information about HIVE, after reading each post, I felt hope, joy, excitement, a new opportunity arose, already It would not be without this platform, groups of people joined and created HIVE with new missions, vision, values ​​where we can all reach it.
HIVE opened its doors, many people emigrated to this new great platform, a few days later I met the GEMS community, where my post was valued, many people were starting, not only what we emigrated, but more people joined HIVE, I found the economic stability where I can help my family and my daughter, new friends, knowledge and experience that today make me thank God for these great opportunities, as the saying goes:
"When one door closes, thousands open", where in the midst of crises there are new opportunities, which are there waiting for us to be discovered.
But the story does not end here, a few days ago I started on a platform that I often read publications such as @, the platform is Leofinance, I felt that I could never contribute anything on this platform, what post would I do, well I took the chance to do A post, the first one I made was introducing myself, the next morning I feed my girl, I open the computer I see that my post is in the first trending places I remember that we were very excited hug my daughter, that same day I created a second post on this same platform, to show other users like me that there is no need to fear leaving the comfort zone to venture something new just like I did come here to this great Leofinance Platform, which feels like home, for the great people who exist here, who give you suggestions, are aware of your publications help you to move forward. My second post was in the first places,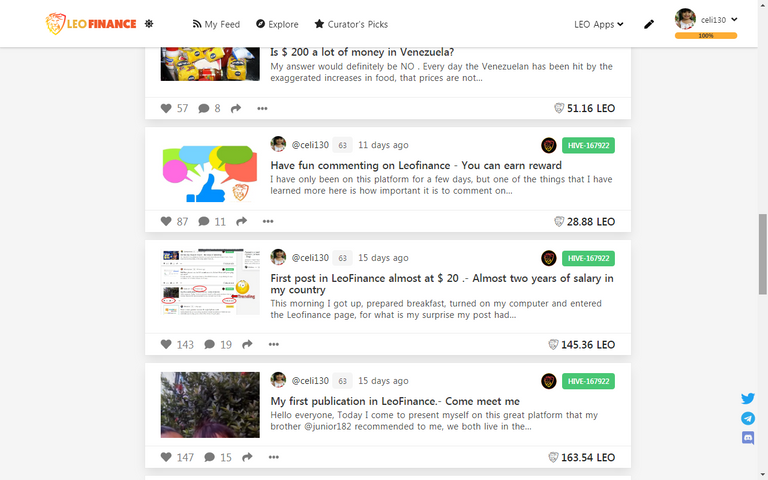 I have a few days on this platform, it has been very good for me. He helped me buy some medicine for my daughter and her food. What awaits me in the future I still do not know, but I know that along with this platform many good things await me.
How has Crypto and Blockchain technology impacted your personal finances?
First he helped me as an extra entrance, in which I could buy food and things for my daughter. Today it is my workplace where I can say that I am a blogger who loves Cryptocurrency because they have been a help in my day to day, meeting the needs of my daughter and mine. Where the politics of a corrupt government does not enter it. Where this hyperinflationary economy that hits Venezuela has given me weapons to fight it, best of all, my daughter lacks nothing.
Where it gave me the freedom to choose and leave a job that I kept for 15 years, poorly paid and that I never liked. When you are in a workplace that you like, you feel good.

Where it allows me to see my daughters every day being close to her and watching her grow.

To continue here in my country, with my family and friends.

Meet new people from around the world where there is no distance or time in space.
Leofinance I appreciate being here and all the users who make life in it, where I have had a helping hand, advice, knowledge, where people care about you to grow together with it. Where I have a future with my daughter.
Posted Using LeoFinance Beta