In my previous post I have talked about the economy of this country, how each is consumed in a hyperinflation that will soon explode. The Venezuelan earns a minimum salary of less than a dollar, an income that he cannot acquire or food or medicine. Apart from knowing that many do extra work charged in dollars, apart from those who have people abroad they send remittances, what else has the Venezuelan done? In
During this time of Covid-19, many people went home for a while, others set up food warehouses, the vast majority made use of the internet.
This alternative that he has found is to generate income through the internet, placing in his search engines ways to generate daily income from home, leaving many options that some are pure scams or waste of time.
Today I made a review by Alexa Rank on Leofinance.io, showing me that Venezuela is in first place with 37.6% visitors a large number, second is Mexico in third place Australia. This specifies that the Venezuelan is looking for a new direction and some of his cryptocurrency options.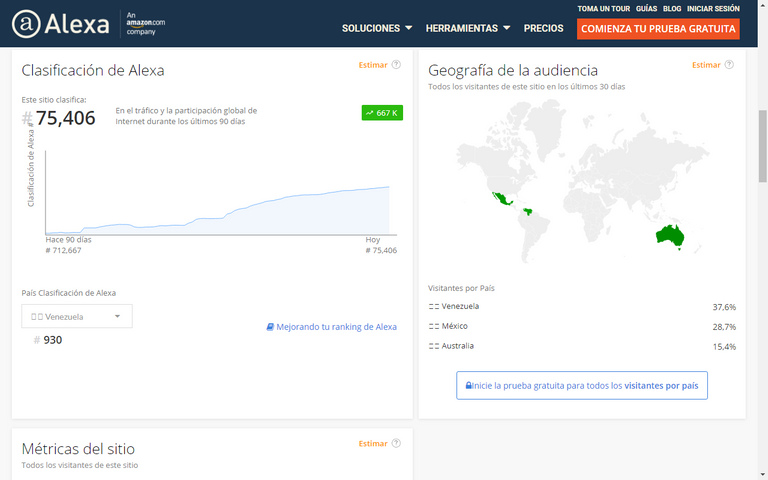 Source
Another page I looked for was Leodex, this number surprised me because 42.2% visitors in my country, many Venezuelans use this platform to exchange their money earned by the Leofinace.io platform, making this the best way to receive money. That it is one of the best platform for my country, to generate money working as a Blogger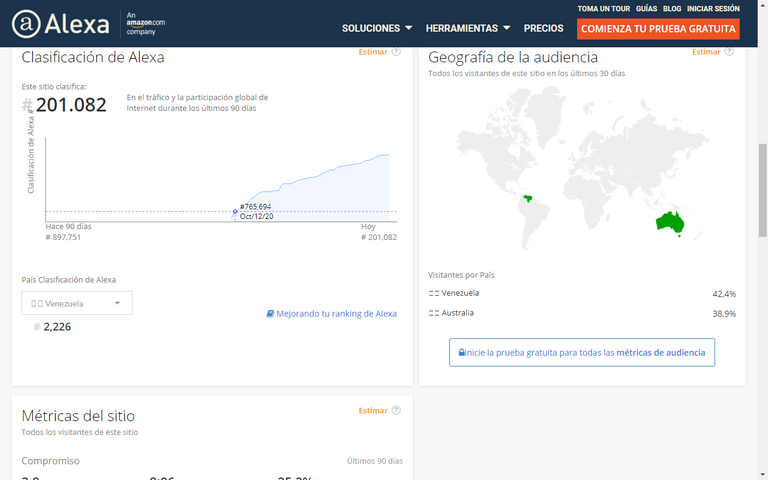 Source
Quality of Internet Service in Venezuela?
These numbers for our country are good, because the other side of the coin of my country is the great problem that exists in my country, the bad internet service. We are number 137 in the world with mobile speeds and 162 with broadband, the internet speed in my country is disgusting. In the image below you can see how the speeds are in my country.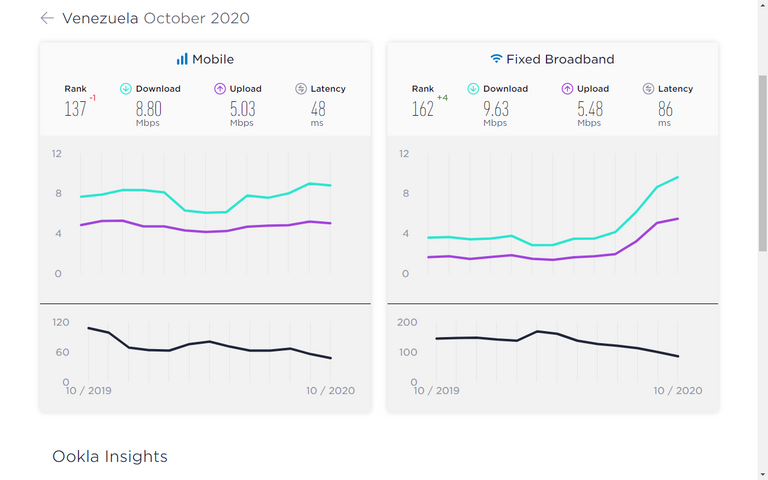 There are many people to be able to work with the internet, some get lost, others get up early, but not having as a limitation that the internet is bad to get some income. Others invest in private internet that a little faster than the public service.
Work as a Blogger in Venezuela?
Earning money either in an extra way or in a complete way as a full-time worker as a blogger, is much better than dedicating a time in a job 40 hours a week that per month your reward or payment will be less than a dollar. Of course these depending on the country we are in, in my country Venezuela it is much more feasible to work as a blogger than any economic activity.
Working from home has many benefits, at the same time commitment, you must make a schedule for work as a blogger, another for home commitments.
You must create a unique space for this type of work, do not disturb your concentration.
There are more and more people from my country who are venturing into the world of cryptocurrency, because of the great situation we are experiencing. Where they can obtain an income to shovel this economy, thus being able to support their families.
The money obtained by this platform is not devalued like our local currency, but its value increases every day, despite the fact that my country does not have businesses that receive this type of currency like Leo, Venezuelans exchange it to HIve and then in we take an exchange house to our local currency.
Currently I have used two:
Orinoco.io
capybaraexchange.com
Thank you for reading…
****Celimar Muñoz.
Posted Using LeoFinance Beta