I wouldn't have thought this time would come where I'm self-employed, but it made more sense in my profession (massage therapist) since being an employee for a company I would have little control on my working schedules. Furthermore, a company would take a 30-40% cut on my work. Though even when working for someone else, in practice it's contract work, meaning that the company buys the service and you have to bill the work you do from the company, so on paper you'd be an entrepreneur, but in practice you're an employee. Which means, I'd have to finance my own pension insurance, too, which is a 200€ bill monthly.
My thought process was that I might as well be a real entrepreneur and have complete control on what I do, since it didn't really fit me that I'd do massage 8 hours 5 days a week. It's very physical work so in that prospect it wouldn't be optimal on the long run, I feel. I've long disliked the standard 40 hour work week, and that is a big reason why I'm heading this way. Though it's not that it would be too much work per se, just that there's little control to decide how much work you'd want to do. For myself I had already outlined my ideal work schedule that would be 6 hours a day, 4 days a week. I've done the math and to achieve 1500€ monthly income – which is actually quite little in Finland, but would satisfy my low costly needs – I'd need about 3-4 clients per day with 4 day working week. Obviously, to get the clients I need to do work also – comes with entrepreneurship, but that I'm actually cool with. I am somewhat of a jack-of-all-trades anyways, so doing the marketing (and the material to it), accounting, web pages and other stuff myself fits me well. Another point on going fully independent is that there's not that much risk in it. I only needed a 5000€ loan which is really small when comparing to starting some other type of business, so even if I would fail, it wouldn't be that bad. But the upside of the risk is that I will reap everything for my work for myself.
Now, last year when I was at school I wasn't too active on Hive, haven't been on this year either, though now that I've started my business, I realized that it won't be such a hassle as it was before the opening, and that I will have a lot of hours on my day that I can – and should – dedicate to something else than just the business. I mean, the point all along of doing less hours was to do more of the things I'd like and enjoy, spend more time with friends and family, right? Well, so I realized that I need to get back to some things, like reading and perhaps writing here some. After a long time I finally opened this new draft because I couldn't really think straight on how start drafting my next advertisement.
The crux of entrepreneurship is that there would be an endless amount of stuff to do, especially on marketing, however, at the same time it is a blessing, because there's no need to get that marketing material ready exactly for tomorrow, because there's always the day after when clients will want a massage, so there's no hurry to get everything done tomorrow.
A huge benefit is also that I will be at work when there's work, unlike in many jobs where you have to be at work by the clock whether you actually had work or not – very frustrating.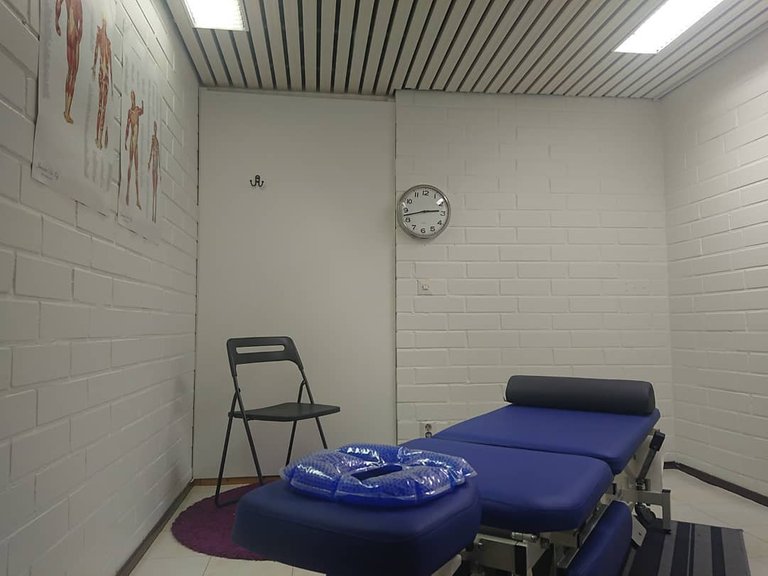 My workspace, will take a better shot with a camera soon though.