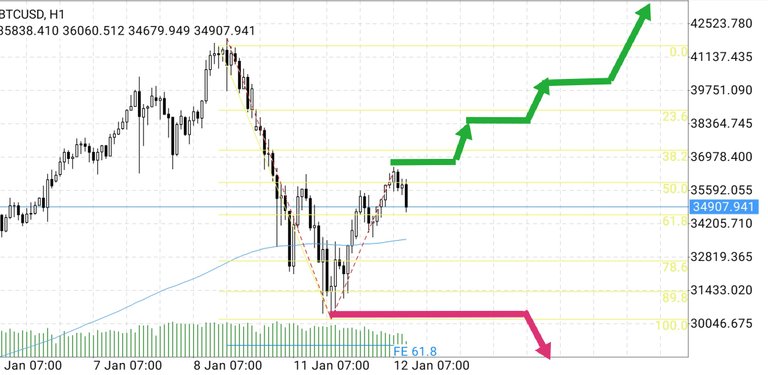 The big excess on the markets
Yesterday is probably still in the bones of many.
The flag pole in the chart probably reflects the excesses on the world markets very well. Alongside some American indices, bitcoin has become a speculative object. The world's central banks are strongly fuelling this trend and driving money into investment assets. The economy has to be stimulated more and more, because like an addict, the dose has to be increased continuously. So it is not surprising that one currently has to spend 7 dollars to generate 1 dollar of growth. The markets just get faster with all that money, and besides strong rallies, losing days of 20% must also be accepted.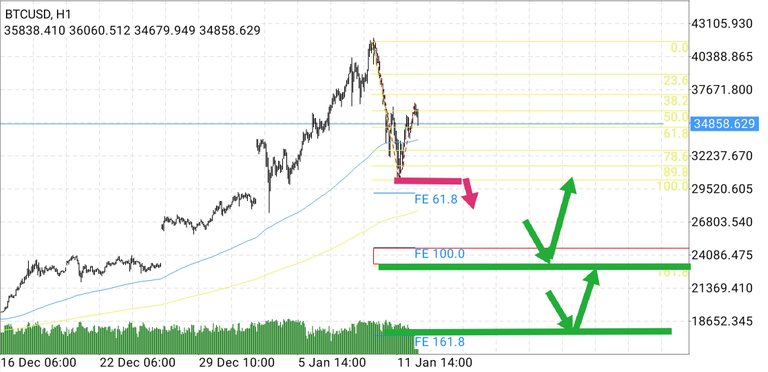 Are we now seeing an extended correction in BTC?
The correction could be over by now but no one can say for sure! The V formation is already ruled out, as the strong buying after the fall was missing. If so, I expect a slow approach to the last highs. However, if we fall below yesterday's low at $30267, then a larger ABC correction is conceivable.
How far could this correction go?
In chart analysis, there are useful tools for price forecasting. Fibonacci and its individual applications are a popular tool. The first prominent target on the downside would be the zone around the 24K mark. If this is not enough, then we still have the zone around 18K on offer. These are very far targets, but we have also risen very far before.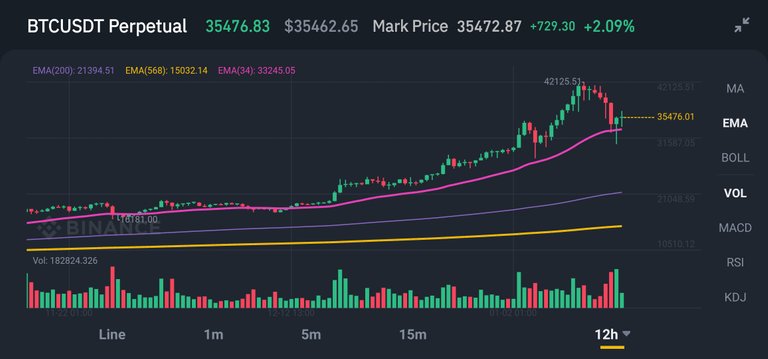 The EMA 34 a good indicator
On the 12 hour chart, the EMA34 has now been approached and from here we could now go up again. As soon as this breaks, the lower EMAs become interesting. A narrowing of the gap to the long-term averages would only be healthy and would reduce the overheating.
Source: (Guidants/Godmode Trader) & JFD Broker & Binance
Discord Channel: https://discord.gg/j5A3CUq
Twitter: https://mobile.twitter.com
Legal Disclaimer:
I am not a financial advisor
nor is any content in this article presented
as financial advice. Never invest more
than what you can afford to lose.
This post is my personal opinion,
do your own research before making any investment decisions.
If you make any trades after reading this post,
it is completely in your responsibility.
I am not responsible for any of your losses.
By reading this post you acknowledge and accept that.

Posted Using LeoFinance Beta